According to Samsung, its 90Hz OLED is as good as 120Hz LCD. When comparing refresh rates, the trained eyes, most of the time, see 120Hz be smoother and faster than 90Hz. However, the effects of jumping from 90Hz to 120Hz aren't as huge as 60Hz to 90Hz, especially for a regular consumer. In this case, you'll only end up draining your smartphone battery faster without fully taking advantage of the faster refresh rate. With that in mind, Samsung has a good case here.
As for the world's smartphone vendor leader, it's backing up its claim by showing results. Based on SGS, a global certification company, the image drag or motion blur of Samsung's 90Hz OLED is the same as a 120Hz LCD while the 120Hz OLED is shorter by 1/3 in comparison. To measure, the 90Hz and 120Hz OLEDs show 0.9mm and 0.7mm image drag, respectively. As for the response speed on dynamic images, the displays recorded 14ms and 11ms, respectively.
The incredible fast response time can also be attributed to the structure of OLED as it doesn't rely on backlit technology to illuminate. 
But if we have to choose between 90Hz OLED and 120Hz LCD, we'll take the former any time of the day. Like we've mentioned earlier, the jump between the two is negligible. Furthermore, the visual quality of OLED is better and more pleasing to the eyes compared to LCD.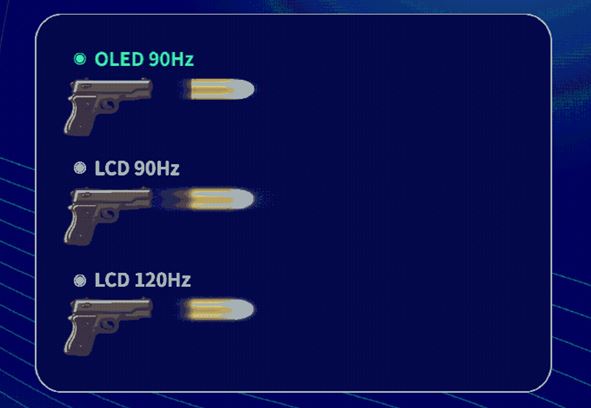 READ: Samsung Galaxy A51 Pre-Order Details and When You Will Get It