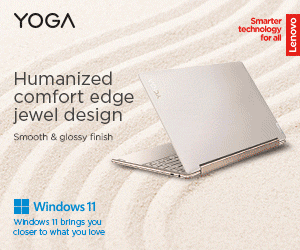 Multimedia Tablet On-The-Go
I, for one, really love watching well-made and well-written movies and shows. The sort that requires some critical thinking to fully understand really gets me excited. As times have evolved, being able to watch on-the-go while having most of the cinema experience intact in a mobile form factor is now a possibility. Tablets and smartphones have been famous for multimedia consumption, and Samsung's new premium Galaxy Tab S3 tablet doesn't pull its punches.
More about the Samsung Galaxy Tab S3 here
Design – The 6mm Wonder
Slightly being thicker than its predecessor, the Samsung Galaxy Tab S3 is still beautiful on its own without any compromises. Upon closer inspection, the build construction is flawless and gapless. Both faces are protected with Corning Gorilla Glass 4 and are pretty to look at if smudges and fingerprints aren't present.
The sides are where things start to get interesting. On the left are the POGO pins for different accessories such as keyboards, keyboard covers, and docks.
On the opposite edge are the only side buttons, namely the lock and volume buttons accompanied with stereo mics that are sandwiching the hybrid slot tray.
The top and bottom sides are then lined up with leveled quad speakers, with two on each end, with the bottom side having an off-centered USB Type-C port and 3.5mm audio jack.
Otherworldly Viewing Experience
With its 9.7-inch 2048×1536 Super AMOLED HDR Display, movies, TV series and alike pop out nicely without being straining on the eyes, even during extended usage. There is nothing else more about it, but the way it functions while watching my usual anime and dated TV series is definitely something new and refreshing at the same time.
Being the first tablet to have HDR capabilities on its screen, it currently is the prettiest screen around that can still be used for light professional work. That said, HDR allows for an even more appealing and eye-catching viewing. The difference between my Acer P235H and the Samsung Galaxy Tab S3's display is more than night and day.
I definitely enjoyed rewatching Gintama and some movies on the Samsung Galaxy Tab S3. The dynamic contrast that HDR applies to the screen boosts immersion and eye candy at the same time without being overbearing.
Two Speakers? Why Not Four?
In case you missed it, the Samsung Galaxy Tab S3 has quad speakers that are strategically positioned for both portrait and landscape viewing. Don't mistake them for being quad speakers though, but even if they were just AKG/HARMAN-tuned, I find them to be the best set of speakers on a tablet today – and that's coming from someone with fine-tuned ears.
I originally intended to just use the quad speakers for this review since I usually put my cheap in-ears on for a more pronounced soundstage. Funny enough, for the past week, I find myself using these AKG/HARMAN-tuned speakers more because of how leveled the factory EQ settings are. Along with it is the soundstage that is definitely to my taste than most without compromising volume nor clarity. Despite the lack of a dedicated subwoofer, bass response is present.
Even just listening to music while I do the dishes is a treat.
Snapdragon 820 – A Little Old, But Still Kicks Ass
Sure, Samsung may have as well equipped this sleek and sexy tablet with the same chipset and innards as the Samsung Galaxy S8 or S8+, but at the cost of not being able to compete directly with an iPad Pro 10.5's pricing.
Like The Little Engine That Could, its quad-core Kryo CPU and relatively lower-clocked Adreno 530 still do a damn fine job of handling your daily multimedia consumption, with native support for x265 and 4K content.
I don't game a lot on tablets, but being recently introduced to Vainglory had me trying it on the Samsung Galaxy Tab S3. And yes, 60FPS at highest settings is in the house. Even with the likes of Modern Combat 5 & Real Racing 3 runs above 45FPS most of the time, again, at the highest settings possible.
Curiosity may have killed the cat, but satisfaction definitely brought it back. AnTuTu, GeekBench, and PCMark Work 2.0 scores put the Samsung Galaxy Tab S3 just under its more powerful cousins, the Samsung Galaxy S8 and S8+.
AnTuTu – 143,544
GeekBench 4.0 – 1754 (Single Core), 4084 (Multicore)
PCMark Work 2.0 – 5476
With the included S Pen, I did try to draw a bit to the best of my abilities. It is still unfinished, but I definitely enjoyed the process of drawing albeit the noticeable input lag. Palm rejection works most of the time, which I believe will be made better in future updates.
I hope that by the time that Samsung demands return of this, I'd be done and satisfied with whatever these flimsy hands can do.
Verdict; "Should I get one?"
As I've mentioned, this was planned, built, and announced with the intention of going head-to-head with the iPad Pro 10.5. Priced at P37,990, it definitely holds up on its own against Apple's new contender.
Should you get one? If you have the cash, why not? Even in this age of smartphones where portability goes before function, tablets will always have their place. And mind you, this already comes with an S Pen as opposed to the additional Apple Pencil for a steep P5,590.
Samsung Galaxy Tab S3 Specs and Pricing
SPECS
Samsung Galaxy Tab S3
Display
[2048×1536]
9.7nch Super AMOLED HDR Display, 264ppi
Size
237.3 x 169 x 6 mm, 429g (Wi-Fi)/434g (LTE)
Design
aluminum frame, Corning Gorilla Glass 4
Colors
Black, White
Chipset
Qualcomm MSM8996 Snapdragon 820
Processor
Quad Core (2×2.15 GHz Kryo & 2×1.6 GHz Kryo)
Graphics
Adreno 530
Memory
4GB RAM, 32GB internal, microSD card up to 256GB
Main Camera
13 MP, f/1.9, 27mm, autofocus, LED flash
Multimedia
[email protected]
Front camera
5 MP, f/2.2, 23mm, 1080p
Connectivity
SM-T820 (Wi-Fi)
SM-T825 (3G/LTE)
WiFi ac, Bt 4.2, A2DP, LE, GPS, GLONASS, NFC, LTE-A (2CA) Cat6 300/50 Mbps
OS
Android 7.0 Nougat
Software
TouchWiz Grace UI
Battery
6,000mAh
Ports
USB Type-C, 3.5mm headphone jack
Official Price
Php 37,990 (SM-T825)
SM-T820 is to not be made available locally
Availability date
June 2017
Where to buy
Samsung Philippine Experience Stores, Authorized retailers