In terms of luxury features and specifications at an affordable price, two of the best "flagship killers" currently available are the Realme GT Neo5 and the OnePlus Ace 2V. These smartphones are top-notch in every way, and they were made with power users and players in mind. By comparing their key features, this piece will help you choose between the Realme GT Neo5 and the OnePlus Ace 2V. Those looking for the optimal quality-to-price relationship will have their work cut out.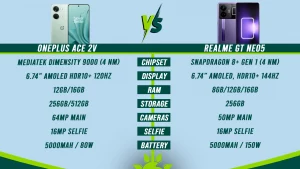 Related: realme GT Neo5 Promo Reveals RGB Light, Dynamic Island-Like Feature
Design and Display
The rear of the Realme GT Neo5 features a bright, customizable RGB square that adds to the phone's overall aesthetic. This function kicks in whenever you receive a message or charge your battery. The OnePlus Ace 2V, with its slimmer profile and reduced weight, has a simple design that will win over many consumers. Considering how similarly stylish both phones are, picking one over the other comes down to stylistic preferences. Choose between the GT Neo 5's Multicolor LEDs and the Ace 2V's simple design—which do you prefer?
The 6.74-inch Full HD+ AMOLED screens on the Realme GT Neo5 and the OnePlus Ace 2V guarantee sharp images and rich hues. While the technical specs for displays are nearly similar, the actual user experience may differ slightly due to software tuning and user interface design differences. Nonetheless, the Realme GT Neo 5 has a greater frame rate than its competitor, reaching 144 Hz.
Camera and Speakers
The Realme GT Neo5's triple camera system comprises a 50MP primary camera with optical image stabilization (OIS), an 8MP ultrawide lens, a 2MP macro sensor, and a 16MP front-facing camera. The OnePlus Ace 2V, on the other hand, has a 64-megapixel primary camera, an 8-megapixel ultrawide lens, and a 2-megapixel macro sensor, in addition to a 16-megapixel front-facing camera. The Realme GT Neo5's primary camera uses a higher-quality sensor, which may allow for higher image clarity and greater detail than the OnePlus Ace 2V's.
Both handsets have stereo speakers and a fingerprint sensor embedded into the touchscreen, but neither has a headphone port.
OS and Hardware
The OnePlus Ace 2V uses the MediaTek Dimensity 9000 octa-core CPU, while the Realme GT Neo5 uses Qualcomm Snapdragon 8+ Gen 1 octa-core processor. While the Snapdragon chipset boasts slightly faster clock rates, the MediaTek CPU holds its own in daily use and gameplay, making it, like the Snapdragon 8 Plus Gen 1, a 2022 flagship-class chipset. The two phones have comparable memory capacities, with the OnePlus Ace 2V supporting up to 512GB of internal storage and the Realme GT Neo5 supporting up to 256 GB. The OnePlus Ace 2V might be better than its competitors in this regard, depending on how much space you need on your phone. The operating system and UI of both phones are Android 13.
Battery and Charging
The Realme GT Neo5 has a 5000mAh battery and enables quick charging at 150W. There's an alternative with a 4600 mAh cell and 240W rapid charging. The OnePlus Ace 2V also has a 5000mAh battery but only allows 80W fast charging. The battery life of both devices is adequate for a day of moderate use, but the Realme GT Neo5's quicker charging capacity gives it the advantage.
Price and Availability
The entry-level Realme GT Neo 5 price in China is approximately €340 ($365 or Php 19,964). The Realme GT 3 will release in various markets worldwide at varying costs. The OnePlus Ace 2V costs at least €310 ($333 or Php 18,206) in China's retail market. When released, this device will be known as the OnePlus Nord 3. Which one do you think is the best?
---
Read More Articles Here