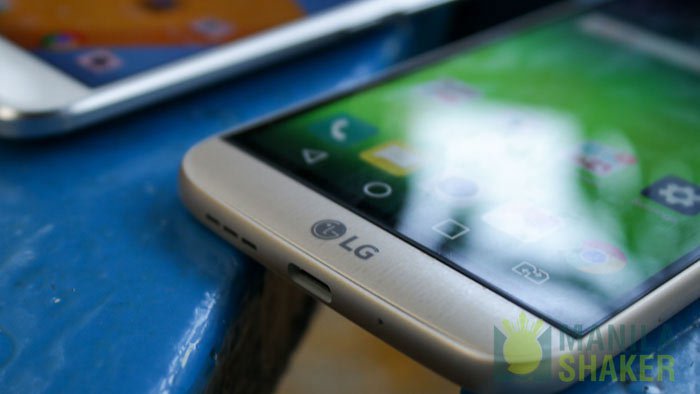 Top LG Android phones, specs and prices
LG seems to focus more this year in variety than focusing more on particular flagships. Since this year, they've introduced a lot of handsets and a bunch of new lineups that everyone can sink their teeth into. From various budget phones to mid-range ones and finally high-end flagships, LG has them all. Let's take a look at what LG has in their arsenal and a few that are yet to see the light of day.
We'd love to hear your thoughts on this price list. Share us your thoughts in the comment section below. Also, if you have any concerns or questions regarding non-price list related topics, don't be shy to share them in the comments section.
Full Review
Battery Test
 Benchmark
Price: PHP 38,000
Where to buy: LG stores/Online stores nationwide
Release date in the Philippine: Expected in September 2017
Display: 6-inch 2880×1440 Quad HD OLED screen, with Floating Bar
Size: 151.7 x 75.4 x 7.3mm, 158g weight
Design: Gorilla Glass 5 body, IP68 water/dust resistant
Colors: Aurora Black, Cloud Silver, Moroccan Blue, and Lavender Violet 2
Chipset: Snapdragon 835 octa-core chipset
Graphics: Adreno 540
Memory: 4GB RAM, 64GB internal storage, microSD card up to 256GB
Main Camera: Dual 16MP Standard Angle (OIS, F1.6, 71° FOV) + 13MP Wide Angle (F1.9/ 120°)
Features: Quick Video Editor, Cine Video, and Point Zoom mode
Front camera: 5MP with 90degree FOV
Audio: 32-bit "Hi-Fi Quad" DAC with MQA file format support
Connectivity: WiFi 802.11b/g/n/ac, Bluetooth 5.0, GPS, NFC
OS: Android 7.1.2
Battery: 3300 mAh, Wireless charging
Ports: USB Type-C, 3.5mm headphone jack
Full Review
Battery Test
 Benchmark
Price: PHP 37,990
Where to buy: LG stores/Online stores nationwide
Release date in the Philippine: April 2017
Display  5.7-inch 18:9 1440 x 2880p QHD+ IPS LCD, 564ppi
Design: metal frame, glass backing, Corning Gorilla Glass 4, IP68 water and dust resistant
Colors: Ice Platinum, Astro Black, and Mystic White
Chipset: Qualcomm Snapdragon 821 quad-core Chipset
Graphics: Adreno 530
Memory: 4GB RAM, 32/64GB internal storage, microSD card
Main Camera: 13MP(71°) + 13MP dual rear camera (125°)
Multimedia: 4k @ 30fps, 1080p @ 30fps
Front camera: 5MP(100°), 1080p
Connectivity: 4G LTE, WiFi ac, 5GHz,Bt4.2, GPS, NFC, GLONASS, dual-nano IM
OS: Android 7.1.1 Nougat, LG UX 6.0
Battery: 3000mah with Quick Charge 3.0 and wireless charging
Ports: USB Type-C, 3.55mm headphone jack, quad-DAC
Full Review
Battery Test
 Benchmark
Price: PHP 28,000+
Where to buy: LG stores/Online stores nationwide
Release date in the Philippine: Expected to be in September 2017
Display: 5.2-inch IPS LCD, Quad HD resolution, 520 ppi, scratch resistant, 1.9-inch secondary screen
Design: Aluminum metal, IP67 Water and Dust Resistance
Size: 146g weight, 8mm thick
CPU: Snapdragon 820 quad-core processor (2016 flagship chip)
GPU: Adreno 530 graphics
RAM: 4GB
Memory: 32GB storage, microSD card 1TB max
Camera: 13MP f1.8 + 8MP f2.4 (wide angle), OIS, dual LED flash, laser focus, object tracking, phase detection, 4K video
Selfie: 5MP f1.9 (standard + wide angle view), Full HD 1080p video
Connectivity: 4G LTE Cat.12 up to 600Mbps, hybrid Dual SIM card, Bluetooth 4.2, NFC, WiFi ac, GPS
Security: Fingerprint scanner
Port: USB Type-C
Audio: 32-bit / 192kHz sound, Bang & Olufsen Play tuned, mono speaker
Battery: 3000mAh removable, Quick Charge 3.0
Colors: Titan Black, Silver Gray, Pink
Full Review
Battery Test
 Benchmark
Price: Expected to be at Php 7.5K-10K
Where to buy: LG stores/Online stores nationwide
Release date in the Philippine: Expected to be in July 2016
Display: 5.2-inch 1080p FHD display
Color: Titan Silver, White, Gold, Pink Gold
Chipset: Expected Mediatek MT6753
CPU: Octa-core 1.14 GHz
GPU: Expected Mali-T720MP3 graphics
RAM: 2GB
Memory: 16GB internal
SD card: to be expected with up 32GB storage
Main camera: 13MP/5MP dual rear shooters
Video: 1080p@30fps
Front camera: 8MP selfie shooter
Connectivity: WiFi n, BT 4.1, GPS, GLONASS, NFC
Scanner: Not Available
Battery capacity: 2520mAh battery
OS: Android 6.0 Marshmallow
Ports: microUSB v2.0
Full Review
Battery Test
 Benchmark
Price: Expected to be at Php 8K-10K
Where to buy: LG stores/Online stores nationwide
Release date in the Philippines: Expected to be July 2016
Display: 5-inch 720p HD display
Color: Black, White
Chipset:Snapdragon 410
CPU: Quad-core 1.2 GHz Cortex-A53 processor
GPU: Adreno 306 graphics
RAM: 1.5GB
Memory: 16GB internal
SD card: up to 128GB
Main camera: 8MP main shooter
Video: 1080p@30fps
Front camera: 5MP selfie shooter
Connectivity: WiFi n, BT 4.1, GPS, GLONASS
Scanner: Not Available
Battery capacity: 2100mAh battery
OS: Android 6.0 Marshmallow
Ports: microUSB v2.0
Full Review
Battery Test
 Benchmark
Price: Expected to be at Php 6.5K
Where to buy: LG stores/Online stores nationwide
Release date in the Philippines: Expected July 2016
Display:  5.0-inch 480p IPS display
Color: White, Black, Gold, Titan
Chipset: Snapdragon 210 (LTE), MT6580M (3G)
CPU: Quad-core 1.3 GHz Cortex-A7 (3G), Quad-core 1.1 GHz Cortex-A7 (LTE)
GPU: Mali-400MP2 (3G), Adreno 304 (LTE)
RAM: 1GB (3G), 1.5GB (LTE)
Memory: 8GB (3G), 8/16GB (LTE) internal
SD card: up to 32GB
Main camera: 5MP or 8MP rear shooter
Video: 720p@30fps
Front camera: 5MP selfie shooter
Connectivity: WiFi n, BT 4.1, GPS
Scanner: Not Available
Battery capacity: 2125mAh battery
OS: Android 6.0 Marshmallow
Ports: microUSB v2.0
Full Review
Battery Test
 Benchmark
Price: Expected to be at Php 18K
Where to buy: LG stores/Online stores nationwide
Release date in the Philippines: July 2016
Display: 4.93-inch 720p HD display
Color: Black, White, Pink Gold
Chipset: Snapdragon 410
CPU: Quad-core 1.2 GHz Cortex-A53 processor
GPU: Adreno 306 graphics
RAM: 2GB
Memory: 16GB internal
SD card: up to 200GB
Main camera: 13MP rear shooter, f/2.2 lens
Video: 1080p@30fps
Front camera: 8MP selfie shooter
Connectivity: LTE, WiFi n, BT 4.1, GPS, GLONASS, NFC
Scanner: Not Available
Battery capacity: 2300mAh battery
OS: Android 6.0 Marshmallow
Ports: microUSB v2.0
Full Review
Battery Test
 Benchmark
Price: Expected to be at $350, Php 15K-15.7K for the 3GB model and $260, Php 12K for 2GB model
Where to buy: LG stores/Online stores nationwide
Release date in the Philippines: Expected on July 2016
Display: 5.7-inch 1080p FHD display
Color: Titan, Gold, Brown
Chipset: Snapdragon 430
CPU: Octa-core 1.2/1.4 GHz Cortex-A53 processor
GPU: Adreno 505 graphics
RAM: 2/3GB
Memory: 16/32GB internal
SD card: up to 128GB
Main camera: 13 or 16MP rear shooter
Video: 1080p@30fps
Front camera: 5 or 8MP selfie shooter
Connectivity: WiFi n, BT 4.1, GPS, GLONASS, NFC
Scanner: Fingerprint sensor
Battery capacity: 3000mAh battery
OS: Android 6.0 Marshmallow
Ports: microUSB v2.0
Full Review
Battery Test
 Benchmark
Price: Expected to be at Php 9K-12K
Where to buy: LG stores/Online stores nationwide
Release date in the Philippines: June 2016
Display: 5.3-inch 720p HD display
Color: Black, White
Chipset: Mediatek MT6735
CPU: Quad-core 1.14 GHz Cortex-A53 processor
GPU: Mali-T720 graphics
RAM: 2GB
Memory: 16GB internal
SD card: up to 32GB
Main camera: 13MP rear shooter
Video: 1080p@30fps
Front camera: 8MP selfie shooter
Connectivity: WiFi n, Bluetooth 4.0, GPS, GLONASS
Scanner: Not Available
Battery capacity: 4100mAh battery
OS: Android 6.0 Marshmallow
Ports: microUSB v2.0
Full Review
Battery Test: 23hrs
 Benchmark: 126038
Price: Around Php 23K through online stores
Where to buy: LG stores/Online stores nationwide
Release date in the Philippines: April 2016 in the Philippines
Display: 5.3-inch 1440p Quad HD IPS LCD, 554 ppi
Color: Silver, Titan, Gold, Pink
Chipset: Snapdragon 820 chip
CPU: Dual-core 2.15 GHz Kryo & dual-core 1.6 GHz Kryo processor
GPU: Adreno 530 graphics
RAM: 4GB
Memory: 32GB internal
SD card: up to 200GB
Main camera:  16MP f/1.8 + 8MP f/2.4 ultra wide angle (130 deg), OIS, color spectrum, laser autofocus
Video: 4K UHD
Front camera: 8MP f/2.0 lens
Connectivity: dual-SIM nano 4G LTE (hybrid), WiFi ac, Bluetooth 4.1, IR Blaster
Scanner: Fingerprint sensor
Battery capacity: 2800mAh non-removable
OS: Android 6.0 Marshmallow, Optimus UI 5.0
Ports: USB Type-C reversible
Full Review
Battery Test
 Benchmark
Price: Php 8,990 SRP
Where to buy: LG stores/Online stores nationwide
Release date in the Philippines: March 2016
Display: 5.3-inch HD IPS LCD, 720×1280 pixels, 277ppi
Color: White, Indigo, Gold
Chipset: Mediatek 6753 chip
CPU: Octa-core 1.14GHz Cortex A53 processor
GPU: Mali T720MP3 graphics
RAM: 2GB
Memory: 16GB internal
SD card: up to 32GB
Main camera:  13MP main camera
Video: 1080p@30fps
Front camera: 5MP front camera
Connectivity:dual-SIM, single microSIM 4G LTE, Bluetooth 4.0, GPS, WiFi n
Scanner: Not Available
Battery capacity: 2300mAh battery
OS: Android 6.0 Marshmallow, Optimux UI
Ports: microUSB 2.0
Full Review
Battery Test
 Benchmark
Price: Php 5,490 SRP
Where to buy: LG stores/Online stores nationwide
Release date in the Philippines: March 2016
Display: 4.5-inch FWVGA IPS LCD, 480×854 pixels, 218ppi
Color: White, Indigo
Chipset: Mediatek 6735
CPU: Quad-core 1.0GHz Cortex A53 processor
GPU: Mali T720MP2 graphics
RAM: 1GB
Memory: 8GB internal
SD card: up to 32GB
Main camera:  5MP main camera
Video: 720p@30fps
Front camera: 2MP selfie shooter
Connectivity: Dual-SIM 4G LTE, single microSIM 4G LTE, Bluetooth 4.0, GPS, WiFi n
Scanner: Not Available
Battery capacity: 1940mAh battery
OS: Android 5.1.1 Lollipop, Optimux UI
Ports: microUSB 2.0
Full Review
Battery Test: 8 hours and 30 minutes playback
 Benchmark: 41761
Price: Around Php 23K to 23.6K through online stores
Where to buy: LG stores/Online stores nationwide
Release date in the Philippines: February 2016
Display: Main: 5.7-inch 1440p QHD Quantum IPS LCD, 515ppi Secondary: 2.1-inch LCD 160 x 1040
Color: Black, White
Chipset: Snapdragon 808 chip
CPU: Dual-core 1.82GHz Cortex A57, Quad-core 1.44GHz Cortex 153 processor
GPU: Adreno 418 graphics
RAM: 4GB
Memory: 64GB internal
SD card: up to 200GB
Main camera: 16MP f/1.8 laser autofocus, color spectrum sensor, OIS
Video: 4K UHD
Front camera: 8MP selfie shooter
Connectivity: Dual SIM, 4G LTE cat 6, WiFi ac, Bt 4.1, FM Radio, GPS, Wireless charging, Infrared for remote
Scanner:Fingerprint sensor
Battery capacity: 3000mAh battery
OS: Android 5.1.1 Lollipop, upgradeable to 6.0 Marshmallow
Ports: microUSB v2.0
Full Review
Battery Test: 9 hours 20minutes
 Benchmark:  42426
Price: Around Php 12K to 16K through online stores
Where to buy: LG stores/Online stores nationwide
Release date in the Philippines: September 2015
Display: 5.2-inch 1080p IPS FHD display
Color: Carbon, Quartz, Ice
Chipset: Snapdragon 808 chip
CPU: Quad-core 1.44 GHz Cortex-A53 & dual-core 1.82 GHz Cortex-A57 processor
GPU: Adreno 418 graphics
RAM: 2GB
Memory: 16/32GB internal
SD card: no microSD card
Main camera: 12.3 MP, f/2.0, laser autofocus
Video: 4K UHD
Front camera: 5 MP, f/2.0, HDR
Connectivity: 4G LTE cat 6,WiFi ac, Bt 4.2, GPS, GLONASS, NFC
Scanner: Fingerprint sensor
Battery capacity: 2700mAh battery
OS: Android 6.0 Marshmallow
Ports:  USB type-c
LG G4 Stylus

Full Review
Battery Test
 Benchmark
Price: Around Php 10K to 11K through online stores
Where to buy: LG stores/Online stores nationwide
Release date in the Philippines: May 2015
Display: 5.7-inch HD IPS display, 1280×720, 258ppi
Color: Metallic Silver, Floral White
Chipset: Snapdragon 410/ MediaTek MT6592M chip
CPU:Quad-core 1.2 GHz Cortex-A53, Octa-core 1.4 GHz Cortex-A7 processors
GPU: Adreno 306, Mali-450MP4 graphics
RAM: 1/2GB
Memory: 8/16GB internal
SD card: up to 128GB
Main camera: 13MP or 8MP rear shooter, OIS, laser autofocus
Video: 1080p@30fps
Front camera: 8 MP selfie shooter, f/2.4, laser autofocus
Connectivity: WiFi n, BT 4.1, GPS, GLONASS, NFC
Scanner: Not Available
Battery capacity: 3000mAh battery
OS: Android 5.0 Lollipop, upgradeable to 5.1 Lollipop
Ports: microUSB v2.0
Full Review
Battery Test
 Benchmark: 47585
Price: Around Php 17K to 18.6K through online stores
Where to buy: LG stores/Online stores nationwide
Release date in the Philippines: May 2015
Display: 5.5-inch QHD IPS Quantum LCD display, 534ppi
Color: Grey, White, Gold, Leather Black, Leather Brown, Leather Red, White/Gold
Chipset: Snapdragon 808
CPU: Quad-core 1.44 GHz Cortex-A53 & dual-core 1.82 GHz Cortex-A57 processor
GPU: Adreno 418 graphics
RAM: 3GB
Memory: 32GB internal
SD card: up to 128GB
Main camera: 16MP rear shooter f/1.8 laser autofocus, color spectrum sensor, auto HDR
Video: 4K UHD
Front camera: 8MP selfie camera
Connectivity: Dual SIM, 4G LTE cat 6, WiFi ac, Bt 4.1, FM Radio, GPS, Wireless charging, Infrared for remote
Scanner: Not Available
Battery capacity: 3000mAh battery
OS: Android 5.1 Lollipop, upgradeable to Android 6.0 Marshmallow
Ports: microUSB v2.0 (SlimPort 4K), USB Host