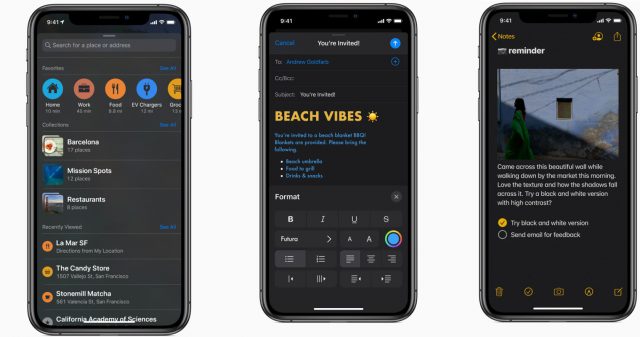 At WWDC 2019, Apple introduced its upcoming iOS 13 for iPhones. A ton of features was shown during the event, but one stood out among others — Dark Mode. Finally, the iPhone 6s and up will be able to enjoy a darker look.
READ: 2019 Apple iPad Air, iPad Mini launched for P21k starting price
Best Features of iOS 13
Dark Mode
First released for Android, iOS 13 gets its own dark treatment. Apple fanboys will love the fact that Dark Mode is system-wide including all native apps. Users can turn the feature on indefinitely or as scheduled. Aside from the new look, OLED panels can save a bit of battery life, too.
Photos 
Thru machine learning, Photos can now organize your entire library of images by past day, month, and year — all while highlighting significant events, best images, and auto-playing videos.
Photo editing thru the camera app has improved, too — applying effect intensity can now be done thru swipes and Portrait Lighting adjustments. While video editing introduces filters, crop, and rotate within the Photos app. Also, there's a new High-Key Mono effect for a monochromatic look made for Portrait mode.
Private Sign In with Apple
No need to use your social media profiles, like Facebook and Google, when signing in to apps and websites. With Sign in with Apple, your private information is protected. Authenticated with Face ID or Touch ID, this new feature will provide developers a unique random ID instead to protect user information.
Maps
Aside from a better and more accurate Maps, a new featured called Look Around is here to provide seamless transitions from one street to another. While the US will receive the update first by the end of 2019, the rest of the world will have to wait until 2020.
Performance Improvements
Face ID is said to be 30 percent faster now. As for the App Store, expect shorter download times as app sizes are reduced up to 50 percent, with app updates over 60 percent smaller.
A few small tweaks and additions were also added for AirPods, Voice Control, Notes and more. Feel free to check them all out here.
READ: Why Samsung, Google, and Apple are not using large MP cameras