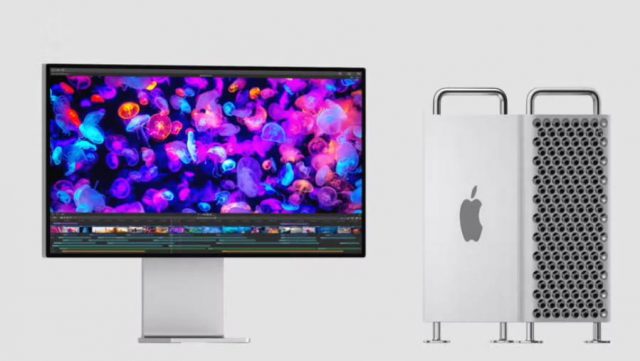 Dumping the trash bin-inspired Mac Pro, Apple reveals an all-new Mac Pro in 2019 — albeit in a cheese grater design. With a starting price of $6000USD ~P310k, don't let its looks deceive you — this machine packs a ton of power.
READ: ASUS ZenBook Pro Duo Announced: Dual-Screen Laptop with OLED and IPS screens
Apple Mac Pro 2019
From a constrictive, thermal-throttling look, to an aggressively vented yet modular design, it's an odd step in the right direction for the company's professional computer lineup.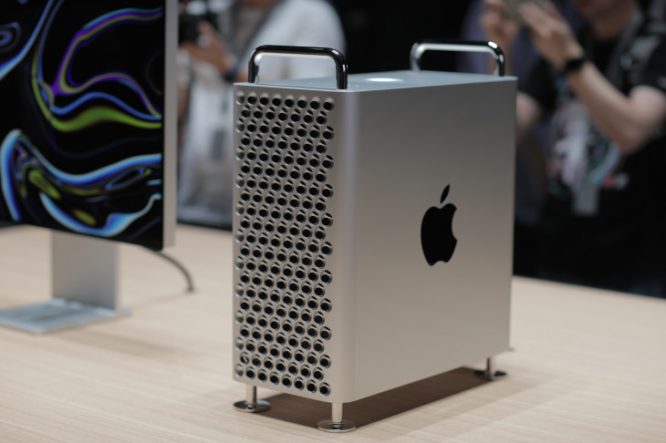 Inside the new Mac Pro is up to 28 cores of Intel Xeon CPU. As for the memory, Apple says it can support up to 1.5TB (not a typo), thanks to a six-channel memory — equal to 12 DIMM slots. If you think that's overkill, well, there's more.
Featuring eight PCI Express slots — with four of them made for larger expansion cards, the company is also introducing an MPX Module, a quad-wide PCIe card that allows two graphics cards to fit in. Thru a dedicated Thunderbolt 3 from the motherboard, the company says the Mac Pro can run either with AMD's Radeon Pro Vega 2 or Radeon Pro Vega 2 Duo. If money permits, you can go use two of the Vega 2 Duo for a quad-GPU setup.
Tired of dongles, well, you won't need it here
You will also almost never run out of ports here. The Mac Pro 2019 comes with two USB-C Thunderbolt 3, two USB-A on the rear, and two USB-C on the front-top. If that's not enough, there's an optional I/O module for adding two more Thunderbolt 3, two USB-A, and a 3.55mm audio jack. Adding to its modularity feature is another optional dedicated video editing card Afterburner — allowing up to 6 billion pixels per second processing via field-programmable gate array (FPGA).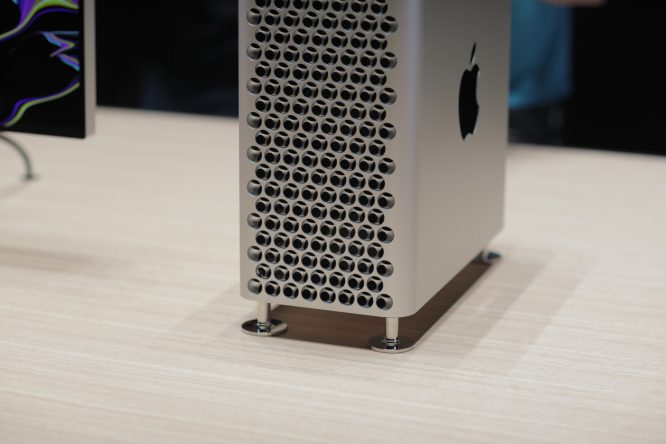 The processor alone requires 300W of power, so it's not surprising to see the whole system to support up to 1.4kW of energy. Going back to the design, the grater/aluminum grille has its own use — letting three large fans installed at the front. Apple claims quiet operation when under a desk. Oh, and you can get optional wheels for the new Mac Pro, just in case you want to drag it around with you like a suitcase.
With great power comes great price, and for the starting model, you're getting an octa-core Xeon CPU, Radeon Pro 580X GPU, 32GB RAM, and 256GB SSD. Just imagine how much it'll cost if you want maxed out specs. In the US, the Mac Pro 2019 is expected to be available in September. The rest of the world can expect a later date than that.
READ: Refreshed iPod Touch 2019 features A10 chip, up to 256GB storage for P14,990 price
Apple Mac Pro Display for $5000
The new Mac Pro Display is a 32-inch 6k resolution LCD monitor. It is priced for $5000 USD (P260k pesos) and will become available this September. It has Thunderbolt port, HDR support, and up to 1600 nits max brightness.
You should mind that accessories are not free like the stand and an extra layer of glass protection:
Mac Pro Display – $5000
Pro Stand – $1000
Vesa Mount – $200
Nano-texture glass for anti-reflectivity – $1000