Department of Social Welfare and Development(DSWD) has launched its social amelioration package amid the coronavirus pandemic. The program is made to identify and validate families that need financial aid assistance. The cash aid ranges between P5000 to P8000, depending on the minimum wage of a region. Under the Republic Act 11469 or the Bayanihan to Heal as One Act, the head of a family needs to fill in and submit a social amelioration card (SAC). As shared by DSWD, here's the step-by-step guide to its social amelioration package.
How to avail DSWD's Social Amelioration Package?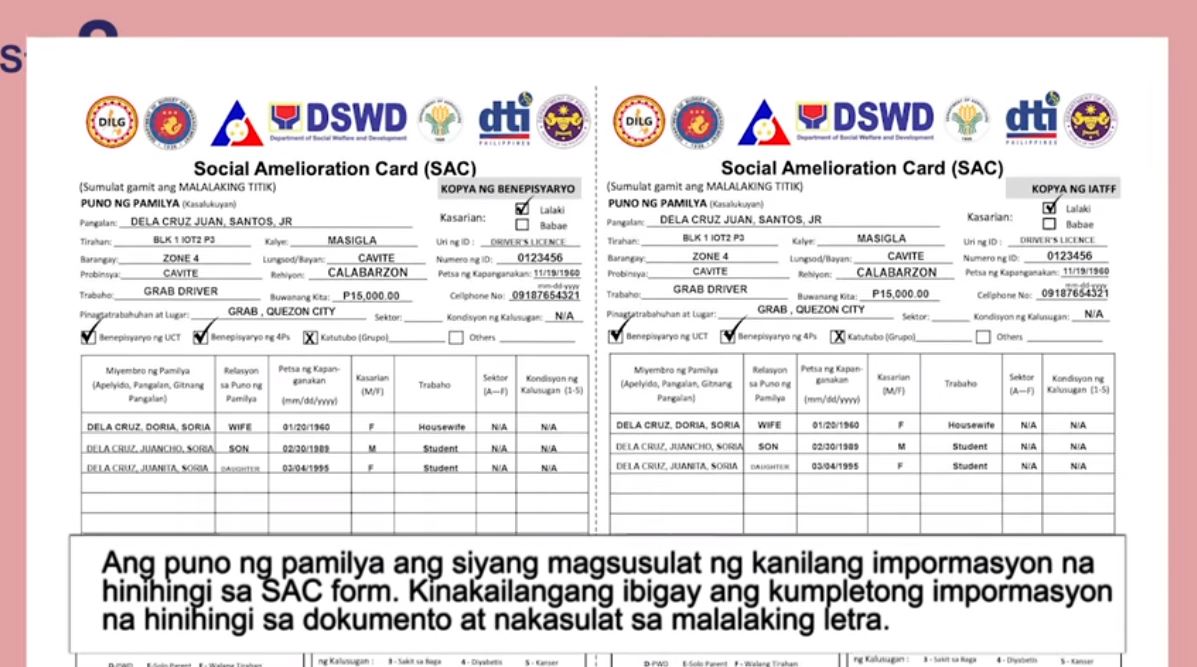 Step 1: Local Government Units (LGUs) will distribute SAC forms to houses 
SAC forms are expected to be delivered right in front of your doorstep by an LGU, such as a barangay official. 
Step 2: The head of the family will fill out the SAC Form
make sure to provide complete and accurate information when filling out the SAC form. 

personal information should be provided (average income, number of individuals in a household, valid ID, etc.)

there are two SAC Forms to fill out; one to be given back to LGU (

and be returned to you after DSWD validates the information

) and the other to be kept by you as a reference copy.

SAC forms are not for sale. If someone offers you to pay for it, report it to DSWD (via 

8-951-2803

).
Step 3: Wait for the assistance package provided by different government sectors
the package assistance, whether it's in cash or goods, will be sent to you by a local government unit.

always keep your SAC form (reference copy) ready as other government sectors will use it for validation.

cooperation and patience are requested from the families as the distribution of the package assistance prioritizes those who are badly affected by the crisis.
How to receive the Social Amelioration Package? (Video)
READ: Workers Now Allowed to Submit Directly to DOLE for P5000 Cash Aid