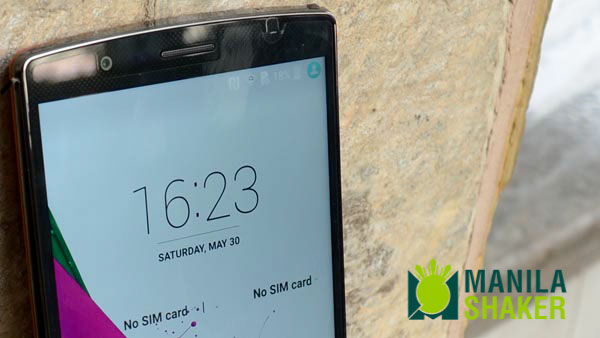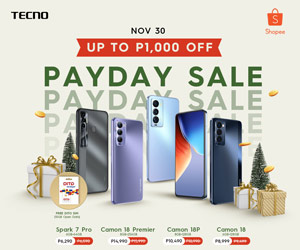 The LG G4 is a new comer in the industry, a flagship refined and improved from the version of LG G3 and previous G-series.
On papers, it's a smartphone that can easily beat iPhone 6 and iPhone 6 Plus in terms of hardware and benchmark numbers. However, the design and software will depend solely on one's personal taste. Perhaps its greatest competition comes from Android lineup currently offered by Samsung and few Chinese brands including Lenovo and Huawei.
Below is my review of the dual-SIM, dual-LTE variant for Philippines, and surprisingly this unit is made in Korea which gives a gentle relief when talking about long-term quality.
Highlights
Overall score: 4.6/5.0 stars (see individual feature scores below)
Pros: Super display, great shooter, premium design
Cons: Battery life is below par to average, steep price when you buy from LG/malls (5-7k difference compared to other sellers)
<
Design
Potential buyers have two options before getting the LG G4, the genuine leather (costs P1,000 more) or the variant with a metallic finish back cover. Fortunately, it's a removable back cover on plastic frame so anyone can upgrade to leather or swap back to the metallic cover.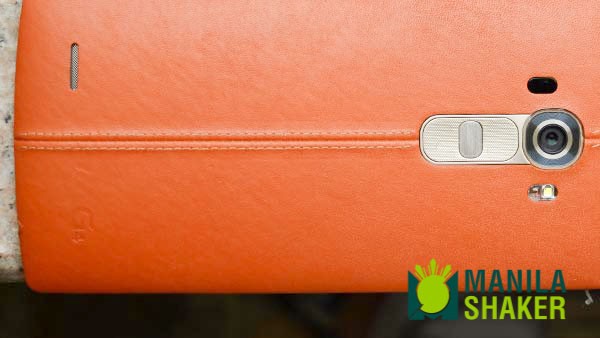 I received the brown leather LG G4 and it looks sleek and feels easy to hold. I was attracted on the G4's brown leather back and slightly curved body. The front looks just fine despite having thin bezels, maybe I was just expecting too much aesthetic change from the LG G3 after all.
The exclusion of physical keys on front and sides is not a surprise, but getting used to the rear keys takes a bit of time. There are times I wanted at least a power/lock button on the side or top. In the very least, the rear keys are responsive and big enough to accommodate my fingers.
Overall, the design is premium and top-notch. Anyone that is familiar to LG G4, or not, could easily distinguish how unique and beautiful the device especially the leather variant.
Display
The LG G4 has one of the best mobile display I have encountered, it's so sharp and accurate.
LG dubbed the tech behind their display as quantum display where 538 pixels are crammed in a square inch. By numbers, it also gives LG G4 an advantage over some 5.5-inch devices such as the iPhone 6 plus with 401 pixels per square inch only.
Outdoor visibility is also good, though not bright as the Galaxy S6 when compared, but colors are more accurate on the LG G4 because of the IPS LCD.
Camera
The 16MP sensor coupled with af/1.8 lens, a laser autofocus, Optical Image Stabilization and CSS (color spectrum sensor) are great key features in getting crisp and accurate photos.
LG G4 could take great photos both during night or daytime. Its manual mode allow users to easily get the pictures right by adjusting the different settings such as the ISO and shutter speed.
Not all cameras can capture perfectly and it's similar to the LG G4. I noticed a small amount of red tint covering most areas on some photos. It's more noticeably when putting G4's and Galaxy S6's photos side-by-side. I hope LG will attend to this issue through a software update.
The front facing camera has a wide-angle lens, thus, allowing wider areas to be taken. There is also a beautify feature suitable for selfie lovers.
Regarding of the video quality, the G4 smoothly captures up to 2k video res or UltraHD at 30fps. OIS works finely except there's a focus hunting or 3D motion effect when panning from side to side. For a fancier effect you can try Slow-Motion.
It's good to know that LG is also advertising the camera features of the device. As a smartphone, the LG G4 is a reliable shooter, possibly sitting on the top of every camera phones in the market right now.
Performance
I am not a fan of benchmark numbers nor the counts of how many Gigahertz and cores the CPU has to be. Because in real world use these numbers aren't enough to tell how the device works. Yet, for preferences I included some results for other interested readers.
Antutu: 47585 (higher than HTC M8, Xiaomi MI 4, Huawei Mate 7)
3DMark: 18394
GFXBench 3.1 Open GL: T-Rex 1308 frames, Manhattan 581.8 frames
In my day-to-day use, the LG G4 didn't show any stutter or lag issues. It opens apps and games smoothly even on multitasking and multi-window mode. And for this, I don't need numbers to buy or praise a phone. I'm already happy if my phone fluidly answers my daily demands.
OS
Out of the box, the LG G4 runs on Android 5.1 Lollipop, making it one of the very few to have the latest Google OS version.
The Korean manufacturer has integrated their LG Optimux UX 4 UI on top of Lollipop. I like how clean and intuitive the UI is. It's very flexible in terms of customizing different elements ranging from icons to home buttons.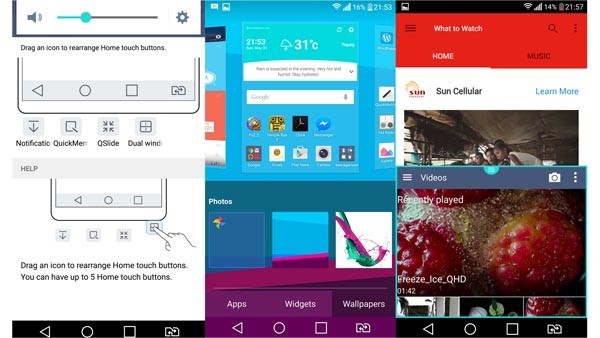 The G-series has hidden features, some are just first on the G4. Aside from popular Knock-code, there is also a glance feature usable when the phone is locked. Another is Move cursor, this appears when you long press the space during typing.
Quick Remote is not new in the G-series family, yet it's still fun and useful feature I'm always expecting from LG.
Audio
LG have greatly improved the speaker quality of their phone. The LG G4 will easily rock a room when playing a video or song in loudspeaker.
Right from the box, you will also get a nice looking headset which I comparable to high-end in-ear headsets of Beats or Sony, maybe better from the two.
Connectivity
The variant I am using is the dual SIM version with a dual LTE support. It means you can get up to 4G signals on both slots at the same time.
I haven't verified if the dual 4G really works because in Philippines you'll need to have an active LTE service on your number in order to get a LTE signal. The only proof I could get are the similar radio bands found on each SIM slot.
Battery
The new Qualcomm Snapdragon 808 chip and 3000mAh battery are not enough to make-up for the higher display and internal hardware of the LG G4. That's why I didn't see the battery life I was expecting beforehand.
To say the least, I am rating the battery life of LG G4 as below to average. It would last a day with moderate use of web browsing, call and video playback. If you're a heavy user of internet, you will surely need to charge the device before the end of the day.
Verdict
Overall, the LG G4 is a premium smartphone with a single caveat, its battery life. With a sleek design, great camera and superb display combined with its other promising features the LG G4 is worth a buy.
Any potential buyer will need to spend from P26,000 to P32,990, depending on where you will buy the device. This price range includes an official LG warranty and a free 32GB microSD card.