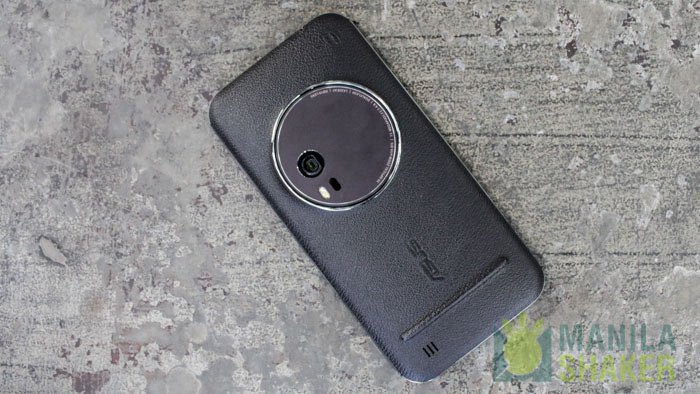 In just a year, Asus have launched several Zenfone models–all within the budget and mid-ranger pricing. Perhaps, the new Asus Zenfone Zoom is the first Android phone entry to touch the high-end tier with its premium design and P26,990 price in the Philippines (128GB model).
The Zenfone Zoom name hints major camera features: 13MP main, optical zoom, variable aperture and more. Also, in tow is a powerful Intel chipset and ample amount of memory. These specs alone sound very high-end, but will the Zenfone Zoom deliver a satisfying performance? Let's find out in our comprehensive camera review and in-depth look at the Asus' PixelMaster Zenfone Zoom.
See also: Asus Zenfone Selfie vs Xperia M5 vs Galaxy A8 vs Xperia C5
What's in the box?
Special Edition box with brown leather Zenfone Zoom ZX551ML 128GB
Lanyard / wrist lace
Special shooting cards (for bloggers)
2A fast charging power adapter
USB cable microUSB
Stereo headset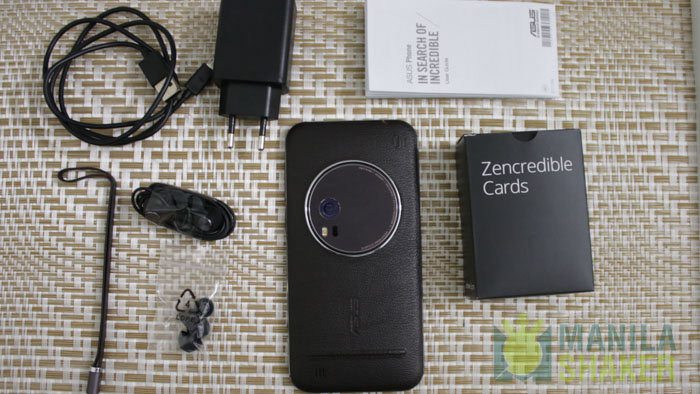 Design
The Zenfone Zoom looks like a Zenfone 2 on the front. Untrained eyes will have a hard time distinguishing Zoom from other Zenfone series by its front view.
Around the device is a curved metal with chamfered edges. And if not were for the leather back, the Zenfone Zoom would totally look like a black version of Nokia Lumia 1020 with a big flat out camera hump. The good news is the hump is made out of metal and the back is removable.
We suspect that the primary reason the Zoom felt heavy is due to the metal hump. But somehow the rounded corners and thin frame made the Zoom comfortable to hold in hands.
While ports are standard, the type of buttons are radical changes. The power button is located on the mid-right just below the volume rocker. The dedicated shutter key and recording button provide extra controls for the camera needs. All these buttons are made of solid metal and felt tactile and clicky.
Display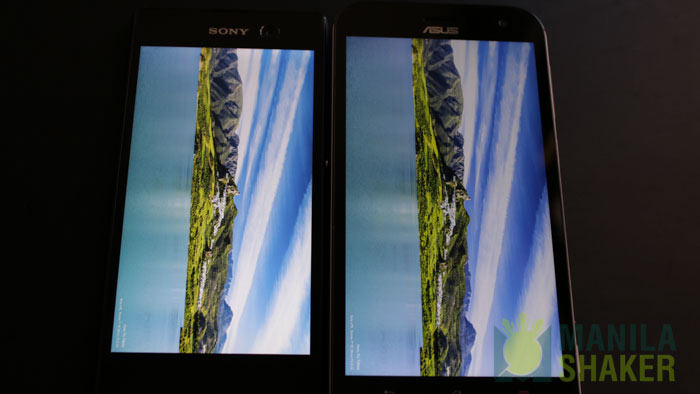 Asus is keeping the 5.5-inch 1080p IPS LCD display. There's no special treatment here as we've seen in Zenfone series. The viewing experience is kept good with accurate colors and bright output. Just like the Zenfone 2 and Selfie, we have a little issue with the viewing angles more specifically on reflections. At least, Asus managed to include a Gorilla Glass 4 on top.
Camera
The camera is one of the most interesting features in Zenfone Zoom. The main 13MP sensor is paired with a 10-element Hoya lens, f/2.7-4.8 variable aperture, dual LED flash, and 3x optical zoom–all sound so much for a phone. Backing up the is OIS and laser focus for more steady shots and faster focusing speed, respectively.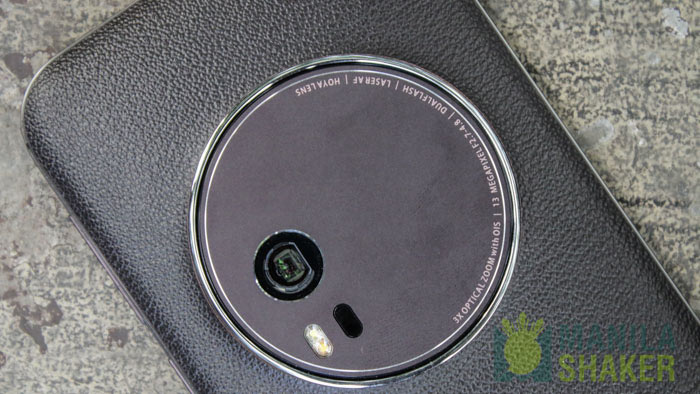 As for the quality, photos shot at non-zoomed level look decent if compared to cameras of Zenfone 2 and acceptable for a flagship, but not the best within its price category. Most of the shots have pleasing colors and a bit underexposed. White balance and temperature control are quite off the chart resulting in a bit greenish in other photos. We noticed aberrations and noise on most shots, but you shouldn't mind them if you're just planning to mostly share it on Facebook or Instagram.
At maximum zoom or focal length, however, the amount of detail is impressive with sharpness on the right level. It easily outperformed Samsung Galaxy S6 camera in our test.
See comparison: Asus Zenfone Selfie vs Samsung Galaxy S6
And while most recently launched flagship and mid-class phones touting 4K video, the Zenfone Zoom as an advertised cameraphone is stuck at 1080p. Totally, not a deal breaker for most users, but it would've added some credentials for Asus.
The 5MP selfie camera produces sharp and high-contrast selfie photos worth sharing.
Zenfone Zoom daylight and HDR shots with 3x Optical Zoom in some photos
Zenfone Zoom low light, night, with flash shots
Selfie shots
Watch sample Full HD video recording embedded in the video comparison below
Performance
Rocking a beastly Intel chipset, the Zenfone Zoom packs a quad-core processor clocked at 2.5GHz. Also, under the hood is a 4GB RAM and 128GB internal storage with the base model starting at 32GB and expandable up to 128GB more with a microSD card. Like the top-end models of Deluxe and Zenfone 2, the Zoom flaunts one of the best mobile graphics courtesy of a Power VR6430.
Multitasking on the Zoom is very fluid and snappy plus it handles graphically-intensive games smoothly. Although there are few unresponsive touches a few times, the screen might have been the issue rather than the internal hardware. More on graphics, the Zoom is positioned on the upper portion of the benchmark chart beating Exynos 7420 and Snapdragon 810 in photo editing and video playback scores.
Asus Zenfone Zoom Benchmark Scores
PC Mark Work Life – 5939 (Galaxy S6 – 5000, LG G4 – 4761)
AnTuTu – 60050 (Galaxy S6 – 67732, LG G4 – 55489, iPhone 6S – 65727)
Software
The same ZenUI onboard is present on Zoom as to the other Zenfones while running on Android 5.1 Lollipop OS. We felt that the ZenUI is not the best appealing experience out there, but at least, customization level is rich and wide. Icons can be changed or resized according to taste while supporting all 3rd party Android launchers.
What we didn't enjoy is the number of bloatware apps still present even on this premium model. Thankfully, you can get rid of those by manually uninstalling some.
Battery
Moving on the battery, the Zenfone Zoom comes with a 3000mAh non-removable battery. With moderate usage, it easily lasted a whole day, but it's hard to keep it going until midnight or the next day. The screen-on time is rated at around 3-4 hours and a 6h 23min PCMark Work Battery Life score. The battery charges from 0 to 100% took about 1 hour and 30 minutes mark with fast charging support.
Asus Zenfone Zoom Battery Life
Moderate usage – 1 day
Screen-on time – 4 hours
PC Mark – 6.38 hours (Galaxy S6 – 6.1 hours, LG G4 – 5.62 hours)
Charging time – 1h 30min
Speaker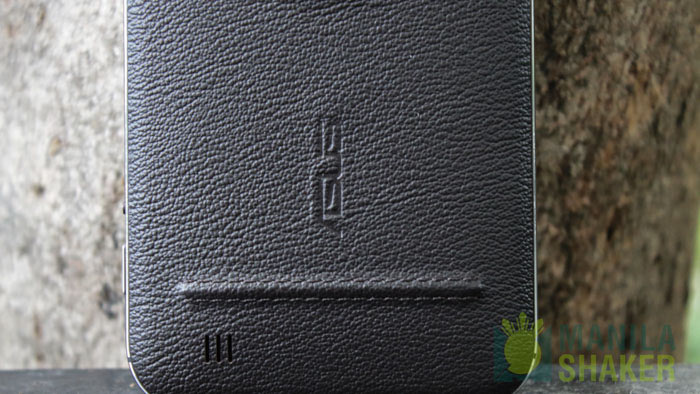 The mono speaker is found at the same position at the back, as is the case with its counter mid-range Zenfones, and offers the same sound quality. The speaker gets averagely loud and produces crisp and clear audio output without any distortion at max level. Of course, we'd still wish Asus would start putting front-firing stereo speakers soon on their upcoming devices.
Pricing and Verdict
For P26,990 SRP (ZX551ML 128GB model) in the Philippines, the Asus Zenfone Zoom sits under the budget-flagship category while putting it far away from a bargain. And for this price range, the Huawei Nexus 6P, Samsung Galaxy A9 2016, and Sony Xperia Z5 Compact make great options for few more thousands. Considering the aggressive pricing competition out there, Asus should have made the base model available and more affordable.
Despite the steep price, the Asus Zenfone Zoom remains a top-class flagship device. It has a reliable and unique camera setup, premium design, and solid build. Perhaps, the best Zenfone you can buy right now while beating some of the more expensive flagship competition.
Top features we liked on Asus Zenfone Zoom
Premium Design
Solid Build
SD card expansion
Excellent zoom capabilities
Powerful and fast
Reasons we didn't like Asus Zenfone Zoom
Ghosting/aberrations on photos
No added security features such as fingerprint scanner
A bit steep price
No 32GB base model option in the Philippines
Asus Zenfone Zoom vs Galaxy S6 Comparison with sample Full HD video
| | |
| --- | --- |
| SPECS | Asus Zenfone Zoom ZX551ML |
| Display | 5.5-inch 1080p Full HD IPS LCD, 401 ppi |
| Size | 5-12mm thick, 185g weight |
| Design | Removable leather back, metal frame, Gorilla Glass 4 |
| Colors | White, Black |
| Chipset | Intel Atom 3590 Quad-core 2.5GHz |
| Graphics | PowerVR G6430 |
| Memory | 4GB RAM, 32/64/128GB internal, microSD up to 128GB |
| Camera | 13MP, 10-element HOYA 28-80mm lens, variable 2.7-4.8 aperture, 3X Optical Zoom, OIS, Laser Focus, Dual-LED flash, 1080p FHD video |
| Selfie | 5MP selfie front-facing |
| Connectivity | 4G LTE micro SIM, WiFi ac, 4G LTE, Bt 4.1, GPS |
| Software | Android 5.1 Lollipop, ZenUI upgrade to Marshmallow |
| Battery | 3000mAh |
| Ports, quick charge | microUSB, fast charging |
| Release date | January 2016, available online |
| Price | P26,990 official SRP from Asus PH store |