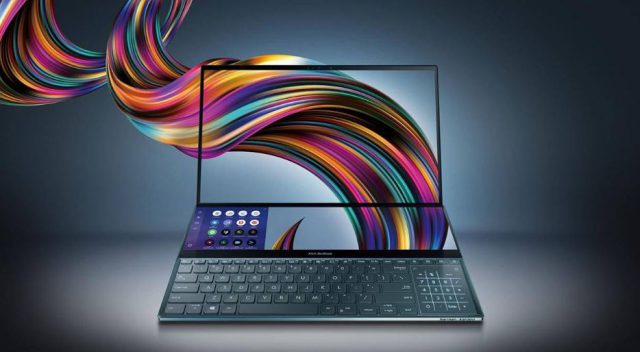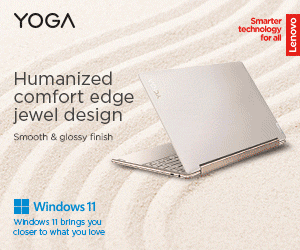 The future is apparently here — dual-screen laptop, that is. ASUS, at Computex, announced its ZenBook Pro Duo — a laptop bearing two displays featuring OLED and IPS panels. As absurd as that might sound, initial impressions are generally positive.
READ: ASUS ZenFone 6 launched: 48MP flip camera, 5000mAh, SD 855, P26k price
ASUS ZenBook Pro Duo — a laptop with two 4K displays
ASUS is really carving the path to the future as the ZenBook Pro Duo is unlike we've ever seen. The main highlight of the device are the displays — you have the clamshell display but with a 16:9 4K OLED panel, while the secondary display — found right where the keyboard usually rests — makes do with a 32:9 4K IPS panel, a.k.a. "ScreenPad Plus.".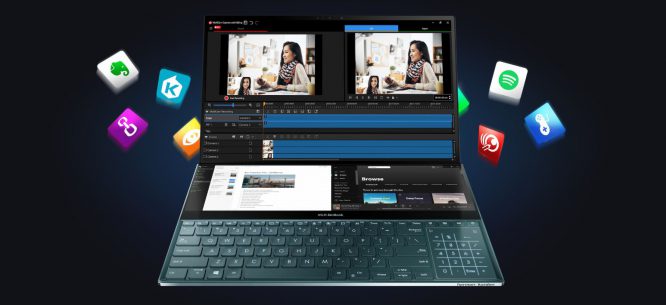 Due to the fact, the keyboard is tightly placed on the bottom part of the deck with a trackpad on its right side, à la ROG Zephyrus M. Apart from that, the ZenBook Pro Duo features up to octa-core Intel Core i9 CPU with Nvidia RTX 2060 GPU. As for port selection, there's a Thunderbolt 3, full-sized HDMI, audio jack, and two USB-A.
The ScreenPad Plus' Features
Now, back to the screen. The ScreenPad Plus offers a variety of functionalities, aside from sucking the juice out of the battery. First, it can act as a continuous vertical screen of the main display. Second, you can have it work as a normal extended display. Third, you can take advantage of ASUS' exclusive software wherein it'll allow you to open up to 3 apps side-by-side.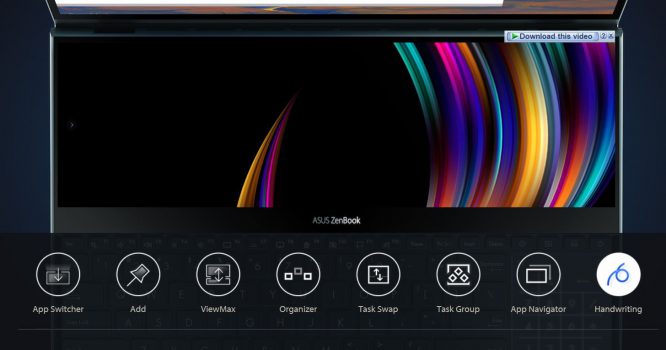 Due to the difference in panel technologies, the secondary screen appears duller in comparison. However, ASUS made it like that in order to reduce screen reflection on the main display.
If there's a catch here, it's the build. At 2.5kg, the ZenBook Pro Duo is a reasonably heavy laptop. And with two screens running simultaneously, expect the battery life to return average results.
ASUS ZenBook Duo — also with two displays
Without much fanfare, ASUS also introduced the smaller sibling — the ZenBook Duo. This time, you're dealing with a smaller chassis at 14-inch. You won't find 4K OLED panel here, but you do get two 1080p IPS LCD displays. As for the specs, it supports up to Intel Core i7, an Nvidia MX250, and up to 16GB RAM.
There's no official word yet about pricing and release date, however, we do expect the duo to come with hefty prices.
READ: ASUS ROG Mothership – The Most Powerful All-in-one Gaming Computer
ASUS ZenBook Pro Duo specs, price, release date in the Philippines
Display: 15.6″ OLED 4K, 3840 x 2160, 16:9 touchscreen
Secondary display: 14″ IPS LCD 4K touchscreen
Design: metal, ergo lift
Dimension: 359 x 246 x 24 mm, 2.5kg
CPU: up to Intel Core i9 Procesor
GPU: Nvidia RTX 2060
RAM: up to 32GB DDR4 RAM
Memory: up to 1TB storage
Ports: 2x 3.1 Type-A, 1x HDMI, 1x Audio combo, 1x Thunderbolt 3 USB-C, 1x DC-in
Connectivity: WiFi ac, Bluetooth 5.0
Battery: 71Wh
OS: Windows 10
Release date: TBA
Price: TBA
ASUS ZenBook Duo specs, price, release date in the Philippines
Display: 14″ IPS LCD 1080p, 1920 x 1080, 16:9
Secondary display: 12.6″ 1080p touchscreen
Design: metal, ergo lift
Dimension: 332 x 223 x 19.9mm, 2.5kg
CPU: up to Intel Core i7 Procesor
GPU: Nvidia GeForce MX250
RAM: up to 16GB DDR4 RAM
Memory: up to 1TB storage
Ports: 3x 3.1 Type-A, 1x HDMI, 1x Audio combo, 1x microSD card slot, 1x DC-in
Connectivity: WiFi ac, Bluetooth 5.0
Battery: 70Wh
OS: Windows 10
Release date: TBA
Price: TBA