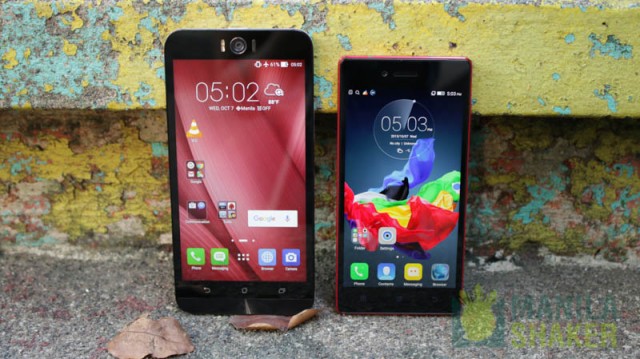 Lenovo's top mid-ranger and camera centric Vibe Shot has been put up to battle versus the selfie master of Asus, the Zenfone Selfie. Both are great products offering top class hardware for an affordable price tag. Lenovo Vibe Shot Z90-7 costs at sub P17k pesos thru Lazada Philippines while Zenfone Selfie in 32GB and 3GB RAM model is offered by Asus PH for sub P12k.
Find out which phone emerged on top in our Ultimate Comparison covering camera in low light and night shots, battery, benchmark and actual speed test, speaker, display and design. We got a separate battery test for Vibe Shot and Zenfone Selfie. Follow this link if you're interested.
Design and build quality
Vibe Shot easily wins this round because of the all-glass body and metal framing. Three color accents are available to choose from, our unit comes in red, other options is either white or grey.
Furthermore, Vibe Shot feels more premium and compact compared to the polycarbonate or plastic made, Zenfone Selfie. However, Selfie has an advantage of user-replaceable battery through its exchangeable back cover over Vibe Shot.
Both devices offer expandable storage thru microSD card slots.
Winner in design and built quality: Lenovo Vibe Shot
Display and picture quality
At first, we thought both will yield par results for the display and picture quality due to the fact that both phones have IPS LCD. But it looks like the Chinese giant has configured the 5-inch LCD of Vibe Shot to have a more punchier colors–mimicking the the AMOLED found on Samsung and other select devices. With this config plus with brighter screen, Vibe Shot easily trumps Selfie in display comparison, both in outdoor legibility and indoor.
Winner in display and picture quality: Lenovo Vibe Shot
Still camera images in low light and night, High resolution video, Selfie
Vibe Shot is the current cream of the crop of Lenovo, it just excels in specs with its 16MP OIS main shooter backed by triple LED flash and laser focus. Added feature is the pro-auto switch just besides the dedicated shutter key, switching to pro will enable manual camera settings.
The Asus Zenfone Selfie is the leader of Zenfone series in the selfie category, thanks to the 13MP main and front camera paired with dual LED flash. The rear shooter is coupled with laser focus assistance.
For the quality, both shooters have impressive detail preservation in day light. Vibe Shot has a little off white balance, but its still shots remain finer compared to Selfie. It is worth mentioning that from settings you have the choices of either superfine, fine and standard picture quality which I think is a handy tool.
What we like from the Zenfone Selfie is the night shot and selfie shots. It offer good color production and contrast (true lights are visible) despite the noisy shots. Meanwhile, its front-facing outputs have wider angle and not too strong beautify effect. Zenfone Selfie owners will surely love the dual LED flash, which is still a rare feature for current smartphones in the market.
Winner in still images: Lenovo Vibe Shot
For video, the Selfie beats the Vibe Shot because of the better contrast and detail preservation, exposure is not blown out compared to the Vibe Shot. However, it is bear mentioning that Selfie exhibits frame jumping when switching its focus.
Overall, the Vibe Shot feels a better recommendation over Selfie for the camera features and quality. Despite that, Zenfone Selfie is still a good choice especially for those who are in budget and always take selfies and groufies.
Winner in selfies and video: Asus Zenfone Selfie
Performance, speed test and benchmark
Surprisingly, Vibe Shot edges out Zenfone Selfie in spite both of having internal hardware. The Qualcomm Snapdragon 615 with Adreno 405 graphics power both, our 32GB Selfie is paired with 3GB RAM as to the Vibe Shot.
Boot up speed test showed that Vibe Shot on Android 5.0 Lollipop is few seconds ahead than Selfie.
In two benchmarks, Vibe Shot remained slightly better and faster. See the GeekBench 3 and AnTuTu results below.
For actual speed test, Vibe Shot has still fared well over the Selfie.
Overall, the speed difference is marginal. But Vibe Shot still deserves to be crowned on this round.
Benchmark results:
AnTuTu: Vibe Shot – 38791 | Zenfone Selfie – 36498
GeekBench 3: Vibe Shot – 701 single core, 2456 multi core | Selfie – 642 single core, 2459 multi core
Winner in performance, benchmark scores, speed test: Lenovo Vibe Shot
Speaker and sound quality
The rear-facing design of Zenfone Selfie's mono speaker didn't hinder on channeling better audio quality over the bottom-facing of Vibe Shot. Selfie produced slightly louder and cooler highs and lows. We love how balanced the speaker of Selfie compared to the bit tinny sound on what we heard from the Vibe Shot.
Winner in loud speaker test: Asus Zenfone Selfie
Battery life and real-life test
On two separate videos, both Vibe Shot' and Zenfone Selfie's battery rating have been tested through 2 hours HD movie playback. Results are listed down below showing Vibe Shot with longer battery life over Selfie.
Click link for battery test no. 1 for Vibe Shot, battery test no. 2 for Selfie.
Battery test review results after 2 hours HD movie playback
Vibe Shot – 88%
Zenfone Selfie – 83%
Winner in battery life: Lenovo Vibe Shot
Value and Verdict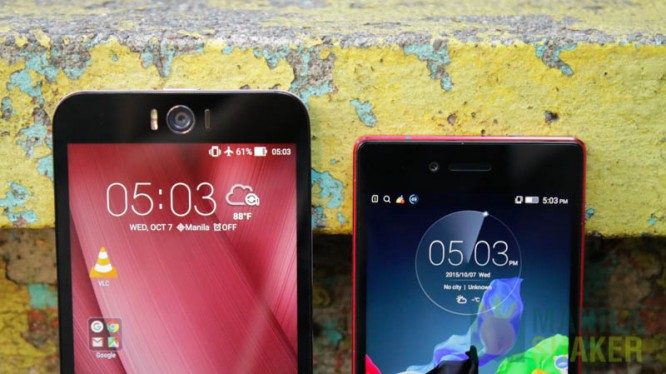 In hindsight, Vibe Shot's higher price tag offers premium design, better still camera and slightly faster performance over Zenfone Selfie. Additionally, we think that the price difference is worth investing if you're looking for jack-of-all-trade smartphone.
Just because Vibe Shot is better in most areas than Selfie, Asus hasn't made it a downer to the Zenfone series, in fact, it is one of the phones we really recommend for those who are in budget and looking for a chic phone with reliable selfie and main camera.
Official Video Comparison of Vibe Shot vs Zenfone Selfie
| | | |
| --- | --- | --- |
| SPECS | Asus Zenfone Selfie specs, PH price | Lenovo Vibe Shot Z90-7 specs, PH price |
| Display | 5.5-inch 1080p IPS display, 401ppi | 5-inch IPS 1080p FHD IPS LCD, 441ppi (720HD Z90-3) |
| Size | 10.8mm thin, 170g weight | 7.3mm thick, 145g weight |
| Design | Gorilla Glass 4, removable plastic back | Gorilla Glass 3, all-glass and metal frame |
| Colors | Chic blue, pink, white | Red, grey, white |
| Chipset | Snapdragon 615 octacore chip | Snapdragon 615 octa chipset |
| Processor | 4×1.7Ghz Cortex A53, 4x1GHz Cortex A53 CPU | 4×1.7Ghz Cortex A53, 4x1GHz Cortex A53 |
| Graphics | Adreno 405 GPU | Adreno 405 GPU |
| Memory | 3GB RAM, 16/32GB internal, microSD card up to 64GB | 3GB RAM, 16/32GB internal, microSD card up to 128GB |
| Main Camera | 13MP AF, laser focus, dual tone LED flash | 16MP camera, Optical Image Stabilization, Tricolor LED flash, laser focus, dedicated shutter |
| Multimedia | 1080p video, HDR | 1080p video, HDR |
| Front camera | 13MP AF, dual tone LED flash, 1080p video | 8MP AF, 1080p video |
| Connectivity | WiFi ac, Bt 4.0, GPS, NFC, dual SIM 4G LTE | WiFi n, Bt 4.1, GPS, NFC, dual SIM 4G LTE |
| OS | Android 5.0 Lollipop | Android 5.1 Lollipop |
| Software Features | ZenUI | Lenovo Vibe UI |
| Battery capacity | 3000mAh, user-replaceable | 3000mAh, built-in |
| Ports & Charging Features | microUSB 2.0, MHL, 2A Fast Charging, USB OTG | microUSB 2.0, MHL, USB OTG |
| Official Price | Php 11,995 for 32GB, bought from OneTechStop | Php 16999, bought from Lazada |
| Availability date | Aug-15 | Jun-15 |
| Where to buy | Asus PH online store, OneTechStop, Widget, Hotgadget, Offical retails stores in malls | Lenovo retail stores, Lazada PH |
Related hands-on, comparisons and reviews: