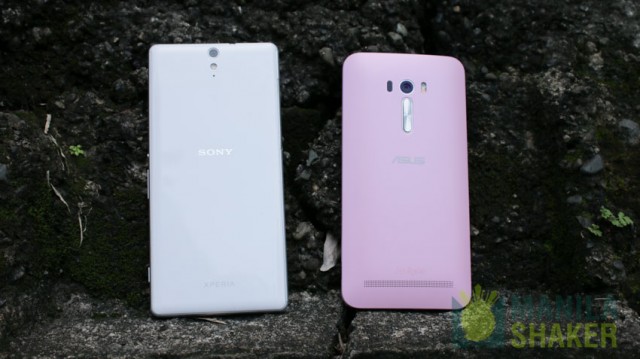 Asus and Sony battle it out, in this ultimate comparison, with Asus' Zenfone Selfie (Priced at around Php 11-12K) faces off with Sony's C5 Ultra (Price at around Php 17-18K). Check out both device's specs, features, price and overall performance and decide which device suits you best.
Design and build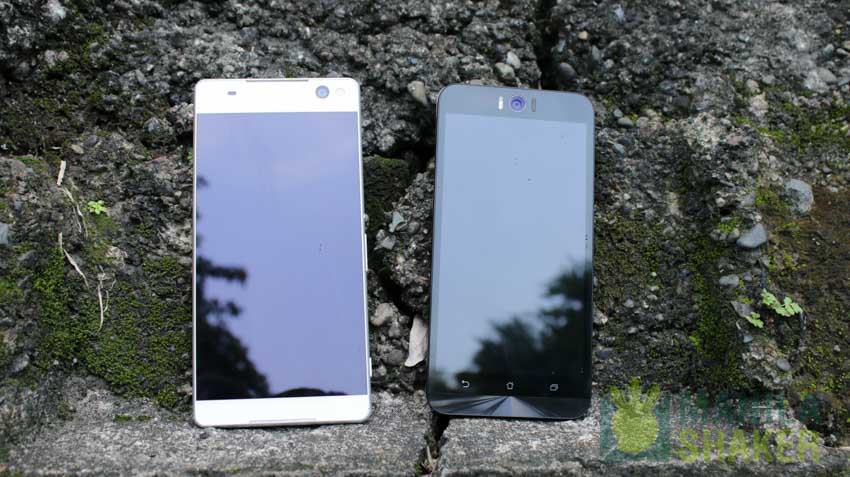 Both devices delivered a few advantages with one another, in terms of design, one in particular is the C5 Ultra's super thin bezel and its advantageous STB ratio of  75.9%, which trumps the Zenfone Selfie's 68.3% STB ratio. However, Zenfone Selfie is protected by Corning's Gorilla Glass 4, which is not present in the C5 Ultra's arsenal.
The C5 Ultra possesses a glossy glass back, which is more appealing texture-wise and style-wise to the polycarbonate back of the Zenfone Selfie, however, Zenfone Selfie has a removable back and battery, which is more efficient than the C5 Ultra's fixed non-removable battery. This will play a major role in a way that, the Zenfone Selfie provides more utility, battery-wise.
The C5 Ultra is thinner than its opponent, with the latter measuring at 8.2mm, compared to the Zenfone Selfie's 10.8mm measurement. Both devices have very unique features in them, with the C5 Ultra's safety bumpers, that protects the C5 Ultra from sudden shocks, usually done by accidentally dropping the device, while the Zenfone Selfie has a curved back, which is tapered edges, this makes the Zenfone Selfie look a bit thinner and to some, more stylish. The C5 Ultra also, possesses physical buttons, while Zenfone Selfie has a rear volume rocker.
The Winner: Xperia C5 Ultra, for its more stylish approach in design
Display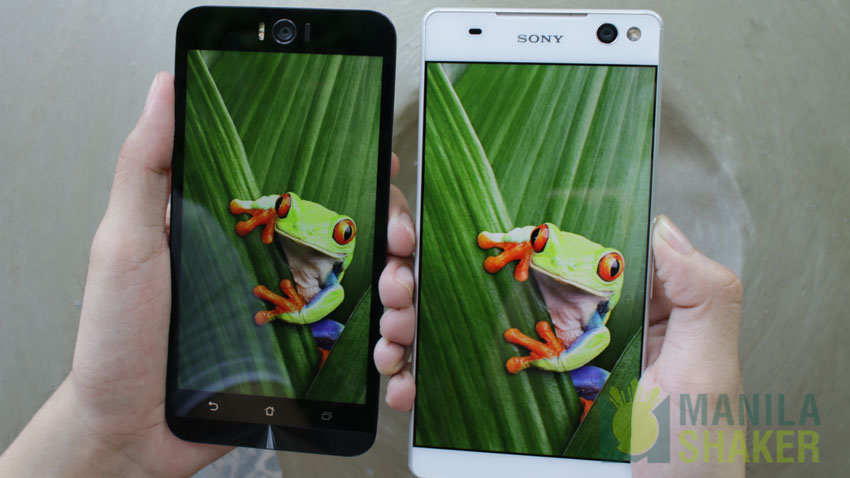 Both devices deliver a 1080p FHD IPS display screen, with the C5 Ultra sporting a 6-inch screen, while the Zenfone Selfie has 5.5-inch screen. Overall, C5 Ultra provided a much more brighter display, in comparison to the Zenfone Selfie. The C5 Ultra also had a more readable and wider angle screen, when exposed to broad daylight, and with this C5 Ultra was the victor for display.
The winner: C5 Ultra for its brighter an more readable screen display, especially on natural light.
Camera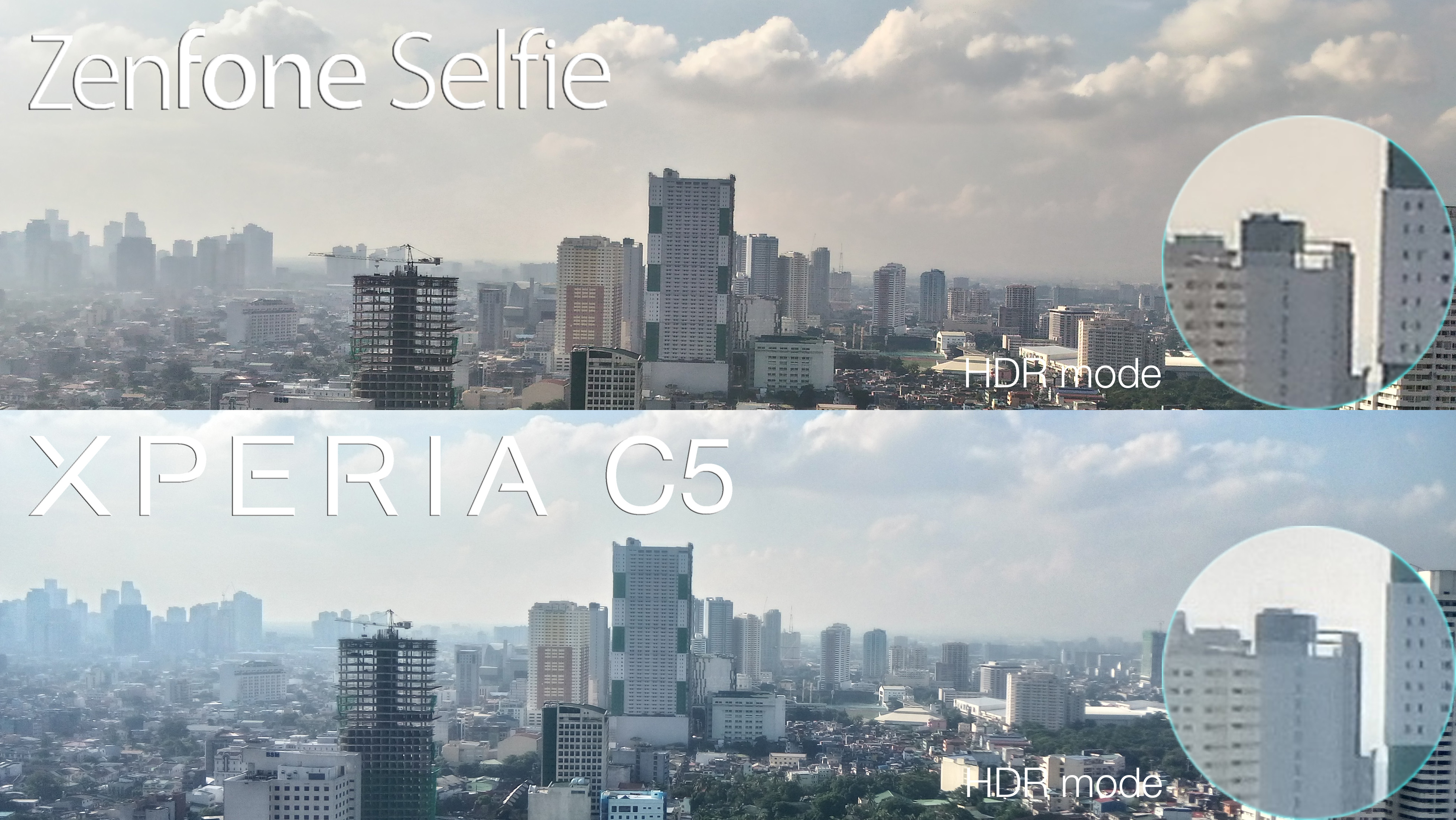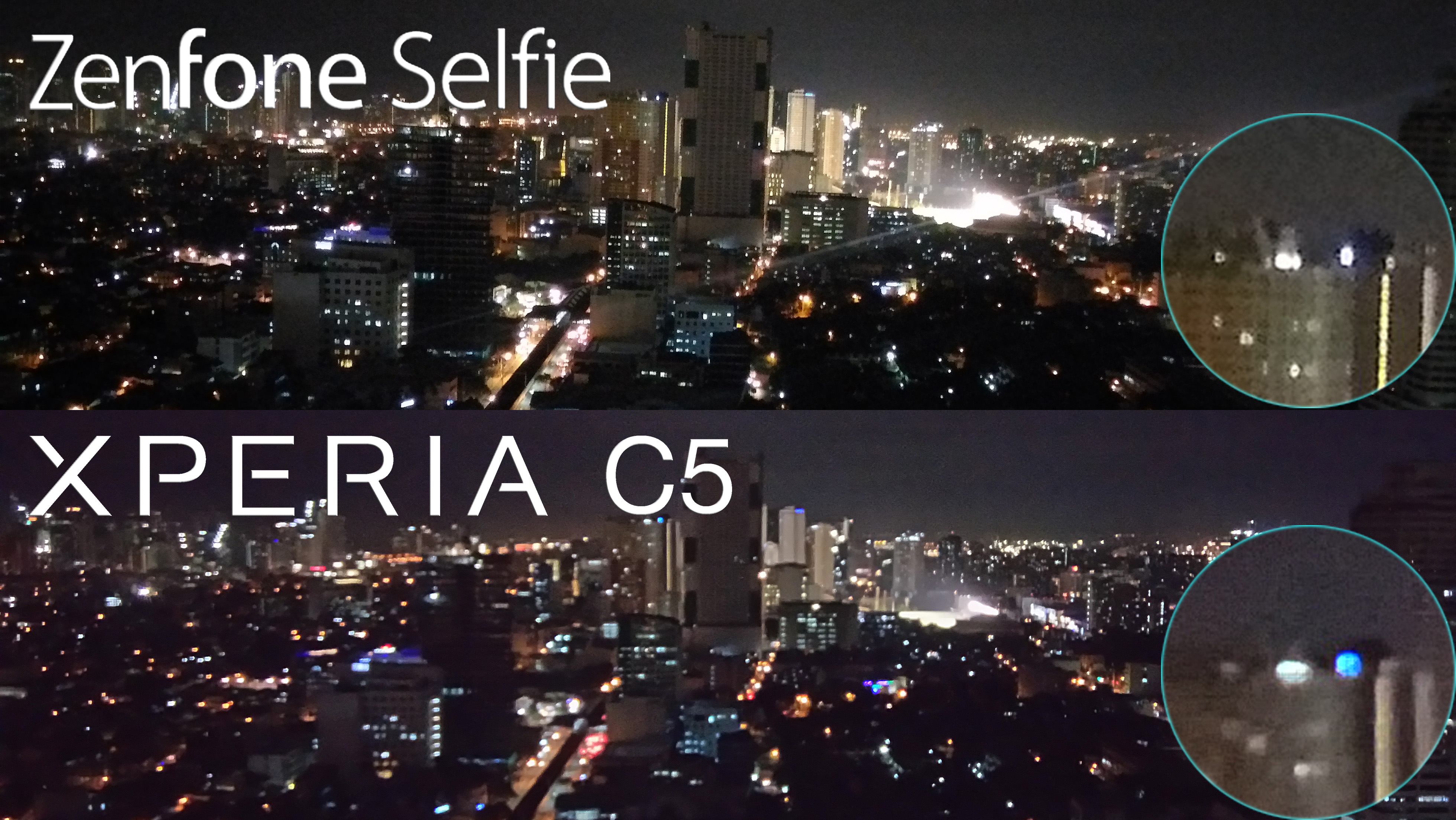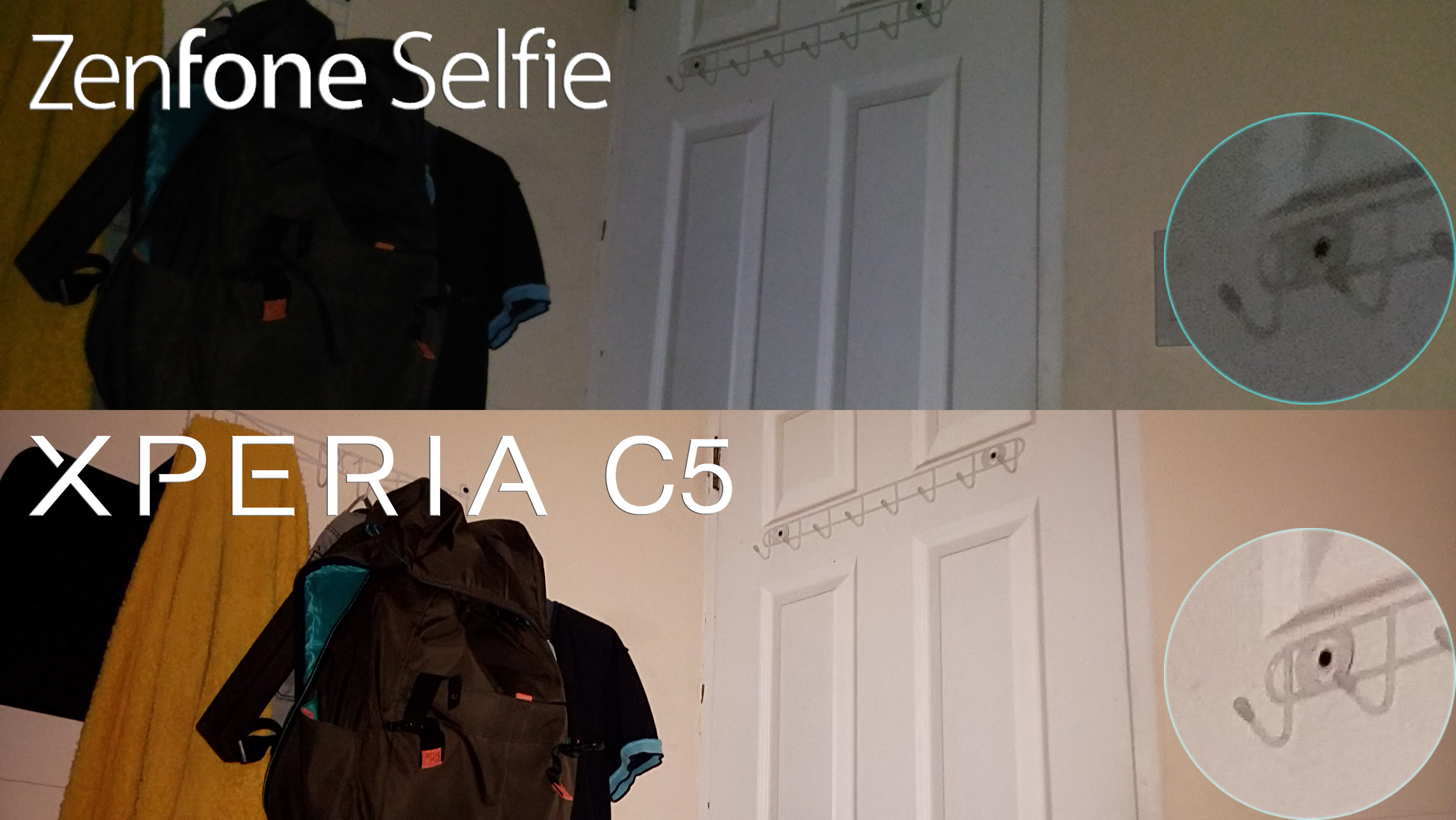 For main camera performance,  both phones were on par, in terms of detail-preservation and sharpness of the output, though, both phones showed a few differences in color accuracy. For night shots, the Zenfone Selfie delivered a sharper and more clear output, in comparison to the C5 Ultra's outputs, however, C5 Ultra was able to showcase a better LED flash performance than its opponent.
Winner for rear shooter performance: Tie, for their respective advantages, in terms of color accuracy and sharp outputs.
For Selfie shooter performance, both devices were equipped with a 13MP front facing camera, Yet, despite having identical front facing camera, Zenfone Selfie provided a more wider viewing range and wider lens than the C5 Ultra, however, the C5 Ultra countered this with its sharper and more detailed output. The C5 Ultra provided a more effective beautify mode than the Selfie, with the Zenfone Selfie's way too aggressive take on this particular feature or mode.
Winner for selfie shooter performance: Tie, for advantages in output sharpness and range capability.
Zenfone Selfie delivered a more dynamic range and a bit sharper video quality, in comparison to the C5 Ultra's video output. With this, Zenfone Selfie took a round off of the C5 Ultra cleanly.
Winner for video performance: Zenfone Selfie, for its superior video quality and dynamic shooting range.
 Performance and benchmarks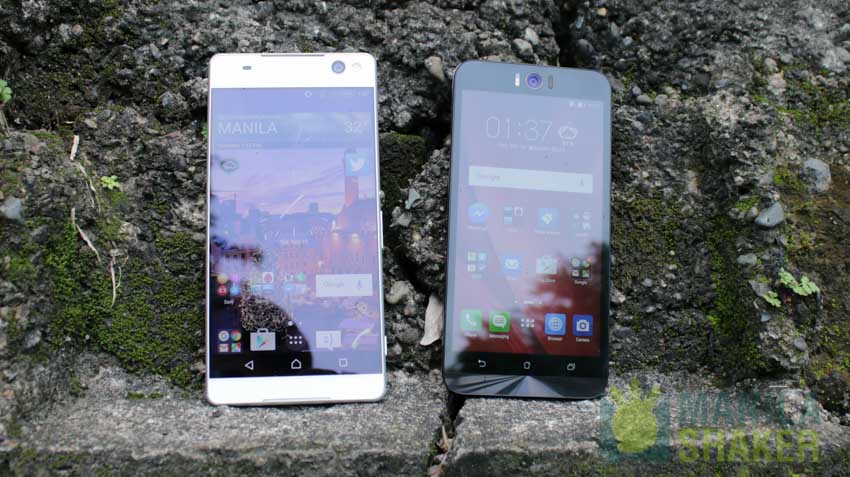 Both device packs an up-to-date system, which is the Android 5.0 Lollipop, with the C5 Ultra being powered by MediaTek MT6752 octacore chipset, and the Zenfone Selfie's Qualcomm Snapdragon 615 empowered chipset. Zenfone Selfie provides options in RAM and internal storage capacity, with the user, having an option to chose from 2GB of RAM, with a 16GB internal storage capacity or 3GB of RAM, with a 32GB internal storage capacity, while the C5 Ultra has fixed 2GB RAM capacity and a 16GB internal storage capacity.
For the boot up tests conducted on both devices, both the C5 Ultra and Zenfone Selfie delivered an equal performance, however, it took longer than expected for both devices to boot up their system, with both devices at around 47-50 secs of boot-up loading time.
For the conducted benchmark tests on both devices, we were able to conclude from the results, that the C5 Ultra was superior than the Zenfone Selfie, in terms of system performance, with the C5 Ultra beating the Zenfone Selfie on all three conducted benchmark tests.
AnTuTu ratings:
 Sony Xperia C5 Ultra – 45022
Zenfone Selfie – 35294
Basemark OS II:
Sony Xperia C5 Ultra – 928
Zenfone Selfie – 844
Geekbench 3:
Sony Xperia C5 Ultra – SCS: 796, MCS: 4069
Zenfone Selfie – SCS: 595, MCS: 2390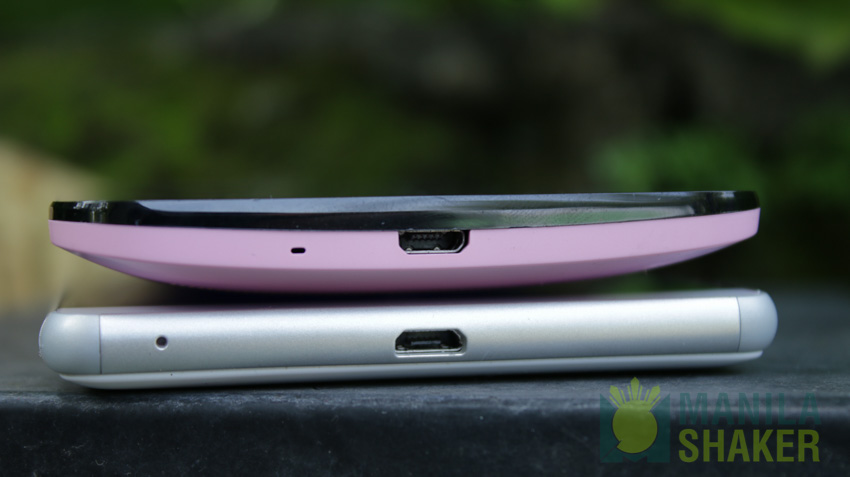 For the application boot up test conducted, the C5 Ultra showcased again, its superiority in system performance, as it beats the Zenfone Selfie again, with the C5 Ultra, simply delivering a quick and efficient application loading time.
In the browsing loading tests conducted, the C5 Ultra again trumps the Zenfone Selfie, with the C5, delivering another quick and efficient loading performance. This sealed the deal in their performance battle, with the C5 Ultra claiming victory over the Zenfone Selfie.
Speaker
The Zenfone Selfie delivered quite a speaker performance, with the latter, providing an overall better, louder and clearer audio output than its opponent , the C5 Ultra. The C5 Ultra delivered tinny sound outputs, which affected its overall speaker performance. With this, the Zenfone Selfie found its way back in the game, with the latter, trumping the C5 Ultra, in the Speaker department.
The winner: Zenfone Selfie for overall better sound quality and audio outputs.
Price and conclusion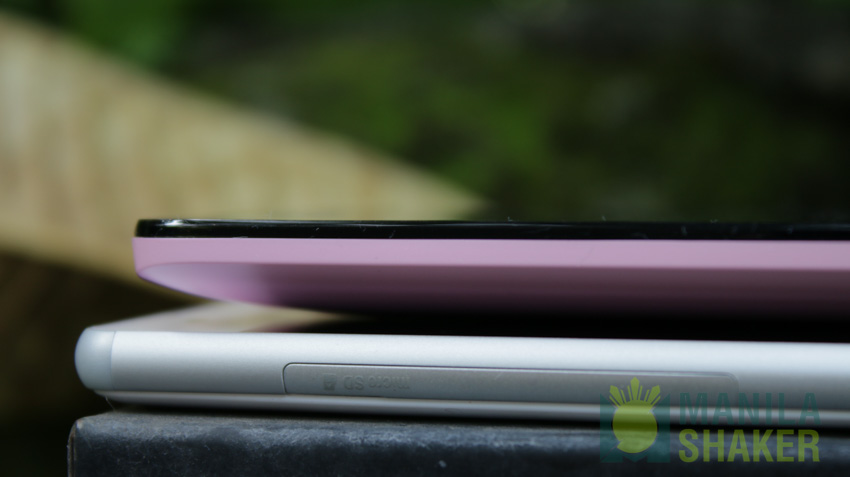 The Zenfone Selfie and C5 Ultra has pretty obvious advantages and disadvantages with one another, which mainly comes from the C5 Ultra's overall better system and the Zenfone Selfie's excellent speaker. However, their camera capabilities, as seen in this comparison weren't exactly far from one other, this is a factor that should be taken note of, when deciding to purchase either of these devices.
The Zenfone Selfie and Xperia C5 Ultra are available here in the Philippines, with the C5 Ultra at around Php 17-18K and the Zenfone Selfie at around Php 11-12K. Please leave your comments and suggestions, regarding this reviewcomparison. Comments and suggestions are always obliged.
And also, check out the video version of this ultimate comparison:

| | |
| --- | --- |
| Sony Xperia C5 Ultra specs, PH Price | Zenfone Selfie specs, PH Price |
| 6-inch FHD IPS display | 5.5-inch IPS 1080p FHD display, 403ppi |
| 8.2mm thickness and 187g weight | 10.8mm thickness, 170g weight |
| Scratch-resistant glass | Cornings Gorilla Glass 4, oleophobic coating |
| Mediatek 6752 octacore chip, 1.7GHz Cortex A53 CPU | Qualcomm Snapdragon 615 |
| 2GB RAM | 2 GB of RAM for the 16GB variant, 3GB of RAM for the 32GB variant |
| 16GB internal, microSD card up to 128GB | 16/32GB internal storage, microSD up to 64GB |
| 13MP camera, HDR, 1080p video, LED flash | 13MP rear shooter, 4128 x 3096 pixels, laser autofocus, dual-LED flash (dual-tone |
| 13MP selfie camera, 1080p video, LED flash | 13MP selfie shooter, 1080p video, dual-LED flash |
| Dual nano SIM, 4G LTE, WiFi a, Bt 4.1, NFC, FM Radio, GPS, ANT+ | Dual-SIM, Wifi ac, BT 4.0, GPS, GLONASS, NFC |
| Android 5.0 Lollipop | Android 5.0 Lollipop |
| 3000mAh | 3000mAh battery |
| White, Black, Mint green | Pure white, chic pink, aqua blue |
| Php 17.9k price at Sony PH as of September 21 | Php 11,995 price at Lazada as of September 21 |
Related posts and reviews