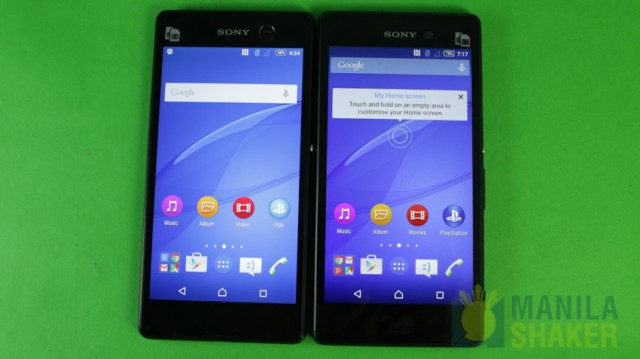 We recently got our hands with the Sony Xperia M5 dual and oh boy, we are having a blast with it. In regards to that, check out the Xperia M5's specs, price and overall new features, as well as its differences to the Sony Xperia M4 Aqua.
The Xperia M5's overall better display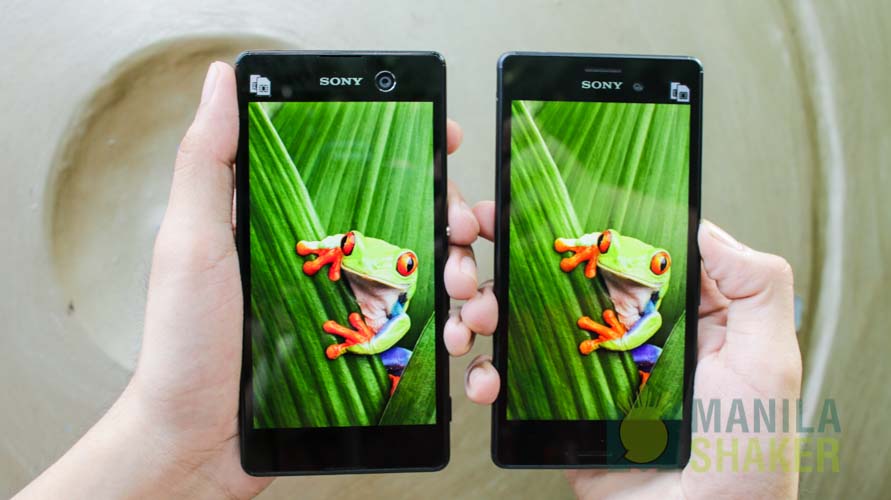 The Xperia M5 delivers one heck of an improvement, in terms of display quality. Despite, both devices sporting a 5-inch LCD display. The Xperia M4 Aqua possessed a 720p resolution, which actually didn't look bad, however, in comparison to the 1080p resolution of the Xperia M5, it showcased a bit more than the M4 Aqua can offer. A more in-depth explanation on both device's screen shall be featured at our official full comparison with the Xperia M4 Aqua and Xperia M5.
The Xperia M5's rear and front camera trumps the M4
We were a bit surprised, as to how Sony was able to improve the Xperia M5's camera performance, to this unexpected level, with the Xperia M5 delivering very detailed and crisp still images.
Don't get us wrong, the Xperia M4 Aqua's camera performance is actually excellent, but the camera-level is clearly far. The Xperia M5 packs a whopping 21.2MP rear shooter and a 13MP front shooter, which is a huge leap from the Xperia M4 Aqua's 13MP rear camera and 5MP front shooter, which pretty much showcases the biggest Xperia M5 leap from its predecessor.
And it doesn't stop there, the Xperia M5 delivers a very amazing 4K resolution video, which more will be mentioned in our upcoming full comparison between the Xperia M5 and M4 Aqua.
The Xperia M5 is showered with tidbits of changes for its system
The Xperia M5 provided us, with many new alterations, which can be good or bad, depending on the users preference. The Xperia M5 made a big switch on its processor, from the Xperia M4 Aqua's Qualcomm Snapdragon 615 to the Xperia M5's MediaTek MT6795. There is also an increase in RAM capacity in the Xperia M5 which is at around 3GB of RAM from the M4 Aqua's 2GB RAM capacity. For battery, the Xperia M5 delivered a 200mAh upgrade from the M4 Aqua's 2400mAh battery to the now 2600mAh battery of the Xperia M5.
Conclusion
The Xperia M5 delivered quite a lot of tricks in its sleeves and we can safely say, that it had a few interesting improvements from the Xperia M4 Aqua. However, it retained a few features that the M4 Aqua was loved with, which we can say was an overall good move by Sony.
This is all we can offer from this quick comparison of the Xperia M5 and M4 Aqua. Please stay tune for the Official Sony Xperia M4 Aqua VS M5 ultimate comparison. Please leave your comments and suggestions on the comments section below and always remember, feedbacks are always obliged.
| | |
| --- | --- |
| Sony Xperia M4 Aqua Dual specs PH Price | Sony Xperia M5 Dual specs PH Price |
| 5-inch HD IPS display, 294ppi | 5-inch IPS 1080p LCD display, 441ppi |
| 7.3mm thick, 135g | 7.6 mm thickness, 142.6g weight |
| Water & dust proof up 1.5m and 30min, metal frame, all glass | scratch-resistant glass |
| Snapdragon 615 1-1.5GHz octacore chipset | MediaTek MT6795 Helio X10 |
| 2GB RAM | 3GB of RAM |
| 8/16GB internal, microSD card up to 128GB | 16GB internal storage, microSD up to 200GB |
| 13MP camera, 1080p video, HDR, LED flash | 21.2MP 5312 x 3984 pixels, phase detection autofocus |
| 5MP selfie camera, 720p video | 13MP, 1080p@30fps video |
| 4G LTE Dual SIM, WiFi n Bt 4.1, FM Radio, GPS | 4G LTE Dual SIM, WiFi n, Bt 4.1, FM Radio, GPS, GLONASS |
| Android 5.0 Lollipop | Android 5.0 Lollipop |
| 2400mAh battery | 2600mAh battery |
| Black, White, Silver, Coral/Pink | Black, White, Gold |
| Php 11,380 price at Hotgadgets as of September 19 | $400 (P18-20k) official SRP from Sony |
Related posts, reviews, comparison: