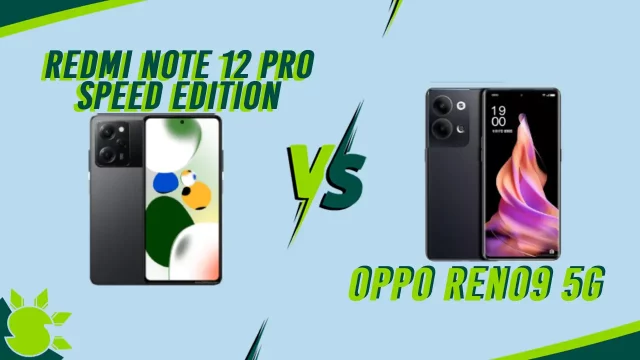 At the tail end of 2022, Xiaomi introduced the Redmi Note 12 in several flavors. Redmi Note 12 Pro Speed Edition is a new limited edition model. It has a high priority on performance because of its sophisticated hardware department, but its overall specifications are impressive. Both devices did enough to rival November's OPPO Reno9 release. The question is, which of these gadgets is the best, given that they are all in the same price range? There seems to be a lot of curiosity, so we'd provide some information. Here's a look at how the OPPO Reno9 stacks up against the Redmi Note 12 Pro Speed Edition in terms of their primary specifications, if you're interested.

Related: Reno9 Series from OPPO Features Curved AMOLED Displays
Design & Display
OPPO Reno9 wins in design. Its design is unique, with small display bezels and a camera module like the OPPO Reno8 series. It weighs only 174 grams and is one of the thinnest phones at 7.2 mm. The Redmi Note 12 Pro Speed Edition is thicker, lighter, cheaper, and has a lower screen-to-body ratio. It's the only one with IP53 dust and splash resistance, so remember its build quality.
These phones have outstanding displays that are on par with one another, but they can't compare to the screens on the most expensive flagship models. With its 120 Hz refresh rate and Full HD+ AMOLED display, the OPPO Reno9 is a severe contender in the premium smartphone market. The 6.67-inch OLED screen of the Redmi Note 12 Pro Speed Edition also supports Full HD+ and refreshes at 120 Hz.
Camera & Speakers
The Redmi Note 12 Pro Speed Edition has the most excellent back cameras. Its triple camera system consists of a 108-megapixel primary sensor, an 8-megapixel ultrawide shooter, and a 2-megapixel macro lens. The front-facing camera on the OPPO Reno9 is upgraded from 16 megapixels to 32 megapixels, making it far better suited to taking high-quality selfies.
Compared to the OPPO Reno9, which has a mono speaker, the Redmi Note 12 Pro Speed Edition's dual speakers are a nice touch.
OS & Hardwares
Both devices ship with Android 13, have heavily modified user interfaces on top, and are promised two major software updates in the following two years. The OPPO Reno9 has superior hardware, at least in its priciest memory option. The Adreno 642L GPU and the 6-nanometer Snapdragon 778G 5G mobile platform power it. In addition to the chipset, the most expensive version includes 12 GB of RAM and 512 GB of storage space. Similar to the Redmi Note 12 Pro, the Redmi Note 12 Pro Speed Edition features a Snapdragon 710 processor, 6GB of RAM, and 256GB of native storage.
Battery & Charging
As its larger battery means it can keep going for longer, the Redmi Note 12 Pro Speed Edition is an excellent choice for those who value mobility. The OPPO Reno9's battery may be smaller, but its fast charging technology is just as potent (67W) as its competitor's.
Price & Availability
When converted from the Chinese market, the OPPO Reno9's vanilla variant costs about $399 (around Php 21,719), while the Redmi Note 12 Pro Speed Edition has a starting cost of about $250 (approx. Php 13,609). What option would you choose if given a choice? Let us know in the comment box.
---
Read More Articles Here