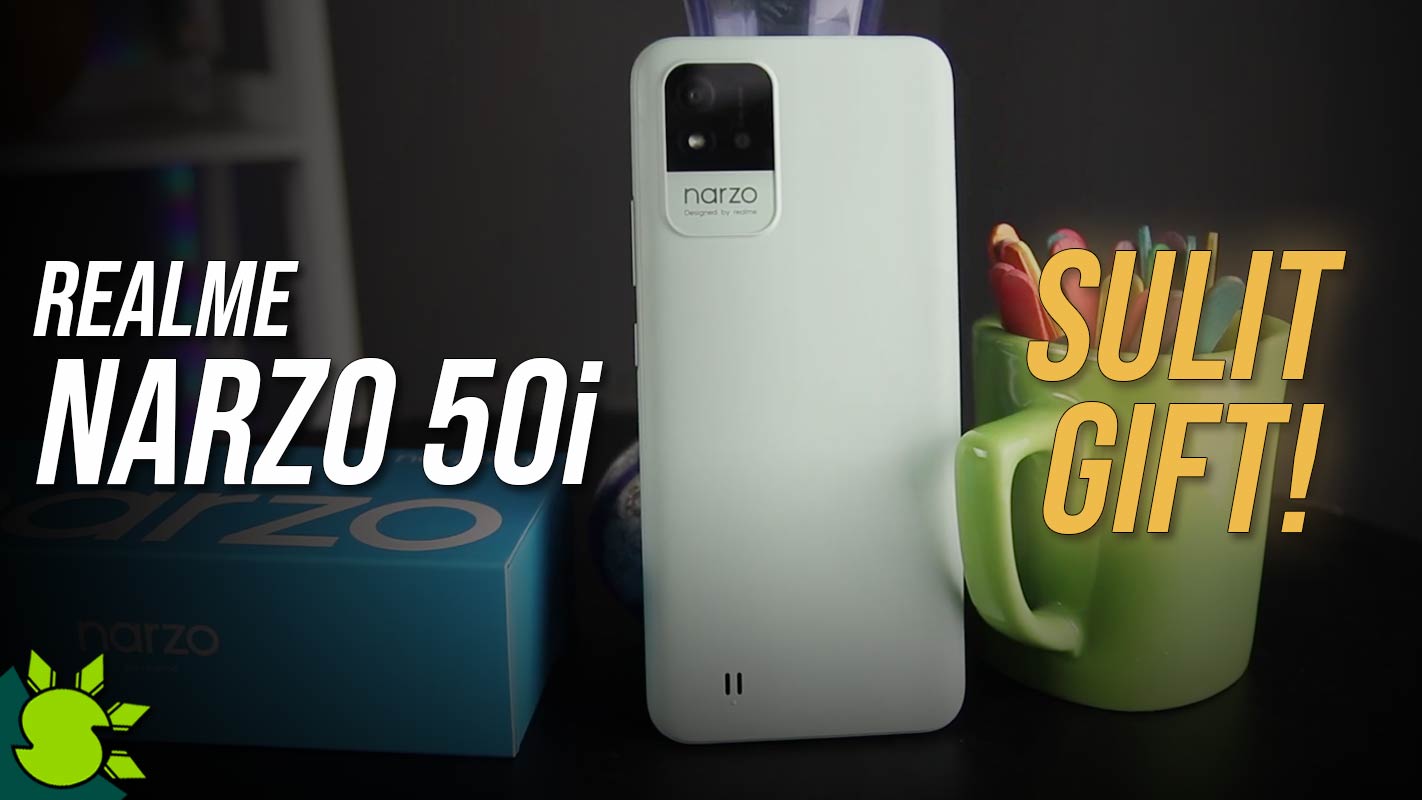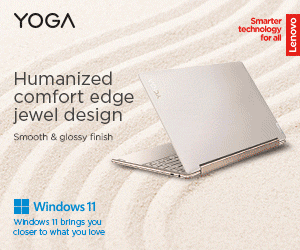 Many of us are looking for a low-cost smartphone to give as a gift to our loved ones for the upcoming holidays, and the good news is that realme released a slew of low-cost smartphones before the end of the year. One of these is the Narzo 50i, which is the focus of our article. Some say it only has a Unisoc octa-core chipset, while others want it to have a Helio gaming chipset so that it can play graphically demanding games at HD+ resolution. Usability is subjective and we'll tell you right now why the Narzo 50i is the "Sulit" Christmas gift, so keep reading.
READ: realme smartphones price list in the Philippines (2021)
Safe Build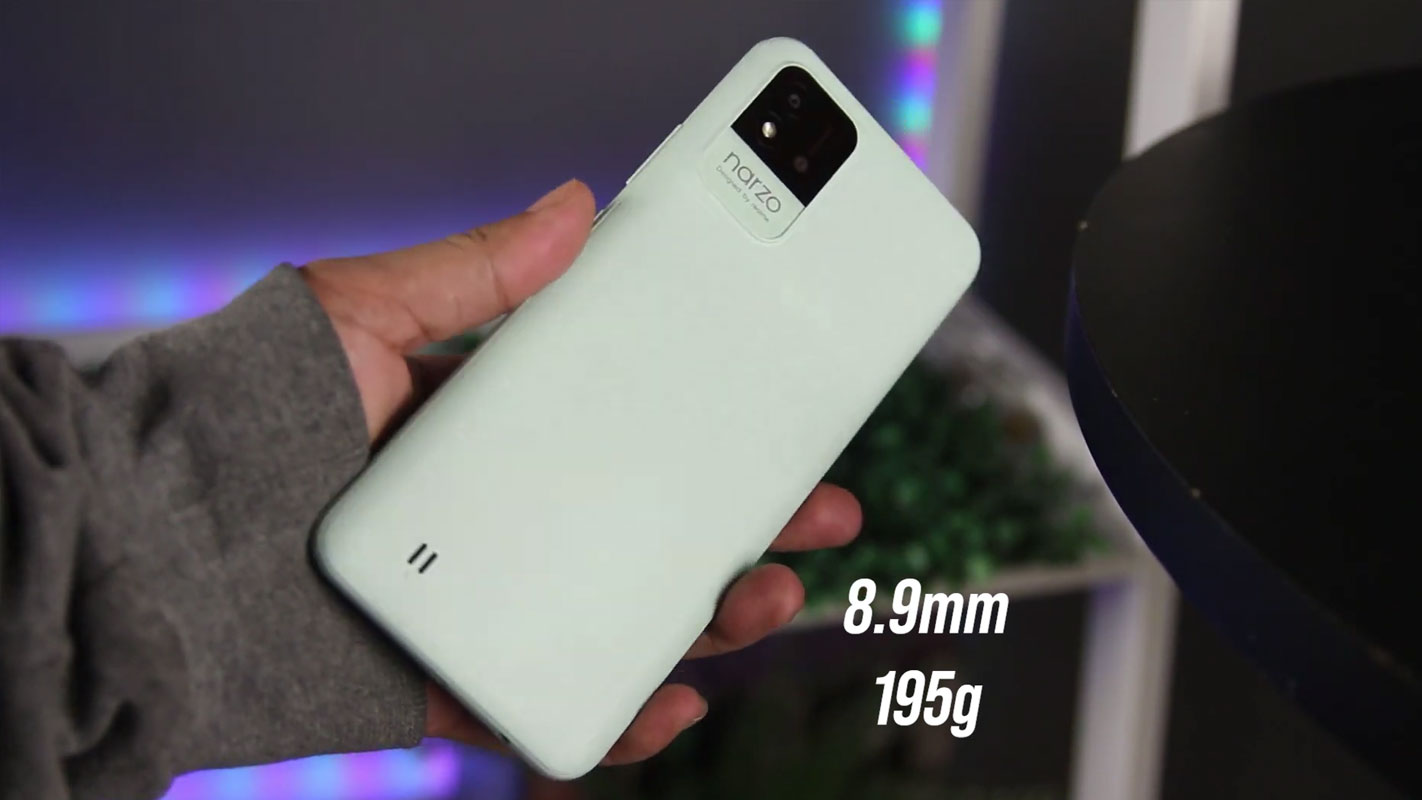 The realme Narzo 50i comes in two color options: Carbon Black and Mint Green, both of which have pleasing colors and aesthetics. The design is clever, and it serves a purpose. It has a splash-resistant design preventing water damage, making it suitable for drizzle and light rain or accidental spills. It also has a diagonal stripe design with a slimmer form factor of 8.9mm thickness, which makes it comfortable to hold and provides extra grip to ensure that the phone does not slip from the hand. It also comes with a pre-installed screen protector, making it resistant to minor scratches. Giving it to your child ensures that it will not be easily damaged and will withstand some physical damage.
Lessen Eye Strain
This slideshow requires JavaScript.
Dark mode, adaptive brightness, and eye comfort remain on the realme Narzo 50i. The Dark Mode, as well as the Eye Comfort, can be activated automatically. Dark mode reduces the whites on the screen, while eye comfort reduces the blue light-emitting on the screen to reduce eye strain, making it ideal for consumers who use the device for extended periods of time. This is a reliable function, especially if you will give it to your child, as you will have less supervision over how they use the phone.
Less Supervision
This slideshow requires JavaScript.
Speaking of supervision, it has digital wellbeing and parental controls. Digital Wellbeing can track app data, and it has a dashboard, bedtime mode, and focus mode. The feature restricts usage and displays graphical information about how the phone was used. If you give it to your children, this is an excellent tool because the phone will limit the user automatically.
READ: OPPO's Self-Developed Retractable Camera – Teased Ahead of the 2021 Inno Day Event
This slideshow requires JavaScript.
Another method of remotely supervising the phone is parental control, which can be accomplished through the Google Family group. It restricts and filters other content, particularly on Google Play. It is safe for parents, children, or teenagers, and you can control the limitations, such as bedtime and screen time, using your current device.
Long-lasting Battery
A large 5000mAh battery powers the realme Narzo 50i. It is one of the low-cost phones with a large battery. The phone will last at least a day for average users and two days for light users. It has a longer battery life than other budget phones because it uses a pretty good Unisoc SC9830A chipset that is an Octa-core clocking at 1.6 GHz. It doesn't have much power, but it can play MOBA games like Mobile Legends and Wildrift just fine. Because it is not a gaming chipset, it consumes less power, resulting in less battery consumption, and the HD+ resolution of its 6.5-inch display consumes less processing, resulting in more screen-on time. This means that the realme Narzo 50i is one of the best options if you want to use it for a longer period of time.
Lightweight Realme UI Go
This slideshow requires JavaScript.
The Narzo 50i is powered by the latest Android 11 OS, with the realme UI Go skin on top. The go version means fewer processes, faster speeds for light chipsets, but fewer features. Necessary features such as Dark Mode, Adaptive brightness, smart motion, and super power-saving mode remain on the device. These features ensure that the phone has more space to save some juice in order to have a longer battery life. Browsing and navigating on the Realme UI Go version is quite convenient and provides a lighter feel, making it ideal for gifting to your child or parents. The stock Google apps are also available in the Go version, which uses less power and processes to improve the user experience.
READ: Xiaomi Pad 5 Review – All rounder Tablet with Versatility On-The-Go
Large Expandable Storage
This slideshow requires JavaScript.
It has 64GB of internal storage, which is sufficient for light users. However, if you give the phone to non-technical users, they are unlikely to know much about optimizing and cleaning the phone over time. You can show them how, but if they forget, the realme Narzo 50i has up to 256GB of expandable storage. Media files, such as photos and videos, can be moved to the SD card expansion; it can also be set as the default storage device, preventing the internal storage from becoming full first. This will consume usage over time while not degrading the internal performance.
Point and Shoot
This slideshow requires JavaScript.
The realme Narzo 50i only has an 8MP primary camera and a 5MP selfie camera. It has rear autofocus with LED flash, HDR, and panorama. Using the device's camera produces quality photos enough for social media. It has AI processing to ensure that the colors are accurate. The Chroma Boost and HDR mode will assist the user in capturing images similar to a point-and-shoot camera. Because of the enhanced color and balanced exposure, they don't need to enhance the photo after it's taken.
READ: realme Narzo 50a – Longest Battery Life in a Smartphone under P8k
This slideshow requires JavaScript.
On its selfie camera, it also has an AI beauty feature. It was turned on automatically, so whoever you give the phone to will always take a flattering selfie. HDR and chromas boost can be enabled, and the settings are saved even after restarting the app, making it ideal for people who do not want to change any of the settings and just use the phone as is.
Verdict
The realme Narzo 50i costs only P6,290 for the 4GB plus 64GB configuration. It is one of the "Sulit" Christmas gifts you can get for your friends or loved ones. The design is simple and aesthetically pleasing, and the color options have nice tones. It has a secure and safe design that will ensure long-term use best gift to your child or parent. It has a splash-resistant design, a pre-installed screen protector, and a nice grip to prevent damage.
It's a good companion that has a longer battery life as well as most smartphones in its price range and is ideal for browsing and navigating thanks to the realme UI Go Edition.
READ: realme C25Y with 50MP camera now available in the Philippines for PHP 7,990