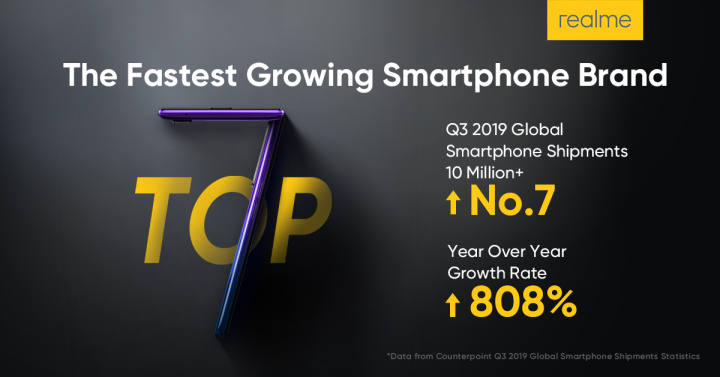 International analytics firm — Counterpoint — shared the Q3 2019 results and has Realme as the fastest growing smartphone brand in the world. The 18-month old brand recorded a whopping 808% year-on-year (YoY) growth rate and claimed the number seven spot of the leading global smartphone shipments with over 10 million units. Realme's efforts are to be applauded as it continues to release smartphones that are packed with industry-leading features while not breaking the budget of consumers.
This slideshow requires JavaScript.
Realme is a leading global brand in just 18 months
In the Philippines, Realme has been killing the affordable category as it released the Realme 5 starting at P6,990, Realme 5 Pro at P9,990, and the recently announced Realme XT with 64MP Quad Cameras for P16,990 only. The company has also opened its arms for Home Credit, ranking 5th among the top smartphone brands in the Philippines that are available through the said financial plan.
Realme always makes sure that its community is well indulged with tons of exciting activities, events, contests, and promos. It closed a partnership with Moonton, the developer of Mobile Legends for the successful Realme Mobile Legends Cup. Due to the strong positive response from the community, the second season of the said cup garnered 2 million Livestream views with 5000 welcomed crowd.
Realme may have started as a sub-brand of OPPO, but the company is obviously making a name for itself, enough to be called itself its brand.
READ: