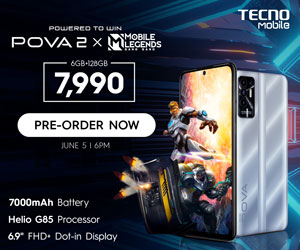 Power Mac Center, one of the country's leading provider of Apple products and ecosystem, celebrated its 26th anniversary by helping others in need during this pandemic. With the majority of the transportation groups operating limitedly, commuting has become one of the most challenging things as we shift to this "new normal." Partnering with Gretchen Ho's Woman in Action advocacy project, the "Pay it Forward" campaign acquired bikes and other protective equipment to support Filipino commuters amidst the pandemic. 
"We at Power Mac Center are one with those affected with the current health crisis. We applaud and support those who still find the courage to go to work to support their families despite the dangers of outside travel and the limited commuting options under quarantine. As a way to show them our appreciation and support, we would like to do the little we can to make their daily commutes a lot easier and healthier. Through Gretchen Ho's Woman In Action project, we are able to create a venue for our partner brands and customers to help in the donation of bicycles so they can use it as their main mode of transportation," said Joey Alvarez, Power Mac Center Director of Product Management, Marketing and Space Planning.
Last August 13, Ho was looking for 50 deserving beneficiaries to apply for 50 bicycles through her official Instagram page. But after receiving 10,000 applicants, a far cry from the number of donations, Power Mac Center was able to support her advocacy as they tried to support as many people as possible. 
"I'm very happy that I get to work with a company like Power Mac Center in this critical project. Their nationwide reach, plus bolstered with the recent increase in consumer demand for technological devices to meet work-from-home and online school demands, are sure to help me and Woman In Action purchase more bicycles for the commuting public who still can't ride the main modes of transportation because of the COVID-19 pandemic," said Gretchen.
READ: LG PuriCare Wearable Air Purifier Is the Only Mask You Need in This Pandemic