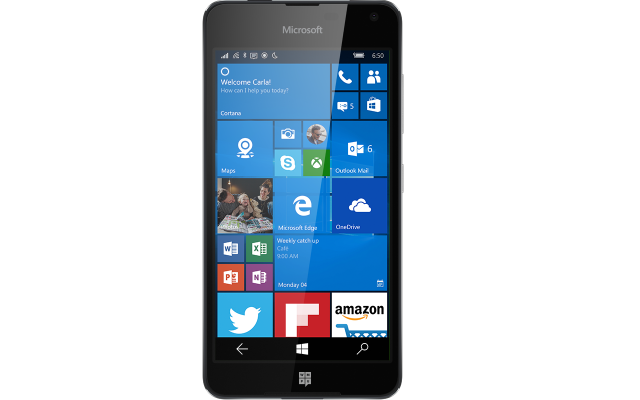 Recently, a new render leaked for Microsoft's upcoming Lumia device, dubbed the Lumia 650 or codenamed Lumia Saana circled around the net, and we happen to bump it, while browsing around the webspace. The renders features little to no information in specs, but provided a quick look as to what the device might look like. Check out the Saana's specs and features to find out more about this upcoming Lumia device
The Lumia Saana, by the looks of things is a pretty decent 5-incher device, backed with 720p HD display. Based on its 720p display, we could assume that the device is either going to be a mid-ranger or a budget device. The Saana carries a Qualcomm Snapdragon 210 chip, with no additional news on processors and graphics. For shooters, the device carries an 8MP rear camera, which gave us a hint that this device could mostly be a budget lumia device, similar to the 640 and 640XL.
There is also an available microSD card slot on the device, but word on its expandability limit is indeterminate. The latter is expected to run on a very up-to-date Windows 10 Mobile, though this is yet to be confirmed, while for battery capacity, the device packs a decent 2000mAh battery in its arsenal. The device also supports Glance screen feature, which is actually pretty neat for a possible budget device.
See also: Microsoft Lumia 950 packs $550 price, 5.2-inch QHD AMOLED, Hexa Core chipset, liquid cooling
The device has yet to be given any other major information other than the ones given, so for now, we have to wait for updates on what we could expect on this upcoming Lumia phone. Please leave your comments and suggestions on the comments section below if you wanna more updates on this lumia device. We highly appreciate feedbacks from you guys.
| | |
| --- | --- |
| Specs/PH price | Microsoft Lumia 650 (Saana) specs, PH price, features |
| Display | 5-inch 720p display |
| Screen | Glance Screen Support |
| Chip | Qualcomm Snapdragon 210 chip |
| Main Camera | 8MP rear shooter |
| Memory | microSD card slot available |
| Battery | 2000mAh battery |
| OS | possible Windows 10 Mobile |
| Software Features | Windows Hello, Iris recognition |
Related post and reviews