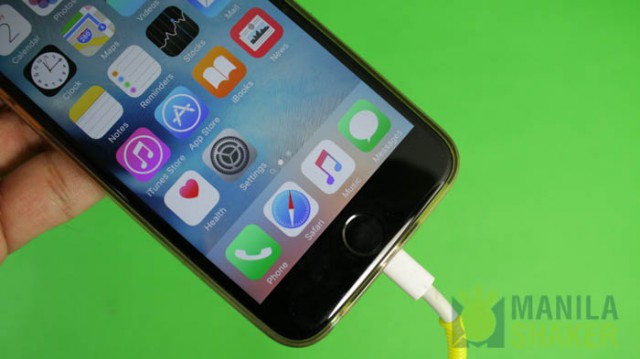 Does iPhone 6s support fast charging? Does quick or fast charging power adapters will charge your iPhone faster? We found the answers to those questions by doing a battery charging test on the Apple iPhone 6s. Checkout the results of the review and comparison below.
We used the conventional 1A or the original 1 ampere power adapter by Apple against the 2A fast charging brick from OnePlus 2. All Apple iPhone 6′ and iPhone 6s duos' chips and processors don't support such kind of fast charging feature we've seen from Android smartphones such as on the Samsung Galaxy, Asus Zenfone, OnePlus 2 and others. But still we are curious and did our on test to get the actual answers.
How we tested the charging capability of iPhone 6s
We plugged the iPhone 6s with an empty battery, meaning it is fully drained at 0%, first using the 2A fast charging adapter from the OnePlus 2's retail box, then the proprietary iPhone charger in another period of time. We recorded the battery statuses or percentages on each adapter after 5, 10 and 15 minutes.
5 minutes – The iPhone 6s on 2A adapter gained 5% while 3% on iPhone 6s original charger.
10 minutes – With 2A adapter, iPhone 6s gained 9% battery juice compared to the 7% of the iPhone 6s adapter.
15 minutes – Both have 15% battery level after 15min of charging time.
Full charging time
The iPhone 6s with 2A adapter charged from 0% to 100% for 2 hours 21 minutes. On the other hand, using original 1A charger of Apple produced 2 hours 30 minutes charging time. The difference is very minimal that's why we still have come up to our conclusion below.
Conclusion: Does iPhone 6s support fast charging power adapter?
Though there is marginal difference in total charging time, we can still conclude that using different charging kit will still lead to the same or close charging time as to the low amperage charging adapter of Apple.
What the iPhone 6, 6 Plus, iPhone 6s and iPhone 6s Plus lack is the chip supporting fast and quick charging capability like on latest Android mid-range and high-end smartphones. And this is why it is useless to use high amperage adapter.
Video test of iPhone 6s battery charging test
iPhone 6S specs, price Philippines
4.7-inch IPS LCD 750×1334 pixels, 326ppi
7.1mm thick, 143g weight
Ion-strengthened glass
Apple A9 chip, dual core processor
2GB RAM
16/64/128GB internal, no microSD card slot
12MP, dual tone LED flash, 2160p 4K UHD video
5MP selfie camera, 720p video
4G LTE, WiFi ac, Bt 4.1, GPS, NFC only for Apple Pay
iOS 9
1715mah batter
Rose Gold, Space Grey, Gold, Silver
Bought from Lazada for P37500 as of October 1
Related posts, comparisons, reviews: