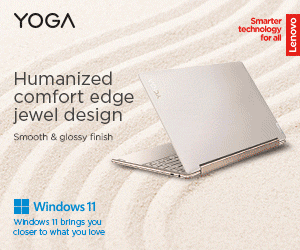 Although Windows 11 has stringent system requirements, there are workarounds. For example, it requires at least an 8th-generation Intel, AMD Zen 2, or Qualcomm 7 or 8 Series CPU—but Windows 11 may be installed on earlier CPUs.
Should You Upgrade an Unsupported PC?
To begin, let us state unequivocally that we do not advocate updating an unsupported PC to Windows 11. Windows 10 will get certified security patches until October 2025.
Windows 11 lacks major additions that make it a must-upgrade, and Microsoft cautions that unsupported PCs may encounter issues. Indeed, Microsoft cautions that it may soon discontinue issuing security updates for unsupported Windows 11 PCs.
However, if you want to run Windows 11 on unsupported hardware, we can assist you.
Update, 9/21/22: These methods are still functional as of Windows 11's 2022 Update.
Whatever you do, make a backup of your critical data first. It's usually a good idea to keep a backup, especially if you're updating to a new operating system that isn't officially supported on your hardware.
Tip: In certain cases, a few settings changes can make your PC officially supported.
How to See Why Your PC Is Unsupported
Download and run Microsoft's PC Health Check program to see if Windows 11 is compatible with your PC.
Upgrading to Windows 11 is simple if your PC is supported. It only takes a few mouse clicks.
If Windows 11 does not officially support your computer, the PC Health Check will report that it "doesn't presently satisfy Windows 11 system requirements" and explain why. If the utility claims that your PC is unsupported, the procedure you must take will be determined by the problem it identifies. To make your PC supported, you may only need to update a setting in your PC's UEFI firmware (the contemporary successor for the BIOS), or the procedure may be more difficult.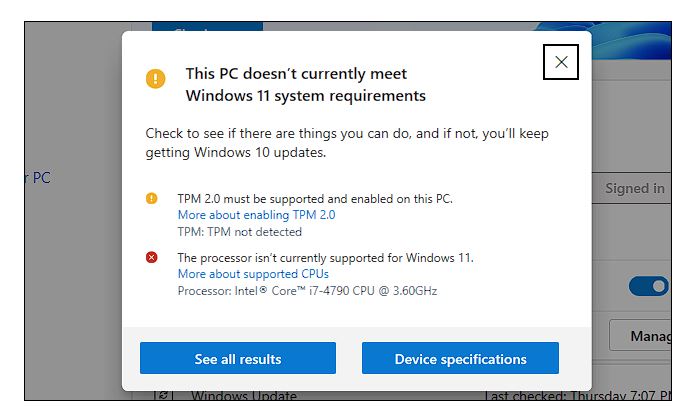 How to Enable TPM 2.0
TPM 2.0 is explicitly required by Windows 11. (However, if your PC only supports TPM 1.2, there is a simple way to install Windows 11, which we'll detail below.)
If the program claims that your machine lacks TPM, there's a chance it does—but it may be disabled by default.
To check for and enable TPM 2.0, go to your computer's UEFI firmware settings (the modern replacement for the BIOS). Look for an option called "TPM," "Intel PTT," "AMD PSP fTPM," or "Security Device" in the main UEFI settings menu or in a menu called "Advanced," "Trusted Computing," or "Security."
For further information, conduct a web search for your computer's model name and "enable TPM," or see its official documentation. (If you build your own PC, look for the model name of your motherboard instead.)
A UEFI upgrade for your computer or motherboard may also be required. Manufacturers have begun releasing updates that either enable or add support for TPM 2.0. Some PCs may even be able to upgrade from TPM 1.2 to TPM 2.0 through firmware update; this depends on your hardware and system manufacturer. Check with your computer (or motherboard) manufacturer for further information about upgrades for Windows 11.
Restart the PC Health Check tool after activating TPM. If that was your only issue, you should be able to upgrade properly.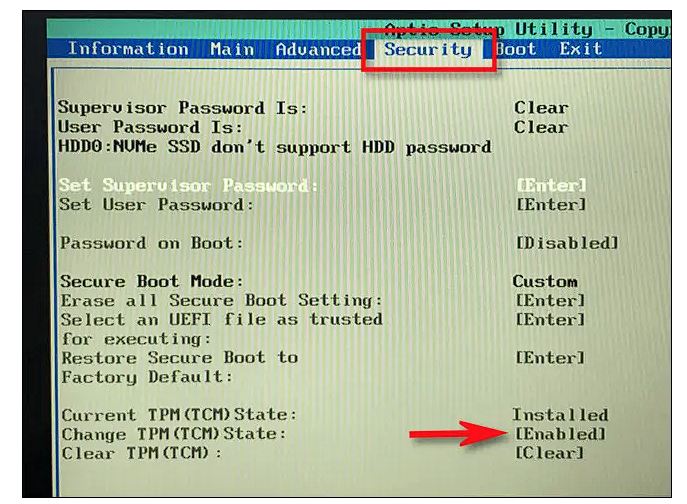 How to Enable Secure Boot
If PC Health Check shows that your machine isn't using Secure Boot, you should also seek for a "Secure Boot" option under UEFI firmware settings and enable it if feasible.
Secure Boot may have been deactivated while installing Linux, or it may have been disabled by default on your motherboard. Modern Linux distributions, such as Ubuntu and Fedora, can run on PCs with Secure Boot enabled, so you don't have to disable this security feature to install Linux.
Re-run the PC Health Check utility if you are able to enable Secure Boot. If Secure Boot was the only issue, you may now update regularly.
How to Fix No UEFI (MBR Instead of GPT)
UEFI is required for Windows 11. Some older PCs support both UEFI firmware and the classic legacy BIOS. If you are presently using a "conventional" MBR partitioning arrangement but your PC supports UEFI, you will need to upgrade to a GPT partition table in order to use UEFI.
There are various approaches to this. You may be able to convert a disk from MBR to GPT format using Microsoft's MBR2GPT utility. Microsoft cautions that you should only do this if you know your PC supports UEFI, and that you may need to adjust settings in your PC's firmware afterwards to make it boot in UEFI mode rather than old BIOS mode.
Advertisement
If this is your only issue, a clean install would be a simpler solution. First, make a backup of your information (we recommend doing so anyway). Then, use Microsoft's Media Creation Tool to produce bootable Windows 11 installation media on a USB stick or DVD. Now, use the installation DVD to complete a clean installation of Windows 11, erasing your drive—you may need to boot into UEFI mode first. Windows 11 will wipe your Windows 10 system and format your hard disk in GPT mode.
Registry Hack for Unsupported CPUs and/or Only TPM 1.2
If your sole issue is that your computer has an unsupported CPU and/or only has TPM 1.2 rather than TPM 2.0, this is the simplest to resolve.
You may circumvent this restriction with a simple Windows Registry edit if you like. When you make this modification, Windows 11 will skip the CPU version check and install even if only TPM 1.2 is present. However, this does not eliminate other tests; for example, if your machine lacks a TPM, this registry modification will not allow you to update.
Warning: The Windows Registry is complicated, and you should exercise caution while adding, editing, or deleting items from it. You risk causing issues with your Windows installation. You should avoid updating if you are not comfortable altering the registry. However, as long as you follow our recommendations here, you should be OK.
To begin, launch the Registry Editor. You may put "registry" into the Start menu's search box and pick the "Registry Editor" shortcut, or you can press Windows+R, type "regedit," and hit Enter.
**
Enter the following address into the Registry Editor window's address bar (or go to it in the left pane):
HKEY_LOCAL_MACHINE\SYSTEM\Setup\MoSetup

Right-click in the right pane, choose New > DWORD (32-bit) Value, and give it the name:
AllowUpgradesWithUnsupportedTPMOrCPU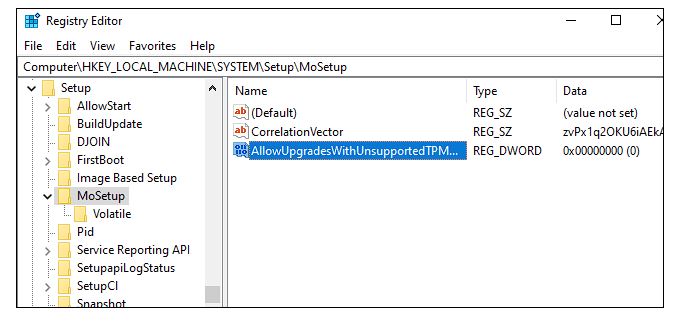 Double-click the "AllowUpgradesWithUnsupportedTPMOrCPU" value here, set it to "1", and click "OK."
Want to avoid the registry-editing step? Download our Enable Unsupported Upgrades registry hack to make the change in a matter of seconds.
This downloadable ZIP package contains two REG files: one that permits upgrades on unsupported PCs (Enable Unsupported Upgrades.reg) and one that undoes the modification (Enable Unsupported Upgrades.reg) (Undo Enable Unsupported Upgrades.reg). Simply double-click the "Enable Unsupported Upgrades.reg" file and accept the information being added to your registry. To reverse your changes, double-click the Undo file.
These files function in the same way as the previous registry hack—they simply set the "AllowUpgradesWithUnsupportedTPMOrCPU" value to "1" (to permit unsupported upgrades) or "0" (to disable them) (to revert to the default setting).
Before proceeding, restart your computer to verify the modification takes effect.
You may now update your PC to Windows 11 by downloading and running the Windows Installation Assistant application from Microsoft's website, just as if it had a compatible CPU or TPM 2.0. All you have to do is consent to a warning beforehand.
Note: Bear in mind that this only does two things: It makes Windows 11 ignore the CPU requirement, and it lets Windows 11 install with TPM 1.2 instead of TPM 2.0. It won't get around other requirements. For example, if your PC doesn't have a TPM at all or has only a legacy BIOS instead of UEFI firmware, this registry setting won't help.
PCs With No TPM at All, No UEFI, or Other Major Problems
If the aforementioned recommendations and registry hack aren't adequate for your PC, things are about to become dicey. If your computer lacks a TPM, for example, it is completely unsupported.
What does this imply? Microsoft, for example, provides an approved means to install Windows 11 on older CPUs and TPM 1.2 chips. All you have to do is change a registry setting. It's unsupported, but Microsoft will assist you.
There are supposedly ways to install Windows 11 without TPM 1.2 or UEFI. But this is completely unsupported—if you hack your way past even the most basic requirements, you risk discovering problems and not receiving future security upgrades. People who have used these tactics have reported varying degrees of success. Even if it works for you now, an update in a few months might cause your computer to blue-screen, causing your operating system to crash and requiring you to reinstall Windows 10.
We strongly advise you not to do any of these crazy feats since you will be putting yourself in danger. Windows 10 will continue to run normally until October 2025.If your present PC is too old for TPM 1.2, you'll probably want a new one before then.