Before you rant about the 5G mobile connection, let us say right off the bat, it's not about that. As Qualcomm finally unveiled the Snapdragon 855, there are tons of exciting features about it more than its 5G capability. Without further ado, let's dive into each one of them.
5 Best Things About Qualcomm's Flagship SoC – Snapdragon 855
Under-Screen Fingerprint Scanner Will Now Be Faster
The futuristic biometric under-screen fingerprint scanner is something that you'd typically see from a sci-fi movie, except, it's a tad slower in reality. However, that's about to change. Qualcomm's "3D Sonic" technology "uses acoustics (sound) to scan the pores of your finger, resulting in a deeply accurate, 3-dimensional read". And it's even said to improve over time as it learns the unique pattern of a fingerprint.
>Smartphones with Under Display/In-Display fingerprint sensor (2018-2019)
Mobile Gaming At Its Finest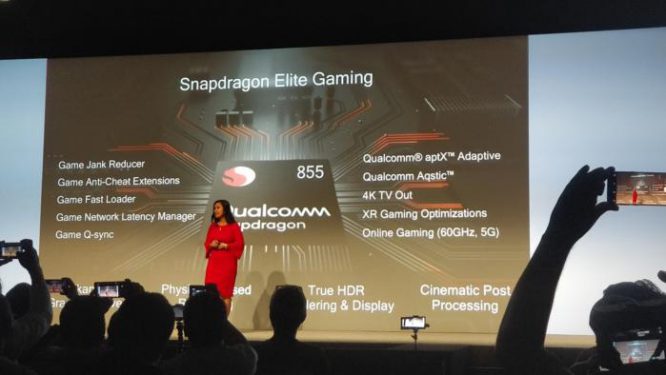 From Adreno 630 to 640, it's a 30% performance boost for graphics-intensive tasks. Doesn't sound interesting, right? Well, it's not about the numbers this time but rather the process behind it. Under the moniker of "Snapdragon Elite Gaming Platform", the company is touting its Game Jank Reducer, Game Fast Loader, Game Network Latency Manager, and more for a better gaming experience.
Moreover, they're adding true HDR rendering for gaming to offload most of the task from the GPU and better texture models for a life-like digital representation.
>Top 5 Budget Gaming Smartphones below Php20k
Expanding AI Features
Compared to the Snapdragon 845, the AI capabilities of the 855 is three times better. With great power, comes great responsibility basically. The AI inside the SoC reduces latency up to three times — working hand in hand with a 5G data connection. It also makes 3D Sonic possible for faster and more secure biometric security.
Google hotword — "OK Google" is also more efficient than ever as Snapdragon 855 comes with a low-power always-on mode feature whenever you try to call for Google Assistant. Then you have a smarter camera. Portrait mode is now possible with video, too. It can isolate the subject thus providing bokeh effect while recording. Another example where its AI excels is when you can change the color of your hair while using the camera — this is just one of the many AI features to expect.
>MediaTek Helio P90 chipset teased with 'Groundbreaking AI'
The Switch to Tri-Cluster Core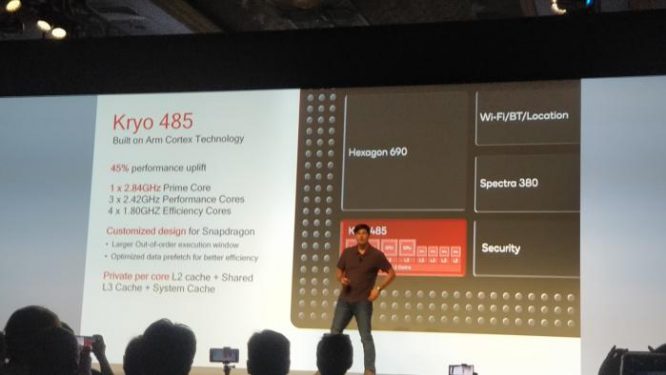 Qualcomm Snapdragon 845 features 4 low-power cores(1.8Ghz) and 4 high-power cores(2.8Ghz). By switching to a tri-cluster core, the new setup is now 4 low-power cores(1.8Ghz), 3 performance cores (2.4Ghz), and 1 prime core (2.84Ghz). 
What this means is that we could expect better efficiency translating to more screen time under normal use such as browsing, messaging, listening to music and more. When it comes to gaming, if the CPU recognizes it requires more power than the 3 performance cores, this is when the primer core will kick in. Although it's just a single high-power core, it has a larger cache to use.
>Upcoming Snapdragon 855 processor Android Phones
A Display Better Than Your Monitor
Qualcomm doesn't want you to just waste your time staring at your smartphone, it wants you to waste your time staring at a beautiful screen. The company is bringing in cinema-grade videography or also known as "Cinema Core" — this allows for smartphones to finally natively support 4K HDR video capture with portrait mode in effect as well as HDR10+ video capture. To keep it overkill, it also includes 8K HDR video playback. But perhaps the most exciting feature here is support for 120fps (maybe, we could see more of Razer Phones 120Hz refresh rate?).
For past several years, Qualcomm settled for yearly improvements to their flagship SoC. But this time, it feels a little special given with its generational upgrades like 5G, raw performance, AI capabilities, and even dedicated gaming support. If you think smartphone has peaked, it seems like the industry is just getting started. 2019 will be an exciting year for smartphones…again.