For the past years, it's very rare for me to bring power banks when traveling or going out because I felt power banks being bulky. They take up most of the extra space in your trouser's pocket. And above all, they charge slow compare to plugging your phone with its own adapter. But that changes everything after giving the Sony CP-V5A 5000 mAh portable charger a try.
But how long will a 5000 mAh portable charger last? Will it fill a 3000mAh-packed phone? Let's find out in our comprehensive (with numbers!) review of Sony's very own pocket charger.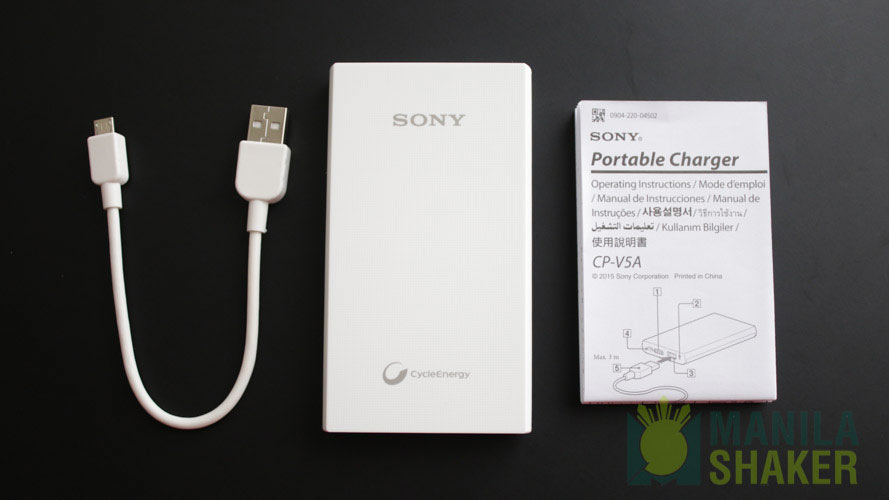 Charging external devices is really fast
One of the best thing about the Sony 5000 mAh power bank is that it could charge tablets and phones really quick. It has a 1.5A output which is already standard for most phablets or phones these days with large battery capacity.
We tested the Asus Zenfone Selfie with 3000mAh battery at 0% battery level, and it only took 1 hour and 36 minutes to reach 73%. That's a notch slower compared with the charging rate of Selfie using its power adapter from retail box.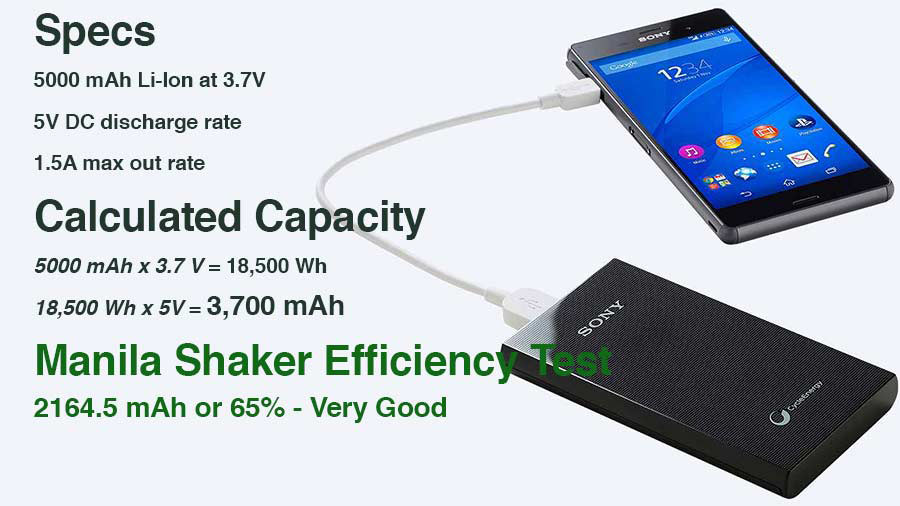 Battery efficiency is very good
We've used some maths here for some that are not familiar with the actual calculation of the efficiency in batteries. And yes, dividing the rated capacity by your phone's capacity is very wrong.
Since most Li-ion batteries are rated with 3.7 for both power banks and smartphones, the actual capacity is 5000 mAh x 3.7 V = 18,500 Wh. After that the output voltage is 5V which is used to dived 18,500Wh / 5V = 3700 mAh.
3700 mAh is still ideal number, you have to insert some losses which is around -10% (safe efficiency rating) and that leads to 3330 mAh. But again, 3330 mAh is another ideal number.
Every time your power bank charges your phone there are internal conversion and added losses happening inside your phone too. That's why modest number we could get from 5000 mAh power bank is just between 2000 to 2500 mAh. Now you can safely divide this directly by your phone's battery capacity.
If you will notice that it didn't fill up the 3000 mAh battery of the Zenfone Selfie. The charging stop despite having a single LED blinking slowly. Then we calculated the efficiency of the Sony portable charger to be 62%-65%, which is already very good in most portable power banks today.
Charging a high capacity power bank
With 1.0A rating for input, filling up the 5000 mAh from one blinking LED to four steady LEDs equated approximately to 3 hours and 30 minutes using a 1.5A 3rd party power adapter.
Portability and design
In terms of size, the CP-V5A 5000mAh is one of the lightest portable chargers I've encountered. Thickness is about few millimeters thicker than a regular phone while profile is shorter than the 5-inch Sony Xperia M5 or the 4.5-inch Nokia Lumia 1020. It will surely fit in your pocket or large purse without looking bulgy.
It is made of plastic with textured design that dissipates heat efficiently so that it won't bother your skin while charging external devices.
Worth mentioning is the Sony's Hybrid Gel Technology that keeps the CP-V5A last very long with actual 90%+ retained capacity after 1000 charges.
Pricing and Verdict
The Sony CP-V5A is available in different colors including red, pink, lime green, blue, white, and black. I haven't searched yet for the local pricing here in the Philippines but I found some from Amazon's posting with around $22-30 USD price. This equates around Php 1,000 – Php 1,500, depending on where you will be getting it.
Now on the final thoughts, the CP-V5A is one of the first power banks we reviewed. We found this new pocketable 5000mAh Sony portable charger highly recommendable. It's lightweight and a very efficient power bank for your phones and tablets.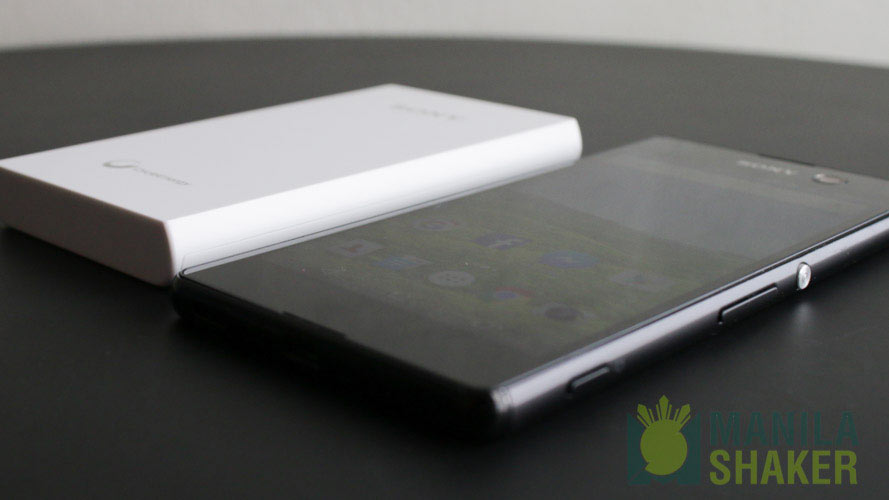 What we did like about the Sony 5000 mAh CP-V5A
Lightweight and handy
Fast charging
Easy to charge it up
Available in wide attractive color options
Very good efficient level
What we didn't the Sony 5000 mAh CP-V5A
A little pricey
No dedicated button for status check
No carrying pouch included
Sony CP-V5A 5000 mAh Portable Charger / Power Bank Specs
Capacity: 5000 mAh Li-Ion, 3.7V rating
Power Output: 1.5 Ampere / 5V DC, phones and tablets support
Power Input: 1A / 5V DC
Port Out: USB Type-A to micro-USB type-B
Port In: micro USB
Indicator: 1 yellow LED for status, 4 orange LED for battery level
Charge cycle: 90% plus after 1000x charges
Size: 65 x 116 x 13 mm
Weight: 135g
Price: Approx. P1,500 and up
Official page links to Sony PH online store