Motorola released new Moto G phones worldwide last week. The Moto G73 5G and Moto G53 5G are the most sophisticated of the new group. Choosing between these two phones will be easier if you're not an expert. We published this article for this purpose. This comparison of the Motorola Moto G73 5G and Motorola Moto G53 5G's primary specs will show you the main differences between the two new low-cost handsets. After reading this comparison, please comment below to tell us which one you prefer.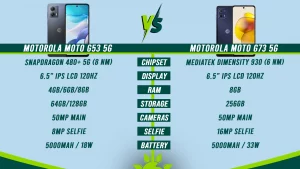 Related: Redmi Note 12 Pro Speed Edition vs. Motorola Moto G73 5G—Which Is Better?
Design & Display
These phones have identical fronts, a center punch-hole flat display, and a thicker bottom bezel. The screen covers less than 85% of the front panel, which is sufficient for most users. The rear sides of these phones are identical, but the Motorola Moto G73 5G has a smaller camera module, making it my aesthetic pick. Both phones are splash-resistant but not waterproof. The Motorola Moto G73 5G is more minor despite having the same display diagonal and battery capacity.
These phones appear to have the same display. However, there is a significant variation. Resolution determines display detail. The Motorola Moto G53 5G features 720 x 1600 pixels, while the Moto G73 5G has 1080 x 2400 pixels. The former has a better display due to its more excellent definition. The only differences are two IPS LCD screens with 6.5-inch and 120 Hz refresh rates. These phones feature an LCD. Thus the fingerprint reader is side-mounted on the power key.
Camera & Spekers
The Motorola Moto G73 5G and Moto G53 5G include two rear cameras and a 50 MP sensor with an f/1.8 aperture. The secondary camera differs: the G73 5G features an excellent 8 MP ultrawide lens, whereas the G53 5G has a mediocre 2 MP macro lens. In some areas, the Motorola Moto G53 5G has an 8 MP selfie camera instead of a 16 MP one.
Both phones have good stereo speakers and 3.5 mm audio jacks.
OS & Hardwares
Both phones ship with Android 13 and the exact UI. If you want superior hardware, purchase the Motorola Moto G73 5G. It has a 6 nm Mediatek Dimensity 930 chipset, and a micro SD slot lets you extend the 256 GB of internal storage and 8 GB of RAM. The Motorola Moto G53 5G's octa-core Snapdragon 480 5G processor is inferior to the MediaTek Dimensity 930, and it has up to 8 GB of RAM and 128 GB of microSD-expandable storage.
Battery & Charging
Though both have 5000 mAh batteries, the Moto G53 5G's lower-resolution display means it should last longer between charges. The 30W charging on the Moto G73 5G makes recharging quicker.
Price & Availability
The Motorola Moto G73 5G retails for around $325 (or Php 17,779), but the Motorola Moto G53 5G is available for approximately $270 (or Php 14,765). Which one do you think is the better option?
---
Read More Articles Here