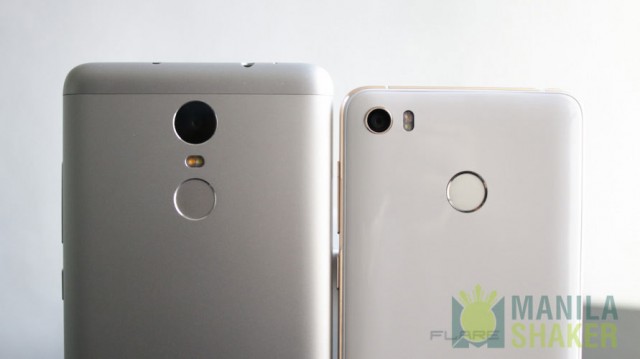 The Xiaomi Redmi Note 3 had gone several test and comparisons in our lab, and for another time, we put it on our comprehensive review and in-depth comparison against the local brand, Cherry Mobile Flare Selfie. Which Android phone is better overall? Let's find out in our Flare Selfie vs Mi Redmi Note 3 Ultimate Comparison!
More comparisons!
Weighing the features, advantages, and pros
For starters, the Redmi Note 3 has two variants, the 2GB RAM + 16GB internal for Php 9k price PH and the more expensive 3GB RAM + 32GB internal. We reviewed the 32GB model. So what are its advantages and disadvantages over the Flare Selfie?
Perhaps, the bigger battery and sharper display are two of Redmi Note 3's pros over the Selfie. Its cons, however, include a more expensive base model compared to Flare Selfie with 3GB RAM and expandable memory.
Design and build quality
It's easy to say that both devices are gorgeously designed to satisfy anyone's hand or eyes. We have a metal frame on Selfie and very robust yet very manageable with one-handed operation. On the other hand, the Redmi Note 3 has unibody metal design.
Both with fingerprint scanner positioned on their back, but it's on Redmi Note 3 that we felt more accurate and faster.
Winner: Tie in design.
Display and viewing experience
The Flare Selfie features a 5-inch 720p IPS display whereas the Redmi Note 3 has a 5.5-inch 1080p IPS LCD. The result is a sharper screen on the Mi Note 3. Quality-wise, colors are quite on match but the Redmi Note 3 is slightly more accurate.
Winner: Redmi Note 3 due to sharper screen and more accurate display.
Camera in still and video
This is the biggest feat where Cherry Mobile Flare Selfie trumps the Xiaomi Redmi Note 3. In daylight, HDR or high dynamic range, selfie, video, and low light shootings, the Flare fared very well, even surpassing our expectations. If you want a better cameraphone between the two, the Flare Selfie is the only choice with its 16MP duo cameras performing and producing more detailed, crisper and vivid images.
Selfie gallery from the 16MP of Flare Selfie and 5MP of Redmi Note 3
Winner: Cherry Mobile Flare Selfie in still image, video and selfie.
Performance and benchmarks
The more budget Flare Selfie is powered by a Mediatek 6753 octacore 64bit chipset paired with 3GB of RAM. Its performance is relatively OK for its price, but it's way slower in benchmarks and actual speed test when put side-by-side with the Redmi Note 3 that is powered by a Mediatek Helio X10 chip which is 64bit too. Our Note 3 comes with 3GB RAM and 32GB non-expandable storage.
Xiaomi Redmi Note 3 benchmark ratings
AnTuTu: 47641
Basemark: 950
Geekbench: 817 single core / 4481 multi-core
Cherry Mobile Flare Selfie benchmark ratings
AnTuTu: 36786
Basemark: 555
Geekbench: 633 single core / 2856 multi-core
Winner: Redmi Note 3 with faster, more powerful and capable chipset (GPU and CPU).
Battery and charging time
Juicing up the two Androids are their built-in batteries. We have a larger capacity on the Note 3 which is 4000mAh compared to the 3000mAh of the Flare Selfie. But considering you have lower resolution and screen size on the latter, the difference might make up to some areas in battery life. But overall, Redmi Note 3 lasted longer in our battery test.
Xiaomi Redmi Note 3 battery life and charging time
Video playback: 10hrs
Moderate use: roughly 2 days or 1.5-2d
On-screen time: 5-6 hours
Charging speed: 2h 50min
Cherry Mobile Flare Selfie battery life and charging time
Video playback: 10h
Moderate use: 1 day (browsing, video, SMS/text, voice calls, casual games)
On-screen time: 3-4 hours
Charging speed: 2h
Loudspeaker test
The mono speaker of the Redmi Note 3 is positioned on the back, which in turn, can easily be blocked when placed on the flat surface on its back. On Cherry Flare Selfie, we have a speaker positioned on the bottom.
Now for the audio output, the speaker on Redmi Note 3 was louder and had more bass and vocals to it than on the Flare Selfie with a tinny on max volume.
Winner: Xiaomi Redmi Note 3 in loudspeaker test.
Price and verdict
It's no question that the more affordable Cherry Flare Selfie has beaten the Redmi Note 3 in camera alone. The rest of the segments are owned by the Xiaomi Redmi Note.
Overall, we still recommend both devices to anyone. So you have to weigh in the most important features in choosing between these two budget phones.
The Redmi Note 3 in 3GB RAM is priced at Php 10,500 ($230) while the Cherry Flare Selfie retails for Php 7,995 ($175).
Specs and price comparison of Flare Selfie vs Redmi Note 3
| | | |
| --- | --- | --- |
| SPECS, PH Price | Xiaomi Redmi Note 3 | Cherry Flare Selfie |
| Display | 5.5-inch 1080p Full HD IPS, 401 ppi | 5-inch 720p HD IPS LCD, 294 ppi |
| Size | 8.7mm thick, 164g weight | 8.8mm thick, 140g weight |
| Design | Metal + plastic | Metal + plastic |
| Colors | White, Black, Gold | White |
| Chipset & CPU | Mediatek Helio X10 octa-core | Mediatek 6753 octa-core |
| Graphics | PowerVR GT6200 | PowerVR GT6200 |
| Memory | 2/3G RAM, 16/32GB internal, no microSD | 3GB RAM, 16GB internal, microSD card up to 32GB |
| Camera | 13MP, AF, dual LED flash, 1080p video | 16MP, AF, 1080p video, dual LED flash |
| Selfie | 5MP selfie front-facing | 16MP selfie front-facing, LED flash |
| Connectivity | Dual micro SIM, WiFi ac, 4G LTE, Bt 4.1, GPS | Dual nano SIM, WiFi ac, 4G LTE, Bt 4.1, GPS |
| Software | Android 5.0 Lollipop, Mi UI 7.0 | Android 5.1 Lollipop, near stock UI, upgrade to Marshmallow |
| Battery | 4000mAh | 3000mAh |
| Ports, quick charge | microUSB, quick charging | microUSB, fast charging |
| Release date | December 2015, available in Philippines | December 2015, available online from Cherry PH |
| Price | Php12,500 ph price 32GB Gold variant / P10,500 price 32GB Silver bought from widgetcity.com.ph | Php 7,995 ph Price 16GB variant |
Flare Selfie vs Redmi Note 3 Comparison Video