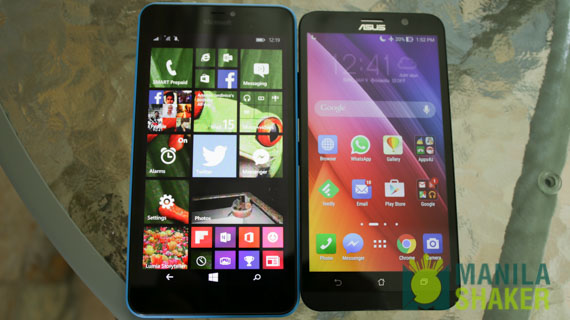 We put the Microsoft Lumia 640XL and Asus Zenfone 2 ZE551ML in our ultimate comparison (test and review). Two mid-range smartphones with different OS, which do you think is better in lowlight and daylight camera, speaker, display, performance and design test? Find out below.
Design
Both are flexible, solid smartphones with removable plastic back cover, expandable user memory and replaceable battery. The design, however, is different in each phone. Asus has stepped up a bit while Microsoft didn't focus much on making the 640XL a standout looker.
In my opinion, Asus Zenfone 2 looks classier with its thinner bezel, metal finish texture and tapered back compared to the flat, plain matte plastic on Lumia 640XL.
The two are designed for two-handed use weighing at around 170g which is considerably light for their size. But one hand use is still possible when checking the notifications.
Winner: Asus Zenfone 2
Display
The display size of Lumia 640XL is 0.2-inch wider than Zenfone 2. Microsoft opted for 720p HD IPS display with an average pixel density of 259ppi. On Zenfone 2, the 1080p FHD resolution produces finer pictures with its 403ppi density. But this difference is hardly visible without a closer inspection.
Despite lagging in sharpness, the ClearBlack display of Lumia 640XL is brighter and clearer. Picture colors are slightly punchier on 640XL. The ClearBlack technology of Microsoft had helped a lot in producing a very good sunlight legibility.
Reflections on display of Asus Zenfone 2 are noticeable, thus, degrading the viewing experience on the device.
Winner: Lumia 640XL
Camera
Lumia 640XL was able to beat the Zenfone 2 ZE551ML in our camera test. We found that the still images are brighter though sharpness are very close. The added manual controls on Lumia 640XL makes it more reliable to use than on Zenfone 2.
Zenfone 2 video quality is underexposed, thus losing some details. Lumia 640XL was able to produce bright and clear video.
Winner: Lumia 640XL
Performance
By numbers, the Intel Atom 3560 chip on Zenfone 2 easily beats the dated Snapdragon 400 on Lumia 640XL. But in actual test, the Lumia 640XL booted up and ran our actual game test faster. It is worth noting that Zenfone runs on Android while Lumia 640XL runs on Windows Phone 8.1, so experience is totally different even though Lumia 640XL has dated chipset.
Winner: Tie
Speaker
Both speakers performed loud during our test, but we noticed that Lumia 640XL has slightly clearer audio output in terms of vocals and bass. The quality in Zenfone 2's speaker sounds a bit tinny and muffled, this maybe due to the speaker placement.
Winner: Lumia 640XL
Price, Specs, Verdict
The Lumia 640XL is currently priced between P9-11k depending on the variant you will get. Zenfone 2's pricing is close at P10k pesos for the Intel 3560 version with 2GB RAM.
Microsoft maintained Nokia's greatness in multimedia quality specially in camera category where Lumia 640XL toppled the Zenfone 2. In the end, decision will still greatly depend on buyer's preferences.

| | |
| --- | --- |
| Asus Zenfone 2 ZE551ML specs | Microsoft Lumia 640XL specs |
| 5.5-inch FHD IPS LCD screen, 403 ppi | 5.7-inch HD IPS display, 259ppi |
| 10.9mm thick, 170g | 9mm thick, 171g weight |
| Gorilla Glass 3 | Gorilla Glass 3, Clear Black IPS |
| Intel Atom 3560 quadcore | Snapdragon 400 quadcore |
| 2/4GB RAM | 1GB RAM |
| 16/32/64GB internal, microSD up to 64GB | 8GB internal, microSD card 128GB max |
| 13MP camera, HDR, 1080p video, Dual Tone LED flash | 13MP camera, Rich Capture, Carl Zeiss optics, LED flash, 1080p video |
| 5MP selfie camera | 5MP selfie camera, 1080p video |
| Dual SIM, 4G LTE, WiFi ac, Bt 4.0, NFC, FM Radio, GPS | 4G LTE dual or single, 3.5G dual or single, WiFi n, Bt 4.0, FM Radio, GPS |
| Android 5.0 Lollipop | Windows Phone 8.1 Lumia Denim version |
| 3000mAh | 3000mAh |
| Black, Gold, White, Red, Gray | Orange, White, Black, Cyan |
| P9,995 (2GB) as of July 6 | P9,490 single 3G, P10,490 dual 4G LTE as of July 6 |
Related posts and videos: