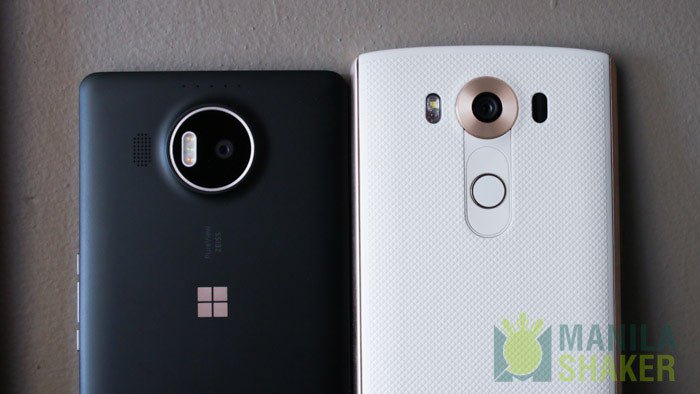 After putting the Microsoft Lumia 950 XL against Sony's Xperia Z5, the Pureview camera phone is ready to take on another great contender, none other than the LG V10.
More comparisons
Design
The Lumia 950 XL is a polycarbonate made device with a removable back cover, it's lighter and easier to hold than the stainless-supported LG V10 with removable Duraskin back.
The V10 is a solid and tough phone thanks to the stainless bars fitted on each side. The textured back feels great in the hands too. Overall, LG V10 looks more premium than 950 XL.
Display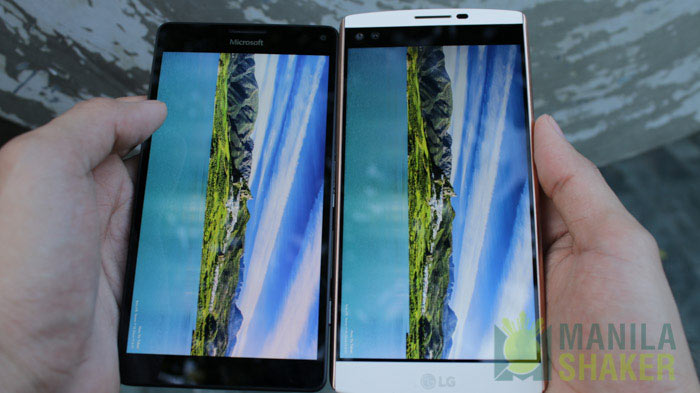 Rocking 5.7-inches Quad HD displays, the colors on AMOLED screen of Lumia 950 is vivid, punchy and with inky blacks. Surprisingly, the 5.7-inch IPS LCD plus secondary ticker screen on V10 have saturated colors mimicking the quality of AMOLED. Both screens are sharp and bright with Lumia 950 slightly edging in viewing angles.
Camera
The 950 XL features larger camera sensor as opposed to the 16MP of LG V10. Quality is very close, especially in detail preservation. However, color reproduction and white balance level are different. Lumia 950 produces a more saturated shot and LG V10 with warmer images. Low light and dynamic range are a bit better on 950 XL.
Both records 4K Ultra HD video.
Let's know in the comments on which camera phone takes better images.
Performance
The Snapdragon 810 octa-core chip powers the Lumia 950 XL and Snapdragon 808 on LG V10. Performance is top notch with very minimal lags on each device. We didn't run benchmark tests as Windows 10 doesn't support similar apps.
Battery
The two phones sport removable battery with 950 XL having more juice, 3340mAh vs 3000mAh. Battery life is longer and more reliable on 950 XL too. Our moderate use is around 2 days on 950 XL and roughly 1 day on LG V10.
Battery life
Microsoft Lumia 950 XL – 2 days
LG V10 – roughly 1 day
Charging time
Microsoft Lumia 950 XL – 1h 30min
LG V10 – 1h 30min
Charging two batteries only took 1 hour and 30 minutes with fast charging supporting two devices.
Speaker
The back-facing mono speaker on Lumia 950 XL produces a bit stronger and solid bass while the bottom-facing mono speaker on LG V10 has a notch clearer vocal output. Overall quality is on par making both speakers superior.
Price and verdict
The Lumia 950 XL currently retails for P32,000 with some online sellers offering at a lower price up to P5,000 off. On the other hand, LG V10 can be had for P38,000 pesos.
If you want the best of Windows, then the Lumia 950 XL is the only choice. The Lumia is still proven to be a capable shooter. LG V10, on the other hand, is one of the best Android phones with top class camera and solid build.
The overall decision will depend on which ecosystem you will choose.
If you have suggestions, please drop it on the comments.
LG V10 vs Microsoft Lumia 950 Camera Review, Ultimate Comparison video
| | | |
| --- | --- | --- |
| Specs, PH Price | Microsoft Lumia 950 XL | LG V10 |
| Display | 5.7-inch 1440p AMOLED ClearBlack, 518 ppi, Gorilla Glass 4 | 5.7-inch 1440p IPS LCD + ticker dislay, 518ppi, Gorilla Glass 4 |
| Size | 8.1m thick, 165g weight | 8.6mm thick, 192g weight |
| Design | Polycarbonate, removable back | Stainless bars, removable textured DuraSkin back |
| Colors | Black, white | Gold, Black, Blue |
| Chipset & CPU | Snapdragon 810 octa-core | Snapdragon 808 octa-core |
| Graphics | Adreno 430 graphics | Adreno 418 graphics |
| Memory | 3GB RAM, 32GB storage, microSD up to 200GB | 4GB RAM, 32/64GB storage, microSD up to 200GB |
| Camera | 20MP PureView, f/1.9 Carl Zeiss lens, 4K UHD video recording, Triple tone LED flash, OIS | 16MP main, f/1.8 lens, 4K UHD video, LED flash, OIS |
| Selfie | 5MP selfie front-facing | 5MP selfie front-facing |
| Connectivity | 4G dual LTE nano SIM, WiFi ac, Bt 4.1, GPS, Iris Scanner | 4G LTE nano SIM, WiFi ac, 4G LTE, Bt 4.1, GPS, fingerprint |
| Software | Windows 10 Mobile | Android 5.1 Lollipop |
| Battery | 3340mAh | 3000mAh |
| Ports, quick charge | USB Type C | microUSB |
| Release date | December 2015 in the Philippines | October 2015, available online from Sony Philippines |
| Price | Php 32,990 PH Price / $550 – $700 | Php 38,000 PH Price 64GB variant |