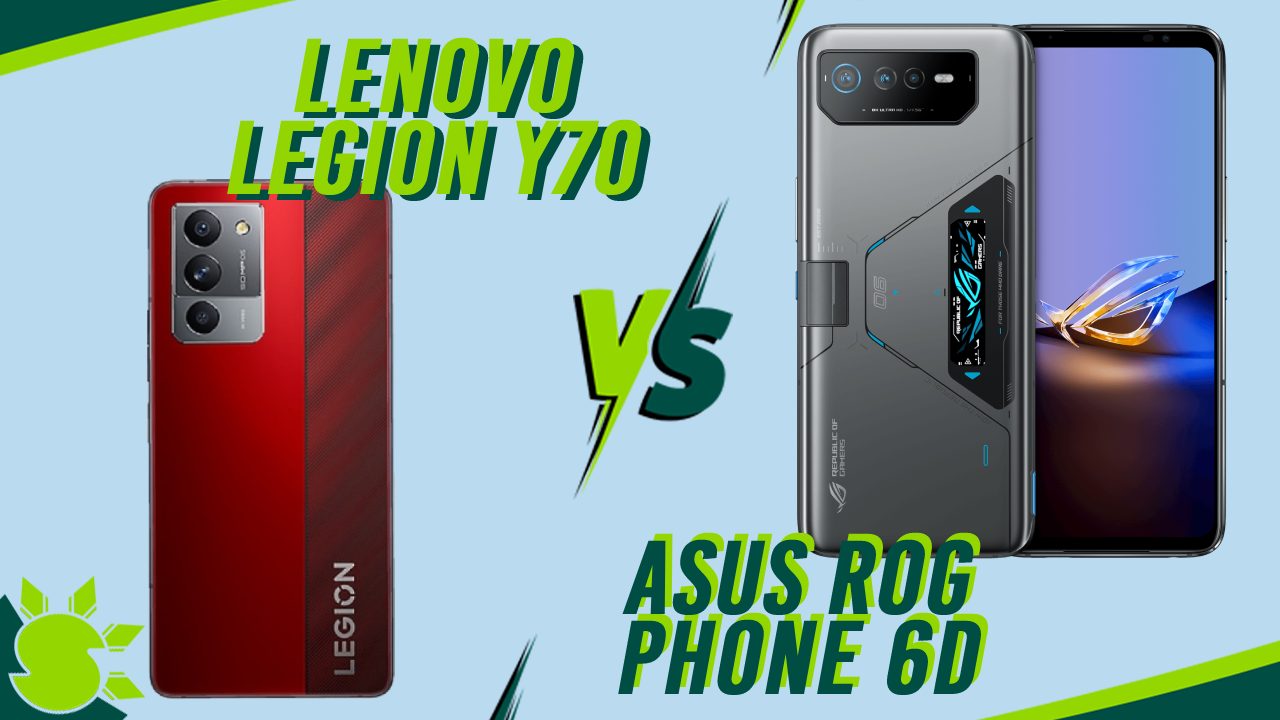 Gaming phones have grown into a massive market, with a plethora of extremely capable handsets. After attempting to dominate the market with the Legion Duel phones, Lenovo opted to pivot and create the new Y series, which focuses on gaming phones but has a design comparable to ordinary handsets. The most recent is the Lenovo Legion Y70, which comes with great specs while also concentrating on the quality-price ratio. Meanwhile, Asus introduced the new Asus ROG Phone 6D, which is essentially a Dimensity Edition of its most recent gaming phone series, the ROG Phone 6. Is it preferable to get a phone that is entirely focused on gaming or something less expensive and informal, like the new Lenovo phone? Here is a comparison of the key features of the Lenovo Legion Y70 and the ASUS ROG Phone 6D since, in our opinion, there is no better way to respond to this subject than via comparison.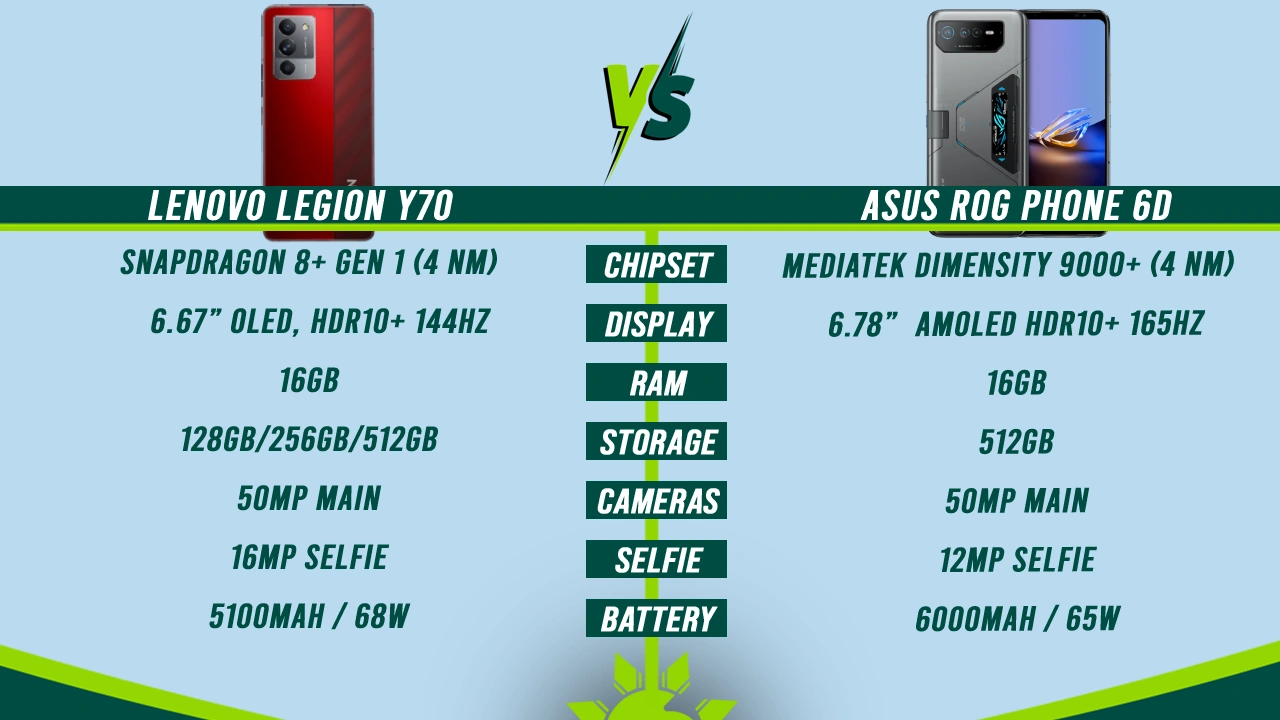 Related: Lenovo Legion Y70: Under-8mm Slim Phone with Snapdragon 8+ Gen 1
Design
Despite being a gaming-centric phone, the Lenovo Legion Y70 features a design that is comparable to standard phones, as described in the introduction. So no strong aesthetics, no absurd LEDs, and no thick borders surrounding the displays: it will be difficult to tell it from standard gadgets. As a result, this smartphone is ideal for individuals looking for a gaming phone while simultaneously requiring a regular device for daily use and productivity. If you are a professional gamer, though, the Asus ROG Phone 6D is the way to go. It boasts an aggressive design, an RGB logo on the back, and pressure-sensitive zones you can use as gaming triggers, much like the controller of your preferred console, like all the most cutting-edge gaming phones. Additionally, this gadget features a more sophisticated cooling system and is water resistant thanks to the IPX4 certification.
Display
If you want the greatest gaming display available, you should go with the Asus ROG Phone 6D without hesitation. It boasts an AMOLED display with a size of 6.78 inches, a Full HD+ resolution, a refresh rate of 160 Hz, and a peak brightness of 1,200 nits, as well as an in-display fingerprint sensor. The Lenovo Legion Y70 has a good display as well, but it cannot compete with its competition. It sports an in-display fingerprint reader and a 6.67-inch OLED panel with Full HD+ resolution, 144 Hz refresh rate, and HDR10+ certification. Due to the inclusion of a punch hole, this gadget has the benefit of a more compact body and reduced bezels around the screen. However, the display quality is subpar. Although both devices have stereo speakers, only the Asus has a 3.5 mm audio connection.
Specs & Software
These two gadgets are powered by different CPUs, yet they have similar performance chipsets. The Qualcomm Snapdragon 8+ Gen 1 processor is included in the Lenovo Legion Y70. It has an octa-core architecture made of a Cortex X2 CPU operating at a maximum frequency of 3.19 GHz, three Cortex A710 CPUs running at 2.85 GHz, and four Cortex A510 CPUs running at 1.8 GHz, as well as an Adreno 730 GPU, developed on a 4 nm fabrication process. The best Mediatek SoC is the Dimensity 9000+. The Lenovo Legion Y70 and the Asus ROG Phone 6D both have an octa-core architecture with the same CPUs, but different clock speeds: 3.35 GHz, 3.2 GHz, and 1.8 GHz, respectively, paired with a Mali G710 MC10 GPU. However, the Lenovo Legion Y70 has a higher internal storage capacity of up to 512 GB, while the Asus ROG Phone 6D has a better cooling system. Android 12 is installed by default on both devices.
Camera
The back cameras on both smartphones are the same: a 50MP primary sensor, a 13MP ultrawide lens, and a 2MP depth sensor. However, the Lenovo Legion Y70 wins the camera comparison thanks to an extra feature: optical stabilization. They should deliver comparable photo and video quality for the remainder.
Battery
Battery life is undoubtedly one of the key advantages of the Asus ROG Phone 6D over its competitor: it has a sizable 6000mAh battery, compared to the Lenovo Legion Y70's meager 5100mAh. This indicates that the ROG's battery life is significantly longer after only one charge. Although the charge rates are comparable, Asus supports reverse charging.
Price
The Lenovo Legion Y70's starting price in the Asian market is around $430 (Php25,339), whereas the Asus ROG Phone 6D arrived in the countrywide market with a starting price of Php54,995. The Asus ROG 6D comes out on top in our comparison.
---
READ MORE