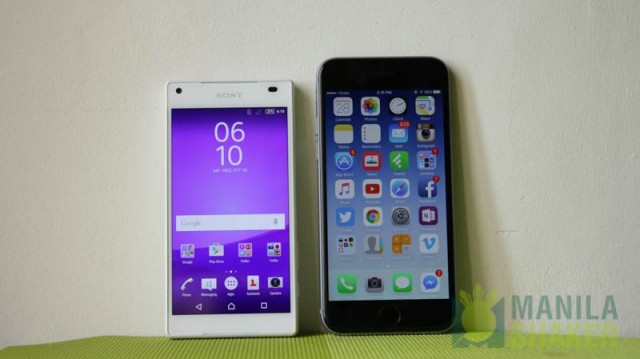 After the Sony Xperia Z5 VS Samsung Galaxy Note 5 comparison, it is time for the compact smartphones from Apple and Sony to battle in our Ultimate Comparison. The Sony Xperia Z5 Compact is aggressively priced for P29990 right now in the Philippines, meanwhile iPhone 6s is yet to be released with a guesstimated priced of P32-35k pesos. Sitting close on the pricing, but differ big in specs and key features, which one do you think is a better choice overall? Find out down below.
Design and build quality
Sony maintained the classic yet premium and rugged form factor to the Xperia Z5 Compact. There is now a fingerprint sensor integrated at the home button on the right alongside with the physical dedicated shutter key and volume rocker.
Xperia Z5 Compact is waterproof and dust-resistant but thicker and shorter than the iPhone 6s. The latter is clad in metal and still looks the same as to the 2014 iPhone 6. However, iPhone 6s still looks sleek and sexy, thanks to the curved 2.5D glass, thin form factor and all-metal design.
Whichever phone you will get, you will still end up with a handy, good looking smartphone.
Winner: Tie
Display and viewing experience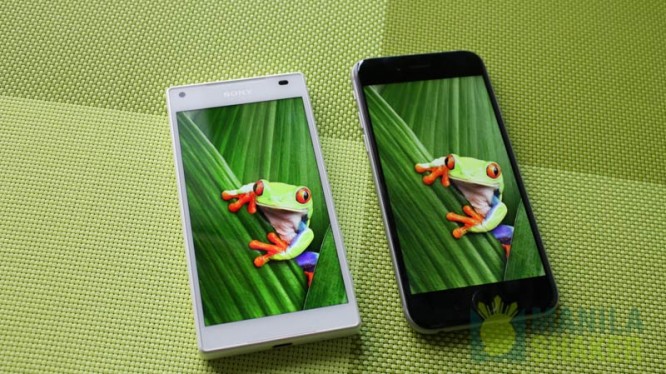 iPhone 6s sports 4.7-inch 750p IPS LCD vs the 4.6-inch 720p of Xperia Z5 Compact. Sharpness is close with 328ppi and 323ppi, respectively. For quality, both look really good when viewing photos or at watching videos. iPhone 6s' display is brighter a notch but we noticed that Z5 Compact trumps the iPhone 6s in color. By looking up closely on the video comparison you would notice that iPhone 6s is slightly washed out and warmer versus to the more accurate and natural Z5 Compact.
Winner: Sony Xperia Z5 Compact
Camera in low light, day still and video
The Xperia Z5 Compact with its 23MP main shooter clearly beats the iPhone 6s in still image and video shooting review. Images shot from the Xperia Z5 Compact have very accurate colors, spot-on white balance and exposure and more detailed than iPhone 6s.
Even in low light scenes, Xperia Z5 Compact (in 8MP resolution for best results) edges out iPhone 6s in color reproduction and exposure.
Selfie images are both managed by two 5MP front-facing cameras. Undoubtedly, Xperia Z5 Compact has more preserved details on the selfie shot, but iPhone 6s is very balanced with perfect softening effect.
Winner in still image low light and day: Sony Xperia Z5 Compact
Focus speeds on two 4K UHD shooters are fast as to each other. It is on the white balance, color accuracy and sharpness where they've been separated. Obviously, Xperia Z5 Compact showed that it is still superior over iPhone 6s especially in night shooting.
Winner in 4K UHD video: Sony Xperia Z5 Compact
Performance, benchmarks and speed test
Apple's A9 dual-core chip proved that it could handle tasks easier and faster than the Snapdragon 810 octa-core on Xperia Z5. Both are paired with 2GB RAM each.
In benchmarks, iPhone 6s on iOS 9.1 scored higher than Z5 Compact especially in BaseMark OS. In actual speed test, iPhone 6s again leaped forward over the Android 5.1 Lollipop-flavored Xperia Z5 Compact.
Benchmark scores
AnTuTu: iPhone 6s – 57287, Sony Xperia Z5 Compact – 54214
Basemark OS: iPhone 6s – 1992, Sony Xperia Z5 Compact – 1281
The downside of Apple is on the base model storage which is limited to 16GB and with no microSD card expansion compared to 32GB of Xperia Z5 and with up to 200GB microSD card slot support.
Winner: iPhone 6s
Battery life, charging time
We tested the battery life of both devices using our standard procedures by putting two phones on flight mode, 50% brightness and volume off. Xperia Z5 fared longer with 11 hours and 6 minutes meanwhile iPhone 6s hung in for 10 hours 30 minutes.
iPhone 6s – 10 hours, 30 minutes
Xperia Z5 Compact – 11 hours, 6 minutes
We haven't tested both phones in charging speed yet. But for Z5 Compact sibling, the Z5 classic is rated of 25% for 30 minutes and 100% for 2 hours and 15 minutes.
Winner: Xperia Z5 Compact
Speaker and audio quality
iPhone 6s' mono speaker audio output is higher in terms of loudness. Bass is also strong and with clear vocals. For Xperia Z5 Compact, its stereo speakers has very decent audio quality. Both highs and lows are balanced and equally distributed in each speaker.
We tied both speakers as each has its advantages over the other. In the end, decision will depend on one's preference or taste in sound.
Winner: Tie
Value and Verdict
What does the Xperia Z5 Compact offers is cheaper SRP for the best smartphone camera in the market right now. The overall build is solid and compact which is great for those who are looking for handy yet reliable smartphone.
If you are not minding the old design of iPhone 6s, surely, it is a very good-looking piece of metal with top-class hardware performance and being an overall good in all departments. As always, iPhones come with expensive price tags which is a major drawback.
Comments and suggestions are always welcome in the comment section below.
Related news, comparisons, reviews: