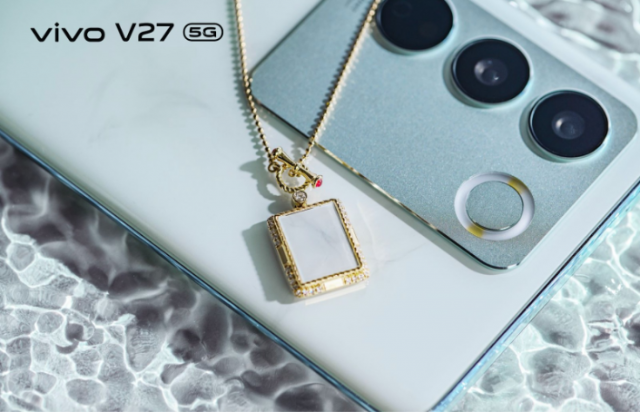 As a leader in mobile phone innovations, vivo will soon bring another first-of-its-kind smartphone technology to the market in the Philippines. The Aura Portrait Algorithm! A week after giving fans hints about a new smartphone with a unique way to improve your mobile photography, it looks like vivo will not disappoint them. 
Before the end of the month, fans of vivo will finally have the opportunity to meet #TheAuraPortraitMaster. vivo has gained a reputation for its excellent smartphone camera technology, making the vivo V27 Series the go-to device for photographers and content creators.
Here's what you need to know about this impressive new smartphone series:
Aura Light Portrait System: Illuminate Your Inner Radiance
A person's aura is their unique quality or energy, but most people can't see it. The Aura Portrait Algorithm in the vivo V27 Series takes this energy to a new level. Fans of vivo will love this new feature because it lets them capture their best aura at any time and place. 
The Aura Portrait Algorithm is more than just a play of lights; it's a new way of taking photos because vivo was so good at it. According to reports, "The Studio in Your Pocket" features the thinnest 3D curved screen in the history of vivo's V Series. It has an extra studio-quality light source, a giant ultra-sensing camera, and more advanced portrait modes in a small body. 
This new technology has vivo's complete set of portrait algorithms, such as adjusting color, brightness, and bokeh, for better image processing. Imagine having the same quality photo on your phone as on the cover of your favorite magazine. The vivo V27 Series lets people take more explicit and more natural pictures, and this is because the Aura Portrait Algorithm can make the skin look more alive and the details of the face stand out more.
Professional Optics Boost your Smartphone
Since vivo has worked with some of the best photographers in the world, it's not surprising that the V27 series might have a professional lens. The vivo V27 Series will likely have a Sony IMX 766V camera for better image quality in both well-lit and low-light situations, making it a true "Studio in Your Pocket."
Improve Image Movement for your Vlogger Days
The vivo V27 Series already has a professional lens and studio-standard lighting, but it has more of what a Studio in Your Pocket should have. 
Motion is just as important as everything else regarding photography, so vivo ensured its latest flagship device included this feature. vivo's V Series now has a more advanced version of the OIS+EIS Dual Ultra Stabilization, which was only available on its X Series. This feature goes well with how good the camera is on the vivo V27 Series, so you can take photos and videos of moving things and have fun photoshoots right in your pocket.
Walk with a Stylish, Unique Gadget
For many years, many of its fans have referred to vivo as the brand that not only provides high-quality innovations but also visually-appealing designs. This time, the brand will introduce a new and unique color to complement the phone's distinctive appearance. Because of its cool tone, the new Emerald Green colorway combined with vivo's very own Photochromic 2.0 Technology delivers a stunning and eye-catching look to the new V27 series. This Studio in Your Pocket is said to have an ultra-thin body and the thinnest 3D curved screen in vivo's V Series history– all for a comfortable and ergonomic grip.
As exciting as this news is, continue to keep your eyes peeled until vivo announces its official availability on its social media pages. Be sure to follow vivo's official Facebook, Instagram, Twitter, and YouTube pages to get the most up-to-date information on the new vivo V27 series.