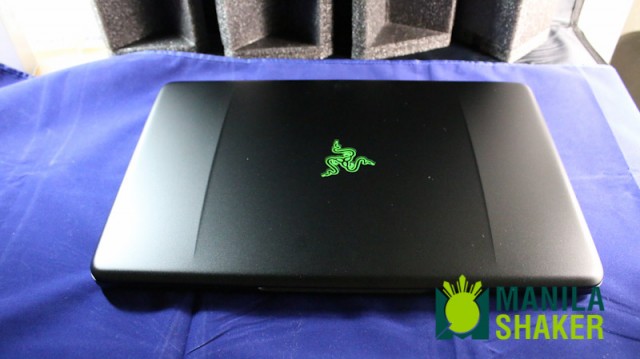 We're very lucky to get our hands on the latest Razer Blade Pro 2015 (256GB SSD model + 500GB HDD)–just few weeks before the first official Razor Store opens in Philippines this month of July in SM North.
We also had the chance to see the Razer Blade Pro right out from the box. It came in a two-piece set of hard paper box. Aside from the full-metal Razer Blade Pro, inside we also saw its 100-230V charger and bunch of manuals and stickers.
The Blade Pro feels very solid and sturdy thanks to its all-aluminum chassis. It's not light as other laptops nowadays. But for a gaming notebook, it's feels sleek and light. And despite its massive screen and hefty innards, Razer was able to trim down the Blade Pro at just 0.88″ thick.
If Apple MacBooks have its distinct glowing Apple logo behind the display, Razer is well-recognized with its Boomslang serpent logo. We find the logos in the back of the display and on the power button very amusing and nerdgastic. And just below the button is an array of programmable back-lit keyboard. Right from keyboard is the Switchable UI composing of 10 tactile keys can be programmed while the small LCD display serves several purposes, one being a trackpad.
The left side houses an array of ports, from USB to HDMI and combo audio jack. Meanwhile the right side left us curious why Razer left it bare except for the Kensington security slot sitting on upper side.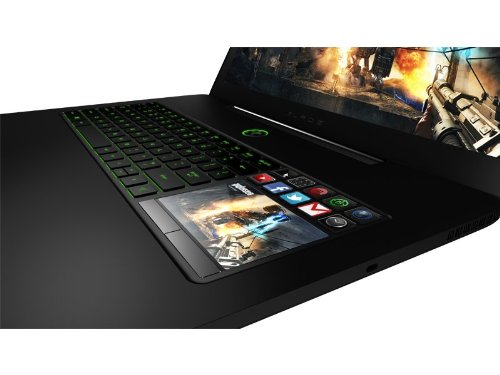 We also ran a brief test by booting up and throwing some heavy loads with the fan being noticeably quiet throughout our test. The Blade Pro manages to boot up very quickly, and we noticed it was faster than most Windows 8.1 notebooks we've encountered.
The Blade Pro is a hard-to-match gaming system that will cost a lot of savings in order to get one. And for some its either a dream come true or a status symbol when you have one.
Meanwhile, you could follow us in our FB and subscribe to our YouTube channel while we're doing an in-depth look on the Razer Blade Pro 2015.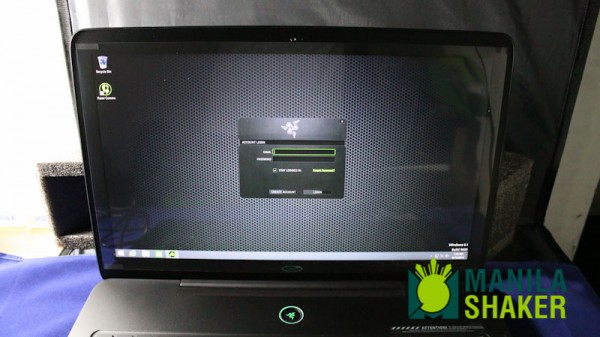 Highlights
Solid aluminum build
Sleek, distinctive design
Hardware combo is top-notch
Expensive gaming notebook
2015 Razer Blade Pro 17″
17.3" Full HD 16:9 Ratio,1920×1080 LED Backlit
Aluminum body, 0.88 thick x 16.8″ wide x 10.9″ high
3kg/6.76lbs weight
NVIDIA® GeForce® GTX 960M (4GB GDDR5 VRAM)
Intel® Core™ i7–4720HQ Quad-core processor with Hyper Threading 2.6GHz / 3.6GHz (Base / Turbo)
Mobile Intel® PCHM 8 series chipset, HM87
16GB RAM (2 x 8GB DDR3L-1600MHz)
Windows® 8.1 (64-Bit)
128/256GB SSD with 500GB HDD or 512GB SSD with 1TB HDD
Intel® Wireless-AC 7260HMW (802.11a/b/g/n/ac + Bluetooth® 4.0)
Razer Blade SUI – LCD + 10 tactile keys
3x USB 3.0, HDMI 1.4a audio/video, 3.5mm microphone/headphone combo port, array microphone
Built-in stereo speakers
Razer Back-lit, anti-ghosting Synapse programmable keyboard
2.0 MP front camera
Kensington security slot
74Wh rechargeable battery, 150W charger
Price: $2,400-2,500 from Amazon / Available in PH by order