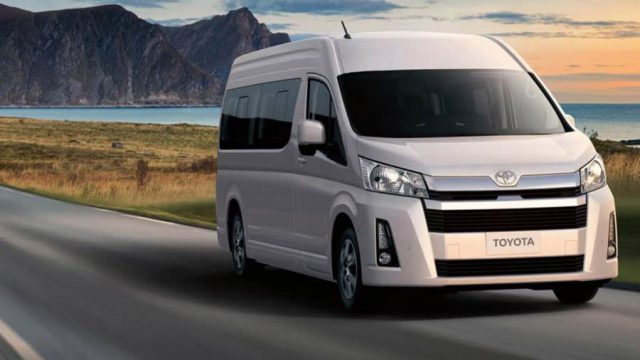 Toyota previously announced the 2019 to 2020 7-seater Avanza, now, the Japanese carmaker has officially launched the 2019 Toyota Hiace in the Philippines which is also the first global launch.
The 6th gen or 2019 Toyota Hiace is a big upgrade from both inside and outside. First, the 6th gen. Hiace has now a nose and longer wheelbase in order to accommodate the new powerful 2.8-liter diesel engine while providing more space inside.
Read: Toyota Rav4 2019 launched with 200HP power, P1.6M price
Starting with the 15-seater Commuter Deluxe model, the new Hiace offers extra center airbag and seatbelts for all passengers. The 2019 Hiace GL Grandia has 12 seats but with extra safety features and higher roofline. The most expensive is the GL Grandia Tourer with 14 seats and comes with all driving and safety features like LED running lights, reverse parking sensors/camera, and Hill Start Assist.
The 2019 Hiace is already available starting this end of March nationwide with the Commuter Deluxe having a P 1,590,000 price and the GL Grandia starts at P1,960,000 all the way to P2.06 million pesos. The most expensive, as usual, is the GL Grandia Tourer with the highest roof which retails from P2.14M SRP.
Read: 2019 Suzuki Eritiga 7-seater MPV launched for P700k price
2019 Toyota Hiace Commuter and Grandia specs, price, release date in the Philippines
Body type: Van, sliding doors, high roof
Engine: 2.8-liter diesel, 4-cylinder Euro 4 compliant
Power: 163 to 176 HP @ 3400 rpm
Torque: 420 to 450 Nm @ 1400 rpm
Transmission: 6-speed Manual or 6-speed automatic
Fuel efficiency: est. maximum 15km/l highway*
Ground clearance: 185mm
Safety: Driver and front passenger dual SRS airbags, Center passengers, ABS or Anti-lock Brake System, Parking sensors and camera, Hill Start Assist, Brake Assist, Stability Control, Cruise Control, ISOFIX (optional)
Features: touchscreen infotainment system, Daytime LED running lights on Tourer model
Price: P1,590,000 for Commuter; P1,960,000 for GL Grandia, P2,060,000 for Grandia Tourer
Release date: March to April 2019 in the Philippines