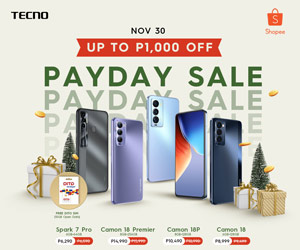 Xiaomi has finally released the Redmi Note 3 featuring a new hardware that is ready to take on other budget and powerful mid-range smartphones. Priced at P10,000 for 32GB internal + 3GB RAM ($220) here in the Philippines, how far do you think your money will go if compared to the iPhone 6S 16GB priced at P31,900 pesos? Read our comprehensive camera, display, design, speaker, battery and performance comparison to find out.
See also Xperia Z5 Compact vs iPhone 6s
Xiaomi Redmi Note 3 advantages over iPhone 6s
Affordable, cheap price at $220 (P10k pesos ph price for 32GB + 3GB RAM)
Dual-sim
4000 mAh battery
Sharper display
Apple iPhone 6s advantages over Redmi Note 3
Premium design
iOS is clean (no bloatware), fast and fluid
Powerful chipset: processor, graphics better for gaming
Loud and clear speaker
4K UHD video record
Design and build
The Redmi Note 3 looks like a generic Android on the front while back is quite attractive with metal and fingerprint sensor. Sides and corners are rounded, the whole device felt thick, but handling is comfortable in the hand.
As for the size, Note 3 is comparable to a 5-inch phone, with thin bezels and high screen-to-body ratio. One hand use is possible on some tasks, but in my case, I needed two hands when typing. Your mileage will still vary, though.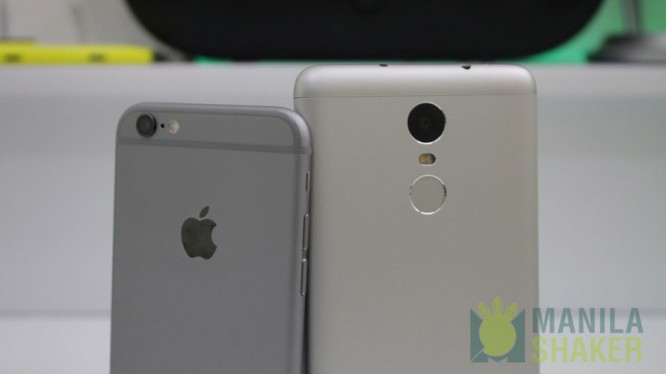 We found out that the fingerprint is not as fast and accurate as on iPhone 6s, but at least, it works with my fingers wet, like 3 out of 5 tries.
The design of iPhone 6s definitely looks more refine and premium when put side-by-side to the Note 3, which I guess, one of the main reasons why iPhones are expensive. The Note 3 is decent for its price tag, however, we still prefer the looks of Sony Xperia M5, Asus Zenfone 2 and the Lenovo Vibe P1, Vibe S1 and  ZUK Z1, which are unique in style.
Display and viewing experience
We have a 5.5-inch Full HD IPS panel on Note 3 and a 4.7-inch HD IPS panel iPhone 6s with ion-strengthened glass. Display quality on Redmi Note 3 is good and sharp, with a blinding brightness at max level. The color on iPhone 6s look better and a more saturated. There is a slight reddish tint on Note 3, but it's hardly noticeable if not compared to high-end displays.
Camera in low light, video shooting
iPhone 6s 12MP camera performed better than the 13MP of Note 3. Detail preservation and brightness are way better on the iPhone 6s, especially in high dynamic range mode. Also, that's true to the front-facing selfie and video shooting quality. Again, we are looking at a $200 camera phone versus to a $700 shooter.
Performance and benchmarks
The Redmi Note 3 runs on MediaTek Helio X10 octa-core chip with 3GB of RAM and 32GB internal storage. There is not much difference in benchmarks of iPhone 6s with dual-core A9 chip and Note 3. iPhone remains faster, but putting the price into the account, we can say that Note 3 is one of the fastest mid-ranger out there.
What I really don't like on the Note 3 is the MI UI interface. It feels cheap and I wanted to flash it with stock Android ROM on the first day if there was an available one. We still think that Xperia and Zenfone have better custom UI around.
Benchmark rating
AnTuTu: iPhone 6s – 58025, Redmi Note 3 – 47461
Basemark OS 2: iPhone 6s – 1964, Redmi Note – 964
Geekbench single core: iPhone 6s – 2439, Redmi Note 3 -970
Geekbench multi-core: iPhone 6s – 4326, Redmi Note 3 – 3076
Actual speed test- iPhone 6s is faster
Battery
The Note 3 is powered by a 4000mAh battery. Battery life is good with 2 days moderate use, 4-5 hours on-screen time and 10 hours video playback. The iPhone 6s got a day battery life, 3 hours on-screen time and 10.5 hours video playback.
Charging time on both devices is a pain in the ass. It took 2 hours and 50 minutes to fill the juice of Note 3 using its 2-ampere charger while a 2 hours and 30 minutes on iphone 6s.
Battery life rating
Battery size: iPhone 6s – 1715mAh, Redmi Note 3 – 4000mAh
Moderate use: iPhone 6s – 1 day, Redmi Note 3 – 2 days
On-screen time: iPhone 6s – 3 hours, Redmi Note 3 – 4 to 5 hours
Video playback: iPhone 6s – 10.5 hours, Remi Note 3 – 10 hours
Charging speed
Quick charging: iPhone 6s – No, Redmi Note 3 – Yes
Speed: iPhone 6s – 150 min, Remdi Note 3 – 170 min (2A ampere power adapter)
Speaker and audio
We didn't like the back-facing speaker on Note 3, it can be blocked easily by your hands and surface. Quality is a bit tinny and distorted at max volume and lacks a good amount of bass. iPhone 6s' bottom speaker sounds clear and more powerful.
Speaker type
Channel: iPhone 6s – single or mono, Redmi Note 3 – single
Position: iPhone 6s – bottom, Remi Note 3 – back
Loudness: iPhone 6s – Winner
Price and Verdict
The Note 3 is a capable device, with the quality on hardware and software way below compared to iPhone 6s. But at least, you'd get some value for your money on Redmi Note 3. We won't directly recommend the Xiaomi Redmi Note 3 as the only option when buying a budget mid-range phone as both Asus and Lenovo also offer capable devices with attractive pricing too.
See also Zenfone Selfie or Vibe Shot
If you have suggestions please comment down below if what other phones should we compare the Redmi Note 3.
Watch the video comparison below
| | | |
| --- | --- | --- |
| SPECS, PH Price | iPhone 6s | Xiaomi Redmi Note 3 |
| Display | 4.7-inch 750p IPS, 326ppi | 5.5-inch 1080p Full HD IPS, 401 ppi |
| Size | 7.1mm thick, 143g weight | 8.3mm thick, 164g weight |
| Design | Aluminum | Metal + plastic |
| Colors | Grey, White, Gold, Pink | White, Black |
| Chipset & CPU | Apple A9, 1.84Ghz dual-core Twister | Mediatek Helio X10 octa-core |
| Graphics | PowerVR GT7600 | PowerVR GT6200 |
| Memory | 2GB RAM, 16/64/128GB storage, no microSD card | 2/3G RAM, 16/32GB internal, no microSD |
| Camera | 12MP, AF, dual LED flash, 4K UHD video | 13MP, AF, dual LED flash, 1080p video |
| Selfie | 5MP selfie, retina flash | 5MP selfie front-facing |
| Connectivity | WiFi ac, 4G LTE, Bt 4.2, GPS, NFC | WiFi ac, 4G LTE, Bt 4.1, GPS |
| Software | iOS 9 OS | Android 5.0 Lollipop, Mi UI 7.0 |
| Battery | 1715mAh | 4000mAh |
| Ports, quick charge | Lighting, no quick charging | microUSB, quick charging |
| Release date | September 2015, available in Philippines | December 2015, available in Philippines |
| Price | P31,900 ph price starting base model | P10,000 ph price 32GB variant |
Xiaomi Redmi Note 3 vs iPhone 6s Comparison

Related posts and reviews