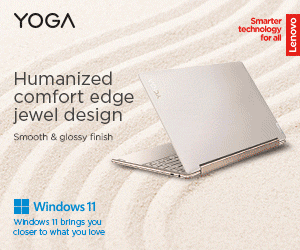 We've matched up the newest flagship from LG, the LG G4, against the budget flagship of Asus, the Zenfone 2 ZE551ML. Read on to find out which phone emerged on top of our ultimate comparison.
Note: The Nokia Lumia 1020, iPhone 6 and Lenovo K3 Note are used in some test for references.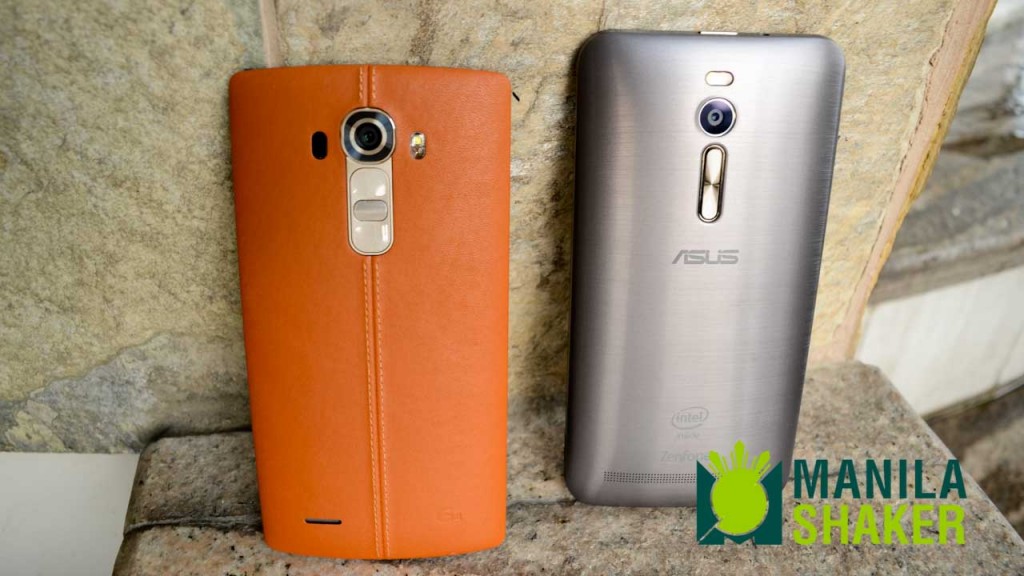 LG G4 is a high-end smartphone that has just become available in the local market of Philippines few days ago. On the other hand, the Asus Zenfone 2 ZE551ML variant is an affordable Android with a decent specs that can match up any flagship device in the market right now.
Design and body
Both are good looking smartphones but the LG G4 is sleeker and lighter. There's a 15g weight and few millimeters difference enough to tell that G4 is more comfortable to hold.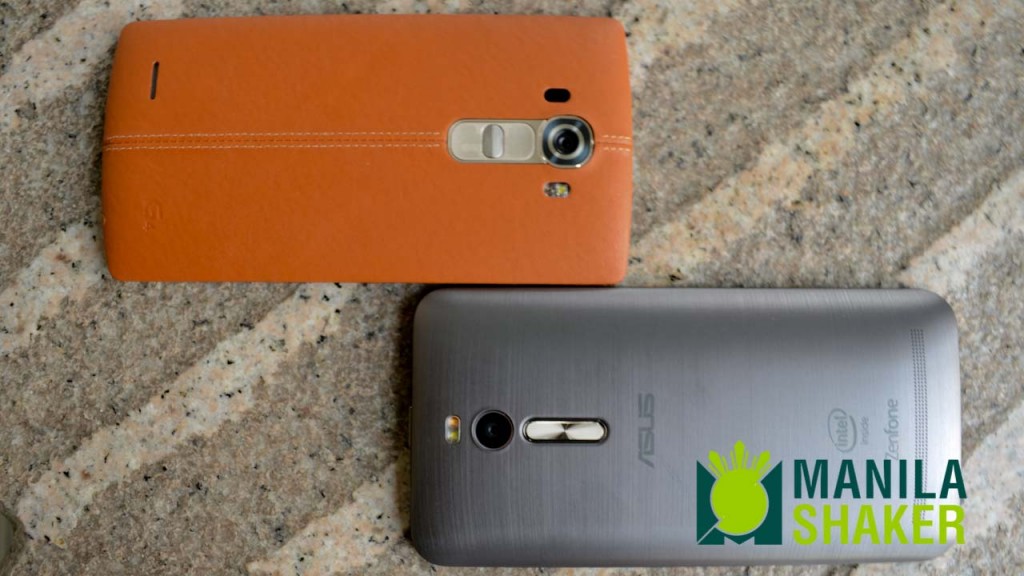 The LG G4 is available in genuine leather and metallic back-cover while the Zenfone 2 is stuck in a metallic-finish design as the only option. If I were to choose, I'd always go to the genuine leather because it's classier to look and hold.
Display
At the same 5.5-inch screen size, the QHD of G4 (1440 x 2560 pixels) is clearly sharper than the FHD screen resolution of Zenfone 2 (1080 x 1920 pixels).
The LG G4 is brighter when two displays are maxed out in brightness. But both are reliable outdoors in terms of clarity and readability.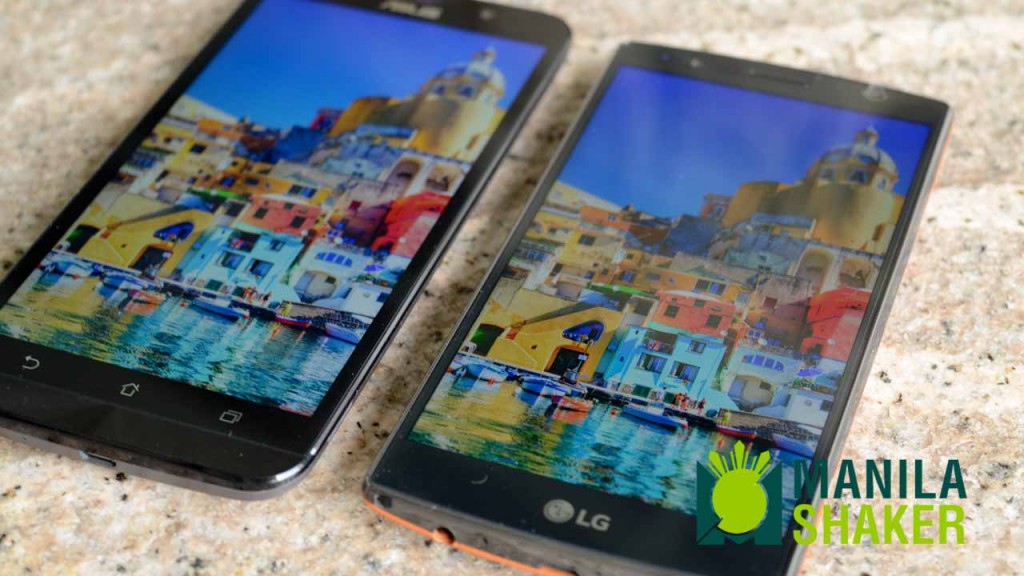 Camera
LG G4 is equipped with laser auto-focus and wide f/1.8 aperture lens making every shots more accurate compared to the Zenfone 2's 13MP PixelMaster.
The flash of G4 is also a lot brighter despite having Zenfone 2 the same dual-tone flash.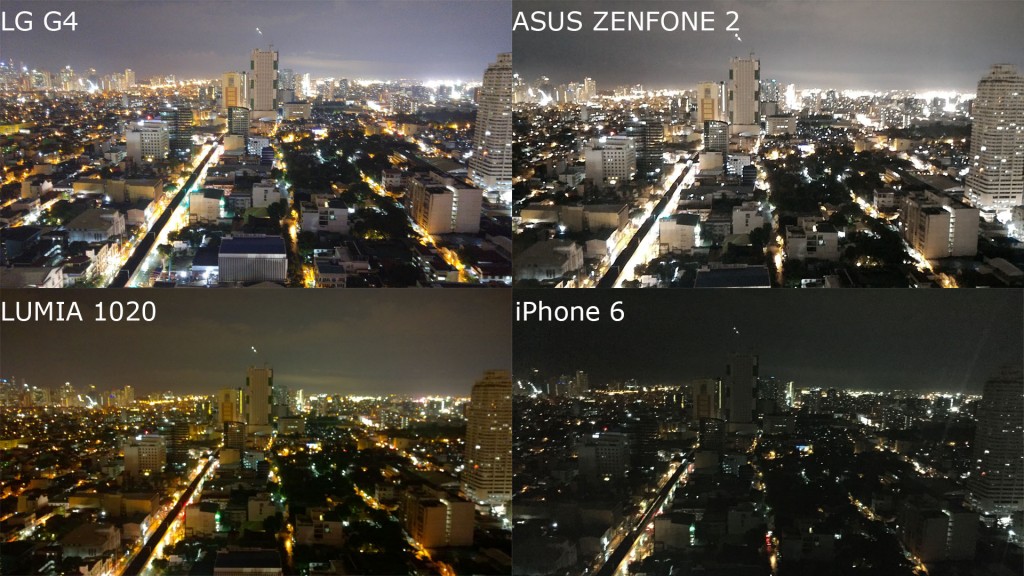 Performance
In this test we put some basic speed test (without those benchmark numbers). LG G4 edges out the Zenfone 2 in boot-up, webpage and game test.
Loudspeaker
We tested the loudness and quality of each speaker by playing the same HD video on both, The two came with clear sound, but the LG G4's speaker is a bit louder and its bass is slightly stronger.
The weigh-in
LG G4 advantages over Zenfone 2
Design and body is classier and sleeker
Display is sharper and brighter
Camera is more accurate
A bit faster in basic processing management
Louder speaker
Asus Zenfone 2 ZE551ML advantages over LG G4
More affordable (P10k-14k)
Storage options of 16/32/64GB
 Specs
ASUS Zenfone 2 ZE551ML
LG G4
CPU
Intel 64-bit Atom 1.8GHz Z3560 quadcore/2.3GHz Z3580 quadcore processor
Snapdragon 808 hexacore, 1.8GHz dual-core Cortex A57, 1.4GHz quad Cortex A53
RAM
2GB/4GB of RAM
3GB RAM
Display
5.5-inch full HD IPS display with Gorilla Glass 3, 1920 x 1080 resolution
5.5-inch QHD (2560×1440 pixels), Quantom IPS, 534ppi
Storage
16/32/64GB of storage, expandable via microSD up to 64GB
32GB internal storage, max 128GB microSD card
Camera
13-megapixel rear camera, f/2.0-aperture, 5-element, auto-focus lens with dual-color Real Tone flash
16MP, laser auto-focus, f/1.8 aperture, dual-tone LED flash, 2160p video, optical image stabilization
Front cam
5-megapixel front camera, f/2.0-aperture, wide-angle 85-degree lens with Selfie Panorama
8MP, 1080p video, wide-angle
Connectivity
Dual SIM
Dual-SIM, dual-LTE, Wifi ac, Bluetooth 4.1, SlimPort 4k, GPS
3G, LTE
WiFi, Bluetooth, GPS, A-GPS, NFC, MHL
OS
Android 5.0 Lollipop with ZenUI
Android 5.1 Lollipop, Optimus UX 4
Battery
3000mAh battery
3000mAh battery
Price
Php10-11k (32GB, Intel Z3560)
Php 26-32k
Related comparison and reviews: