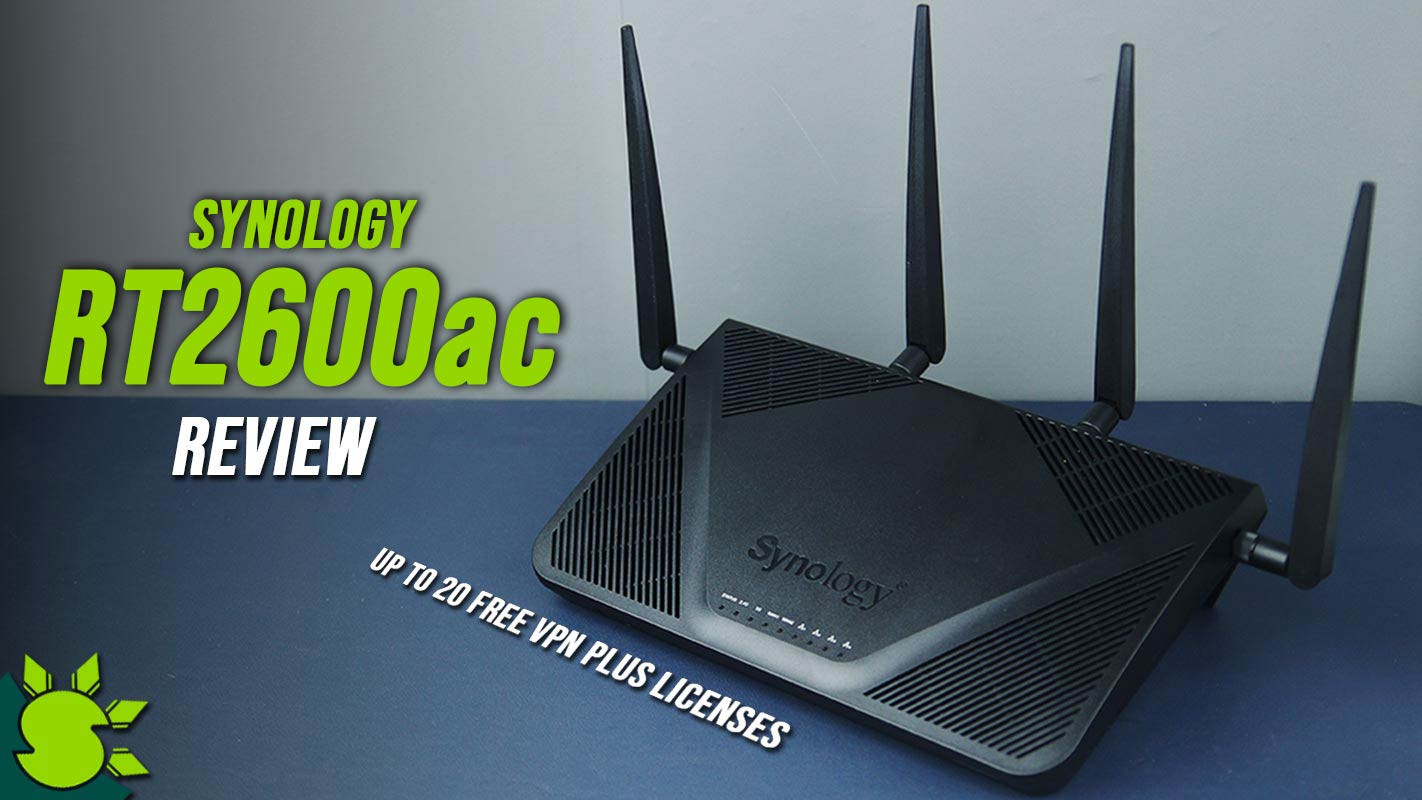 Synology's second router device is here, aside from a dedicated Network Attached Storage (NAS) Diskstation devices, Synology–if you didn't know–also made variable products for enhancing security for home and small offices. The Synology RT2600ac is a powerful high-speed wifi router that any user can easily set up and operate to give a secured featured-pack wifi network, and this device also acts as NAS.
What gives convenience in this device is the ecosystem that Synology has to offer, from a home network access to connectivity on the go, to even manage VPN servers from your router with ease and give layer of protection when browsing. We will tell you how in a bit so read along.
What exactly is the RT2600ac Router?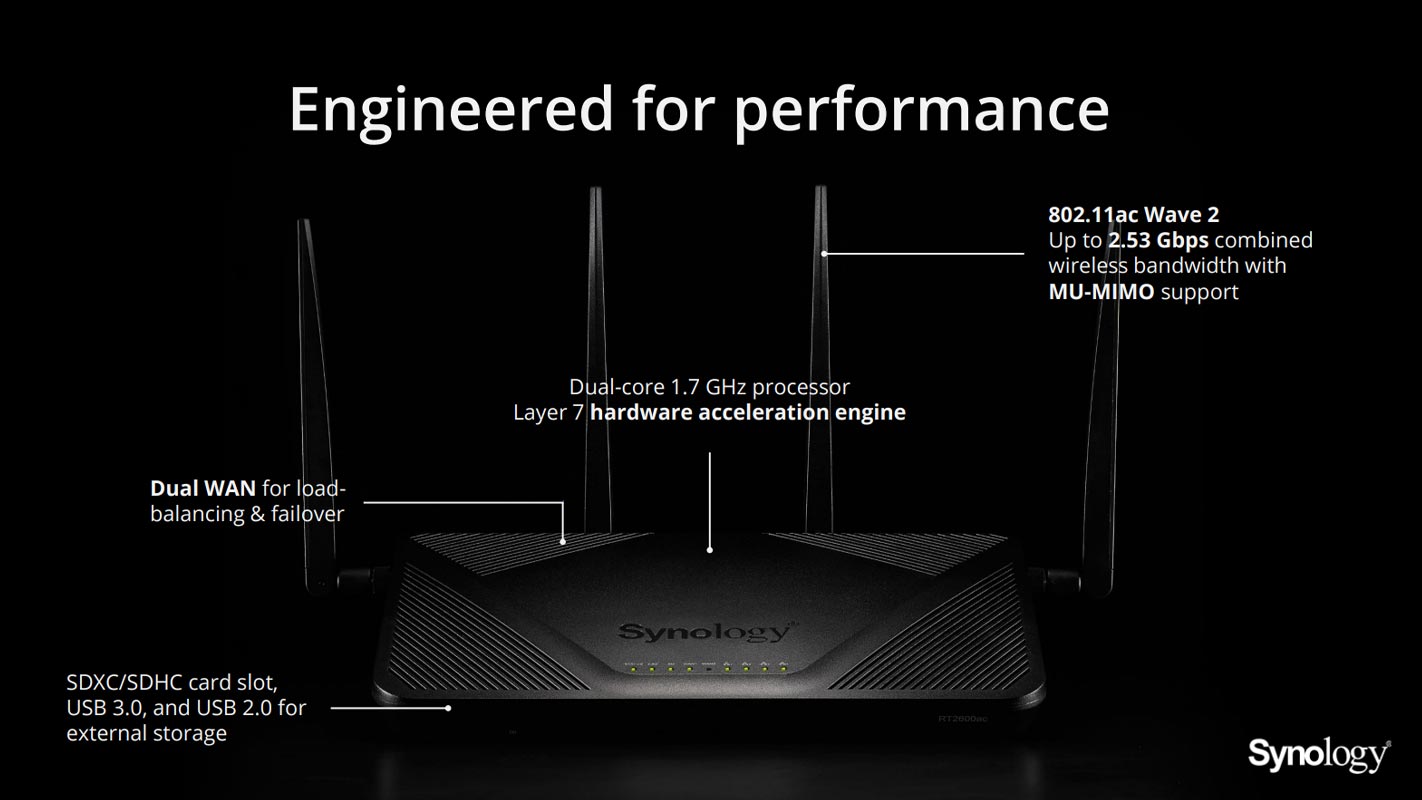 Synology's RT2600ac is a router device that runs on a 1.7GHz dual-core processor with 512MB ram and can work as a download center, VPN, and personal cloud service similar to Google Drive or Microsoft OneDrive using external hard drives. It has a Layer 7 hardware acceleration engine to ensure multiple devices connect without sacrificing performance. Basically, you will connect the RT2600ac to your ISP modem to access the internet and to your multiple devices–wired or wireless– to access packet-switched networks or subnetworks.
The two main functions of this router are managing traffic and allowing multiple devices to access the same internet connection. It has a desktop-like operating system called Synology Router Manager (SRM) and the GUI is pretty much like NAS DiskStation devices. You can manage all features such as VPN servers in the web-based UI after setting up the installation.
Quick Unboxing
This slideshow requires JavaScript.
Right out of the box, aside from the router itself items included in the packaging are an RJ-45 LAN cable, quick installation guide, AC power adapter, and four wifi router antennas. Building the router is pretty easy, you just need to screw the antennas around the router and tilt it 90-degree angle to the surface then plug the device to power on.
Design
The Synology RT2600ac is a solid, robust, handsome router at glance. The device was built with a solid hard plastic with a matte finish and with a similar texture to Synology NAS devices. It comes in Synology's signature black color and it has a considerable and fair look. It is not that heavy but the device is compact and sturdy.
This slideshow requires JavaScript.
Upfront, the model name is on the right corner, while on the left corner is the SDXC/SDHC compatible SD card slot that acts as network storage and can share files over the network, which means that you can also use the router as a network storage device.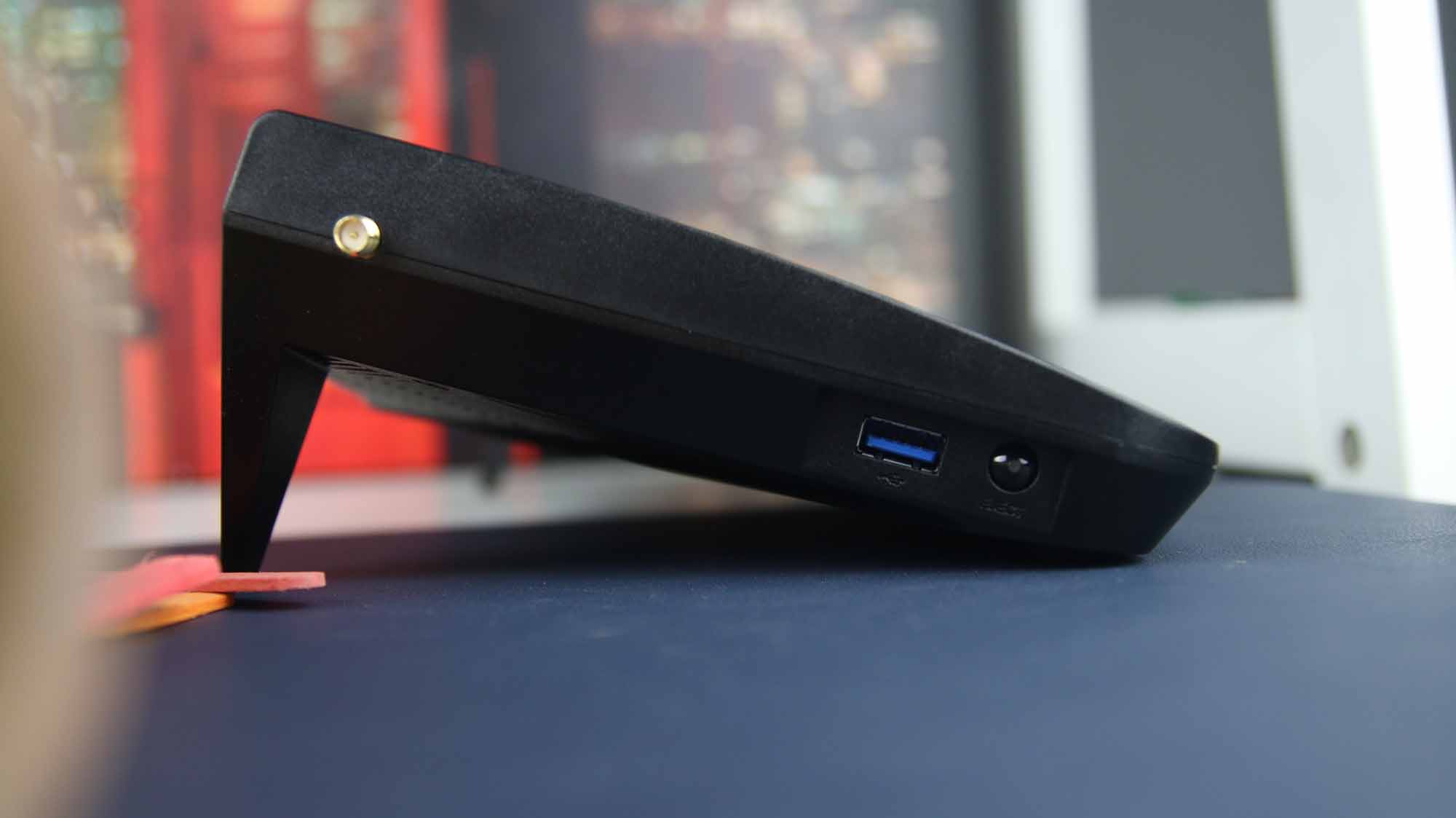 On the left side of the RT2600ac is a USB 3.0 port for external HDD, flash drive as well as the eject button for the drive.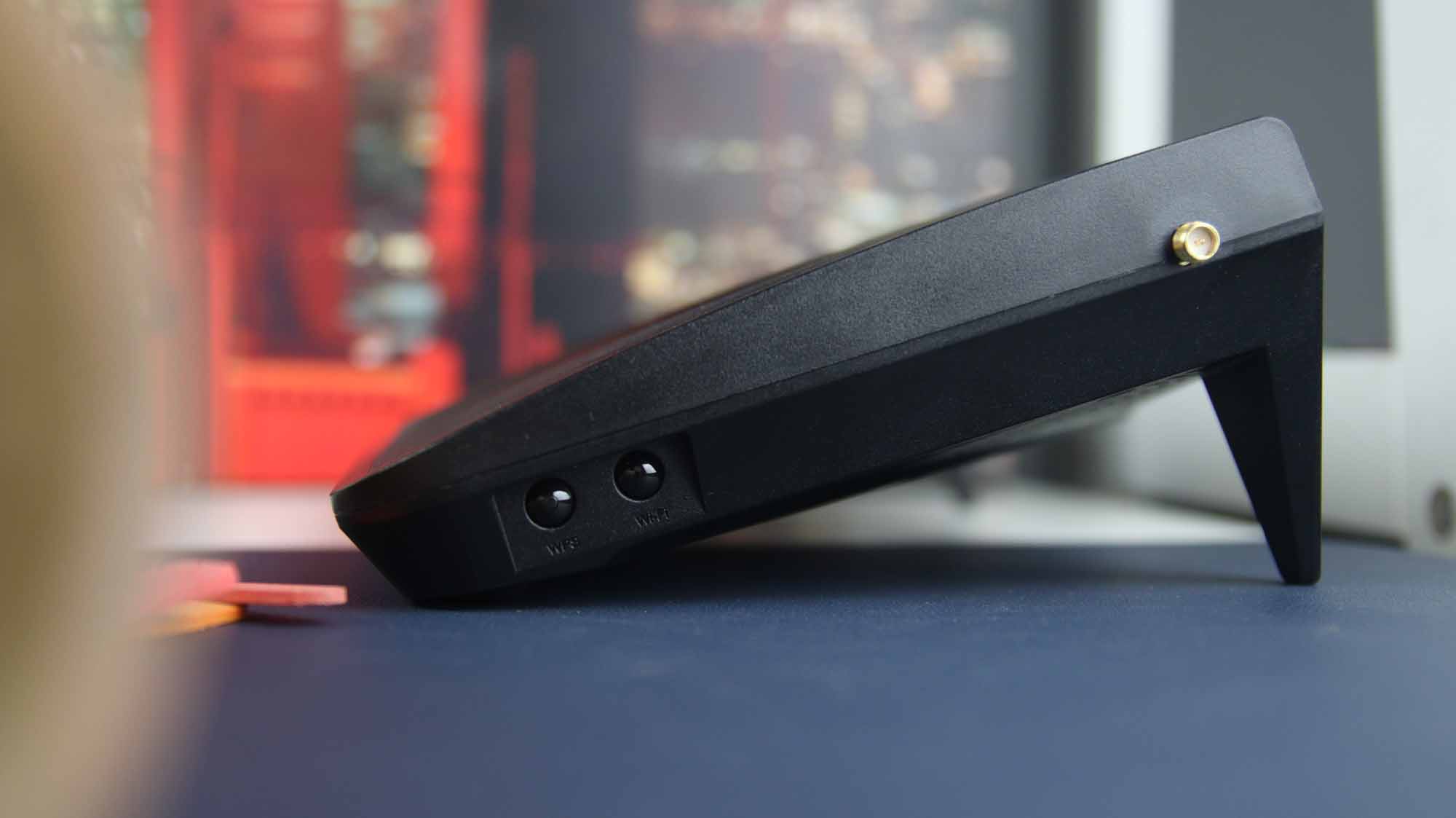 On the right side is the WPS and Wi-Fi button for controlling the wireless network easily.
This slideshow requires JavaScript.
At the back, it has a power input, power button, reset button, main WAN port (the blue one), a USB 2.0 port, and four LAN ports for extending the wired connection. The first slot from the LAN ports can be used as a second WAN port for load-balancing & failover, which means you can hook up 2 different gateways to bridge 2 separate internet connections with up to 2Gbps, or just simply set up failover for simultaneous connection in case the main WAN port encountered a problem.
As said earlier, there are four screws around the device for the antennas and these four antennas function for optimal wifi performance–an 802.11ac Wave 2 with Up to 2.53 Gb/s combined wireless bandwidth with MU-MIMO support that ensures that all devices will run on its higher speeds. This means it can give a fast wireless connection and not to mention this router can have 2.4GHz and 5GHz radio channels in one single SSID which we will talk about later.
Lastly on the top part are exhaust grilles around the four corners, in the middle is the glossy engraved Synology logo and below are the power indicator for status, 2.4GHz/5GHz wifi, and LAN/WAN indicator.
Setup
This slideshow requires JavaScript.
Setting up the RT2600ac router is pretty easy, attach the RJ-45 LAN cable on the main WAN port to your ISP modem, turn on the device, then connect devices through the four LAN ports behind or connect to Wi-Fi (router's default Wi-Fi name and password are located at the bottom of the device). That's basically the easiest way to set up the router to use its basic function.
But of course, you need to use the full potential and latest features of the router to make your life easier, then you need to connect it to a pc or mobile device with browser access and enter router.synology.com or install DS Router in Play Store or App Store for mobile phones. Wait for the app or the browser to locate the RT2600ac router and set the username and password for the router's admin access.
Features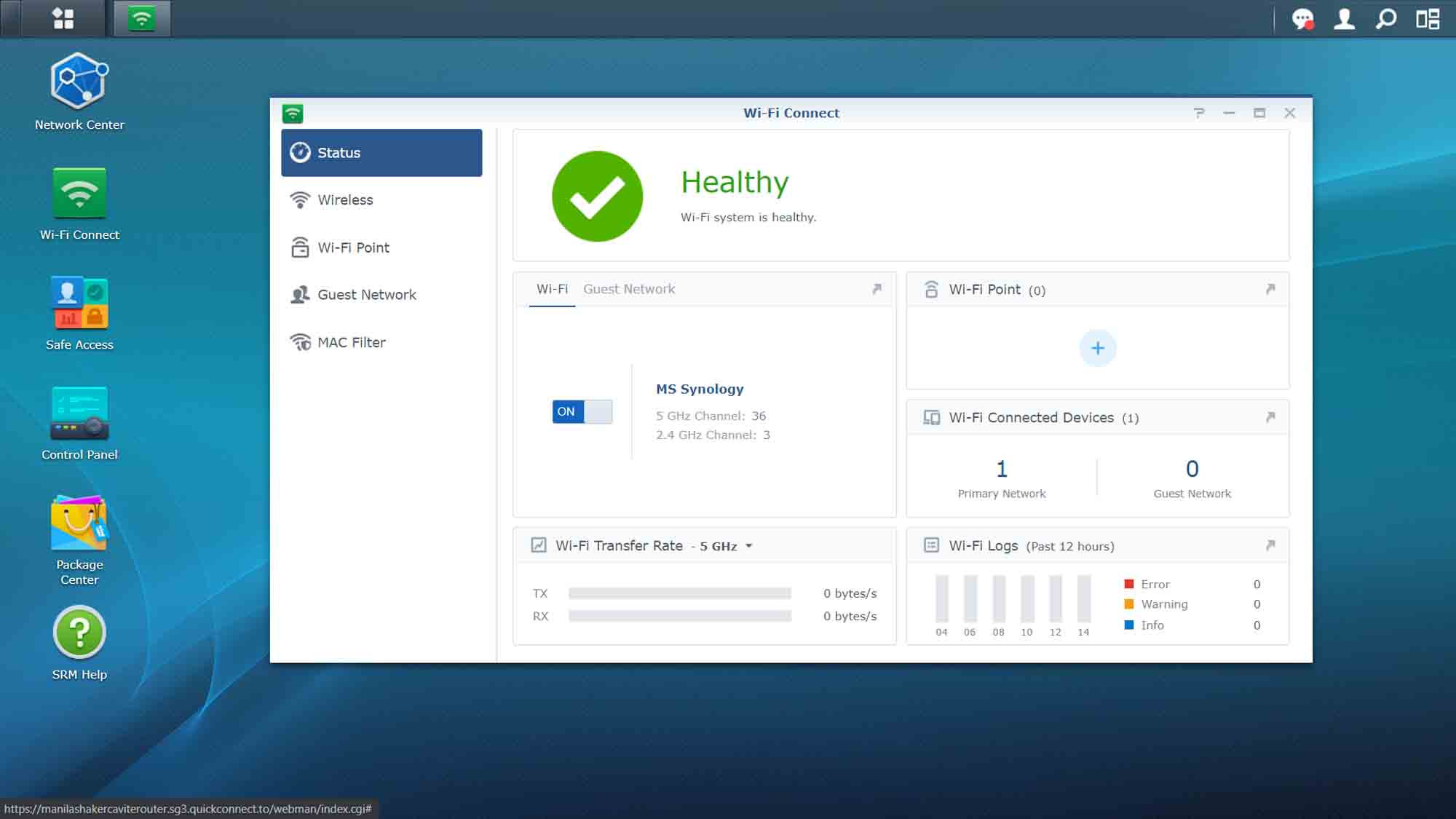 Now comes to the features of the Synology RT2600ac, there are pre-installed apps inside the Synology Router Manager (SRM) that lets you access several features such:
This slideshow requires JavaScript.
Smart Connect with band steering technology that automatically switches 2.4GHz with 800Mbps longer range when you are in long-range from the router and 5GHz band with 1733Mbps when close to the router. This ensures that the router can give the best signal and speed which is a great deal and it is very effective.
Smart WAN however is a great feature for businesses that are very reliable in an internet connection, as said earlier it can connect to multiple interfaces to ensure Internet connectivity and better bandwidth allocation by using either the Dual WAN set-up, 4G dongle, Smartphone tethering, and VPN. We haven't tested its reliability as we didn't encounter any problem yet but knowing that these features are available in this router gives us contentment.
There's also an inside ongoing statistic about network usage, CPU and memory usage as well as Real-time monitoring of connected devices, and an overview of time spent on each device. And yes as of this writing, I can monitor our router even I am working from home which is pretty convenient for me.
Custom guest network options are also available and can be set up through the Wi-Fi Connect app, this creates a new SSID and password for people connecting to your guest Wi-Fi. Tools like scheduling, auto password change, and MAC filters are also present and very useful in secured businesses and offices. These features can be also enabled using the mobile app–DS Router.
While the best feature that I like personally is the Parental control package named Safe Access, which enables web filtering that blocks pages in specific devices easily with different rules and actions so you have secured browsing even if you use this router at home with family.
VPN Plus Service
There are plenty of features in RT2600ac but one of the important features that this router has to offer is the VPN Plus Server for setting up virtual offices when employees are offsite and with different working hours. It also has an app for Android and iOS if employees are working using mobile phones.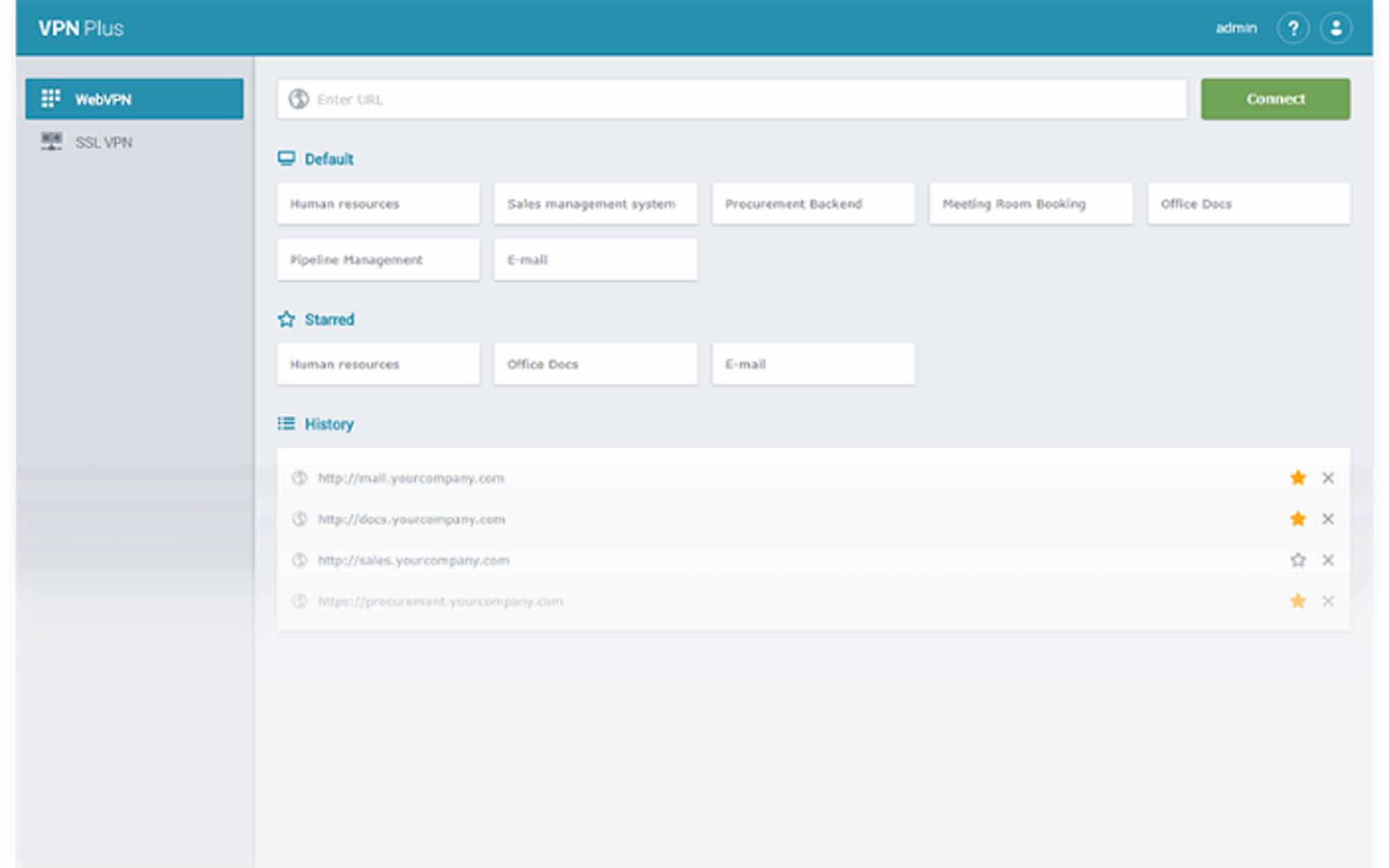 Installing the add-on package app from Package Center in SRM transforms the router into a VPN server. With two key services–Clientless WebVPN for accessing the internal web-based system using web-browser and Synology SSL VPN. The SSL VPN is used to access internal resources like a native file explorer, desktop software, and mobile app. It also offers a variety of security and encryption levels. The features are easy, trouble-free and IT admins can also monitor and manage traffic using visual representations in the Overview page on the VPN Plus Server.
Synology is offering VPN Plus licenses for free and since we got the RT2600ac we have a free Site-to-Site license but there's a special offer which you can purchase up to 19 VPN Plus client access licenses. The free offering will end on September 30, 2021, so it's best to purchase one Synology Router before the promo ends.
If you would like to explore the detailed setup of the VPN, Synology has offered comprehensive tutorials on its Knowledge Center. It's like the database of Synology product guides and frequently asked questions.
Verdict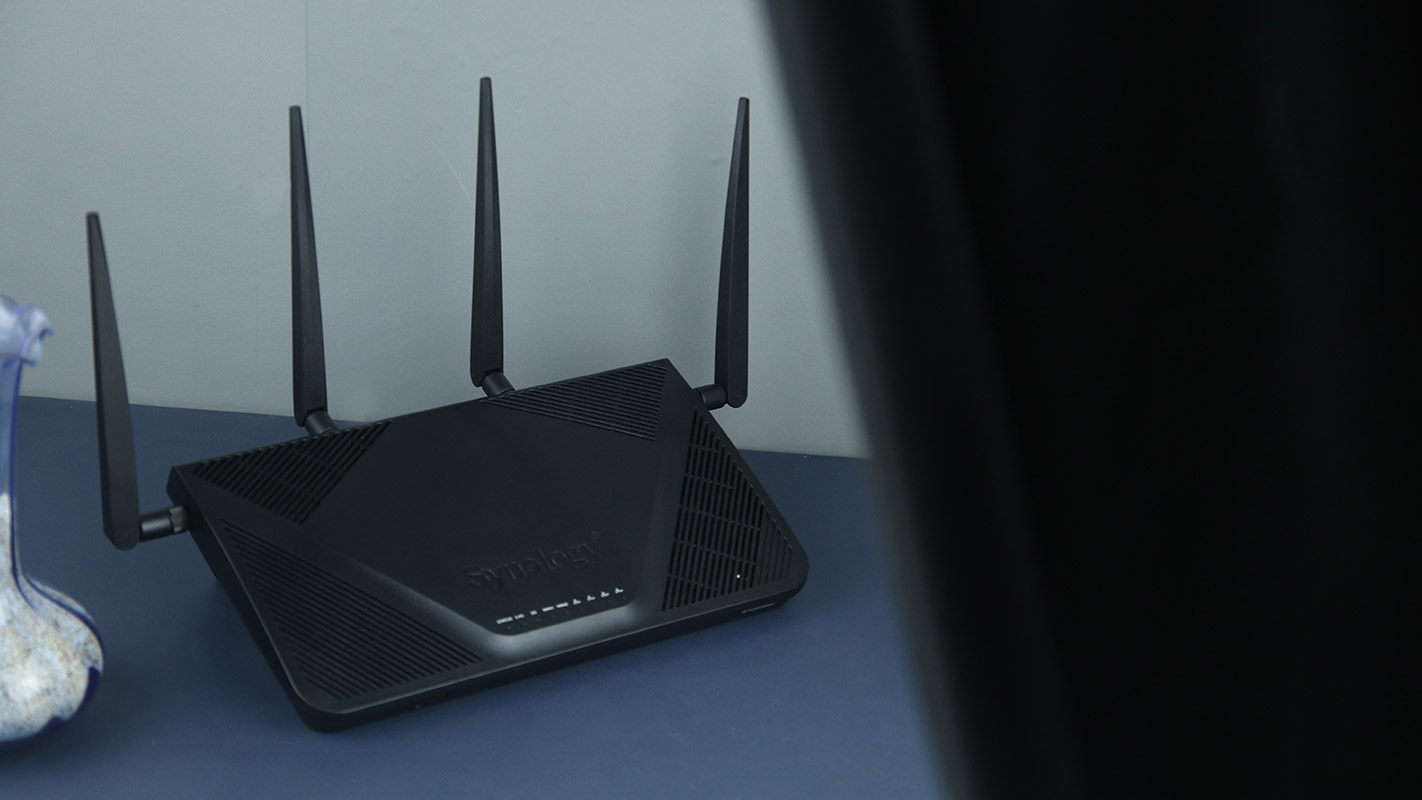 Overall, Synology's RT2600ac router is definitely one of the fastest Wi-Fi routers in the market. Having Synology products at the comfort of your home or small offices can be easy and secure for your business and backups. Albeit there's some faster router with powerful specs, Wi-Fi 6 compatibility, and attractive shells, but talking about Synology ecosystem, it offers features dedicated for security-driven users thanks to Parental control, Traffic monitoring, Hardware-accelerated Layer, Smart Connect and, VPN servers.
Besides, it has an easy-to-use web interface, can access devices all around the world with QuickConnect, and a simple and secured solution for network devices. It makes the Synology RT2600ac a great choice for non-tech-savvy users with small businesses who want convenience, security, and value-wise product.
Synology RT2600ac router is now available in the Philippines and priced at about Php15,000. You may check it on Synology Official Store on LAZADA and Shopee or visit the local store here.
READ: Official DSM 7.0 and C2 Storage for your NAS Synology will launch on June 29th