Up your gaming experience with Razer Kraken Tournament Edition Wired Headset with USB Audio Controller equipped with THX Spatial Audio— which promises to create realistic depth by simulating positional-accurate sound in a 360° sphere around you, making you a part of a gaming environment. Was it true to its claims? Continue reading below!
Package Contents
– Razer Kraken Tournament Edition gaming headset
– USB Audio Controller
– Important Product Information Guide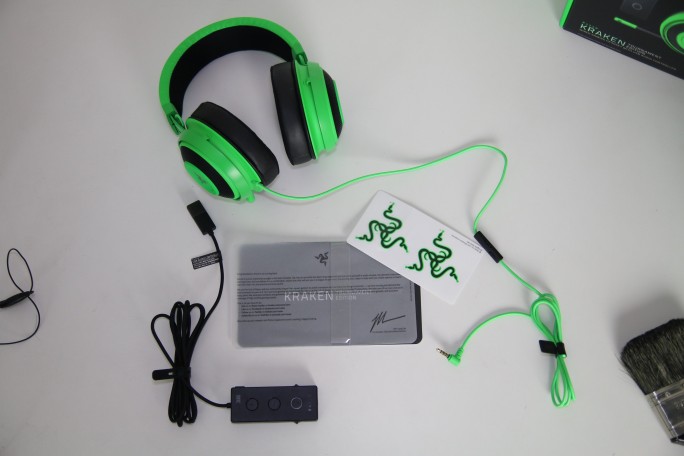 TECHNICAL SPECIFICATIONS
HEADPHONES
| | |
| --- | --- |
| Frequency response | 12 Hz – 28 kHz |
| Impedance | 32 Ω @ 1 kHz |
| Sensitivity (@1 kHz) | 109dB |
| Input power | 30 mW (Max) |
| Drivers | 50mm, with Neodymium magnets |
| Inner ear cup diameter | 56mm / 2.2 in |
| Connection type | Analog 3.5mm |
| Cable length | 1.3m / 4.24 ft. |
| Approx. weight | 322 g / 0.71 lbs |
| Oval ear cushions | Designed for full-ear coverage with cooling gel, perfect for long wearing comfort |
MICROPHONE
| | |
| --- | --- |
| Frequency response | 100 Hz – 10 kHz |
| Signal-to-noise ratio | >60 dB |
| Sensitivity (@1 kHz) | -45 +/-3dB |
| Pick-up pattern | Undirectional ECM boom |
IN-LINE CONTROL
–  Analog volume control wheel
– Microphone quick mute toggle
USB AUDIO CONTROLLER
– Controls: Volume Up/Down Bass Up/Down, THX Spatial Audio On/Off, Mic mute, Game/Chat balance
– THX Spatial Audio support via Razer Synapse
– Cable length 2.0 m
AUDIO USAGE
| | |
| --- | --- |
| Headset usage | Devices with 3.5 mm audio port |
| Audio + microphone usage | Devices with 3.5 mm audio + mic combined port |
| USB Audio Controller usage | PC with USB port |
SYSTEM REQUIREMENTS
HARDWARE REQUIREMENTS
– Devices with a USB port
– Devices with a 3.5mm combo port
RAZER SYNAPSE 3 REQUIREMENTS
– Windows 7 64 bit or higher
– Internet connection for driver installation
– At least 500 MB of free hard disk space
Design
The typical two oversize ear cups that are connected by a padded headband with logo in the center summarizes the design of the headset. The ear covers are leather and are removable, and beneath are the cooling gel infused ear cushions that claim to reduce heat build-up.
Upon using it for about two rounds of PUBG I didn't sweat that much, but I wasn't sure if that was the cooling gel taking effect or the room is not humid at all. The ear cup also fits and the product doesn't easily pop off.
The headband can extend up to 4 cm longer on both sides and is reinforced by aluminum. It can be twisted and the shape is still retained. the microphone is in the left ear cup and a volume-control dial/mic-mute button halfway down the 3.5mm audio cable. It is retractable and bendable so you can put it away when you want to and easily put it back.
The audio cable doesn't connect directly to a computer. Instead, the cable connects to a small, rectangular dongle, which connects to a PC via USB. The USB dongle has circular volume buttons on its face, as well as one to mute the mic. On the left side, you'll find bass controls, while the right side has a game audio/chat balance toggle. There's also a dedicated THX Spatial Audio button.
Overall, the design is not bad but the logo at the headband is overwhelming. And it is a bit bulky and not transport-wise which is not a problem if you are to use it only at home. But since it is a tournament edition and tournaments are done on different places so it is suggested that they should improve the bulkiness especially on the outer side of the ear cup. The products is available in green and black variants.
Performance
Using it without the THX Spatial Audio, it sounded okay both on games and movie streaming. But with the THX on, I noticed significant changes on gaming like when you're playing a first-person game and you're not just hearing an incoming enemy, you can locate where the sound (or the bang of the gun, or the boom of the bomb) is coming from and you hear it in detail. It is also easy to fine tune using the Razer Synapse 3 software (downloaded on the official Razer website) and I really liked the bass boost. But the downside is it's still prone to bugging though I didn't have a bad experience with it.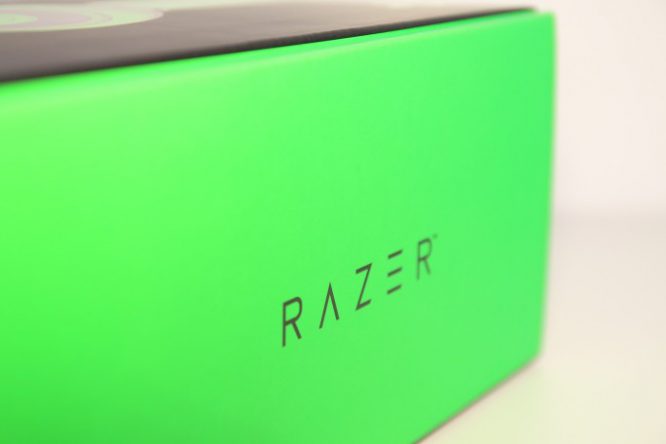 Also, don't be overwhelmed if you don't know how to tweak properly the app because it still sounds great on default. THX on movie streaming has little to no effect. Well, we're not mad about it because it is specialized for gaming. On music performance, it sounds good on a low and mid frequency and high frequency sounded fair maybe because it is specialized for bass sounds on games. The microphone is also decent, has noise cancellation feature but sometimes normal chat voice tends to sound thin and husky.
Conclusion
For a gamer, it pretty much does its job: to deliver a better gaming experience and help you to ace every game by being a useful tool for hearing. Worth buying if you are a passionate gamer who really wants to level up your gaming experience. As for everyday use, it might be pretty extravagant for the price of P5,745.00 or $99.00.