We finally got a hands-on on this first truly wireless headphone from Oppo. The box is simple yet elegant you will first see a box contains guides and warranty cards below is the device itself. There are two more boxes including the USB Type-C cable, underneath is a couple of extra ear tips. If you want to see the video version of our review you can watch it here.
Specification:
Color – White/Black/Pink
Microphone sensitivity – -42 dBV/Pa
Bluetooth – 5.0
Wireless range – 10 m
Battery Type – Lithium-ion
Battery capacity – 31 mAh (headphones), 410 mAh (charging case)
Music playtime – (50% volume) 5hrs (single charge), 25hrs (with charging case)
Charging time – 70 min (headphones), 110 min (charging case)
Charging port – Type-C
Design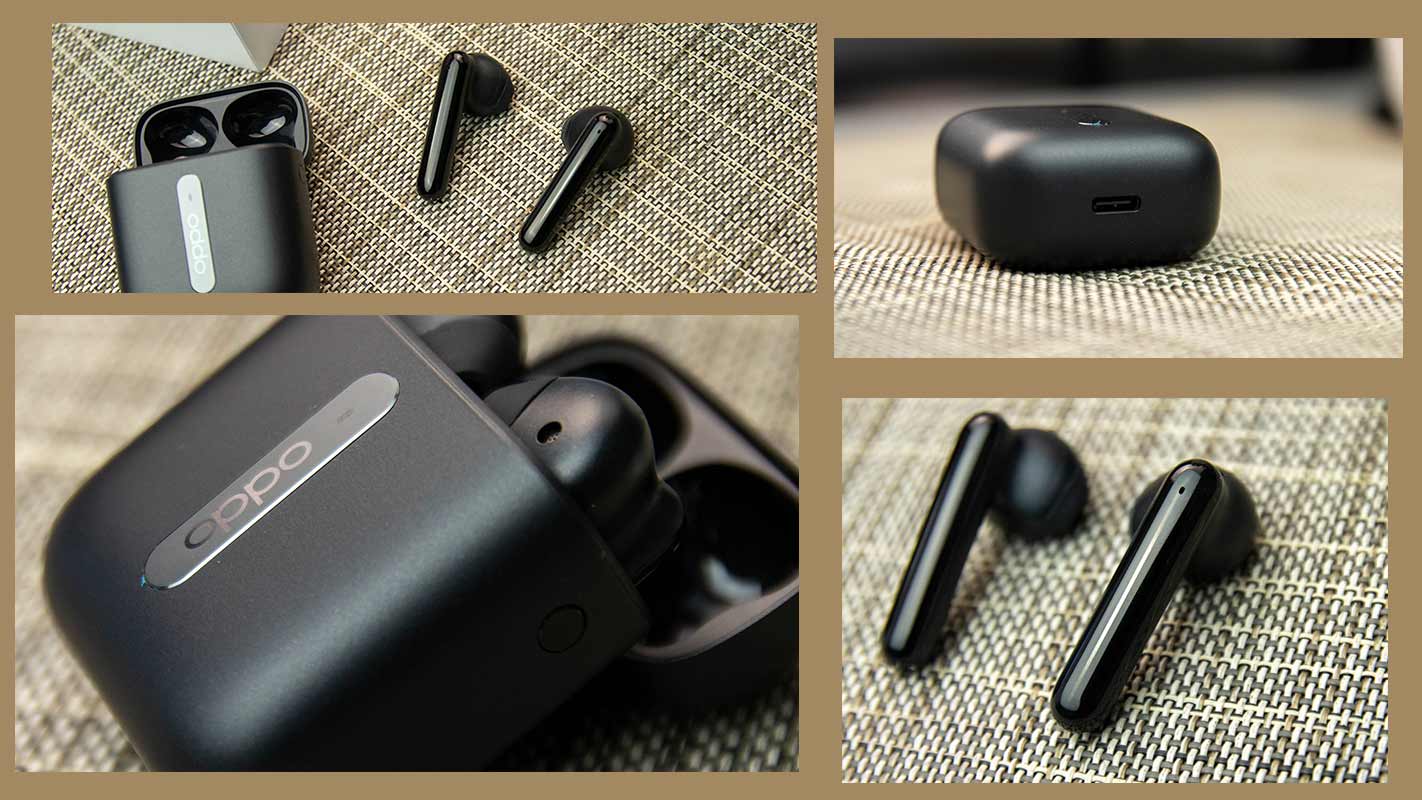 It is really an Apple Airpods inspired design. The texture of the charging case is plastic but it feels compact. It has a pretty good grip on and got a matted design as well. The charging pod or the case is pretty minimal, Oppo logo is embedded in the middle and it has a tiny led indicator, it is visible even at a far distance. On the bottom, you will see the USB Type-C port and on the right side is a single button and it's pretty clicky. Upon opening the cover we can say that it is robust. The headphones itself is in a smooth matted texture making it less prone to smudges and the stem got a futuristic aesthetic glow design, they called it the Aural Glow. When you put the headphone back to its case it clicks right away, it has a magnetic pole inside that holds the pair tight so even you accidentally opened the cover it will not slip off.
Features
Before you take the headphones out of the case you have to long-press the side button to power the device. Then the Oppo Enco Free headphones will show up in the list of devices available for pairing. Just wear it like regular headphones and you're good to go. Upon pairing the device on the phone, you can get an option to enable audio modes, and the High-Quality Audio feature right in the Bluetooth settings itself. The stem is a touch-sensitive that allows you to control the sounds by its gesture feature. Double-tapping either side of the headphones will pause/resume music and answer/reject phone calls. Sliding up and down — sliding your finger on the left side of the headphone will adjust the volume while sliding on the right side will change tracks. It also has an auto-pause feature when the device recognizes that it has been removed from your ear.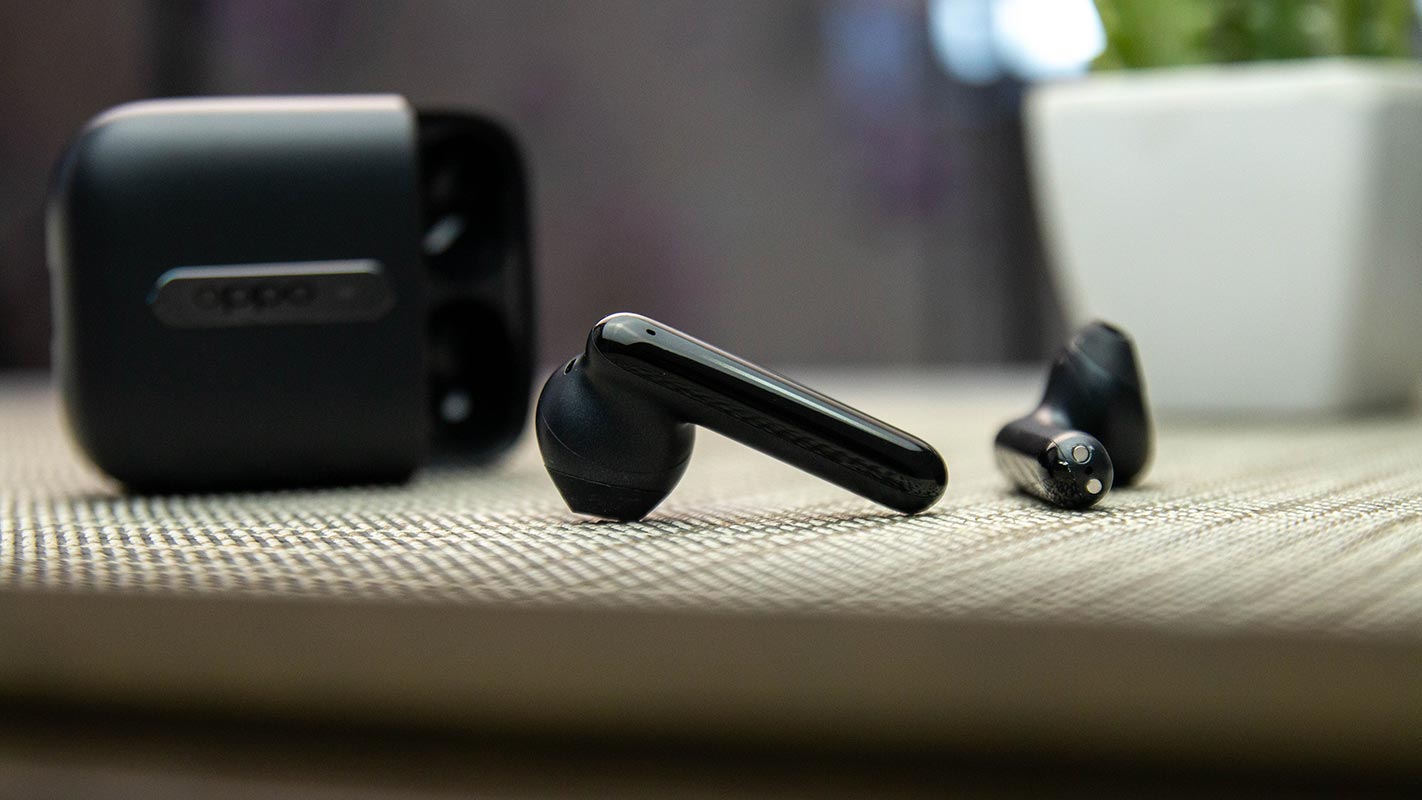 Package
Upon using the device for an hour, I noticed that the headphone doesn't fit on my ears properly. Good thing it comes with an extra pair of rubber foams, large and medium sizes. Be careful when removing the foam, it is so tight that you might damage it but it makes sense since it adds extra grip on your ear. There is also a USB Type-C cable only with no power brick. The device is IPX4-certified as well, making them sweat, and water-resistant.
See Also: True Wireless Earbuds Prices in the Philippines
Battery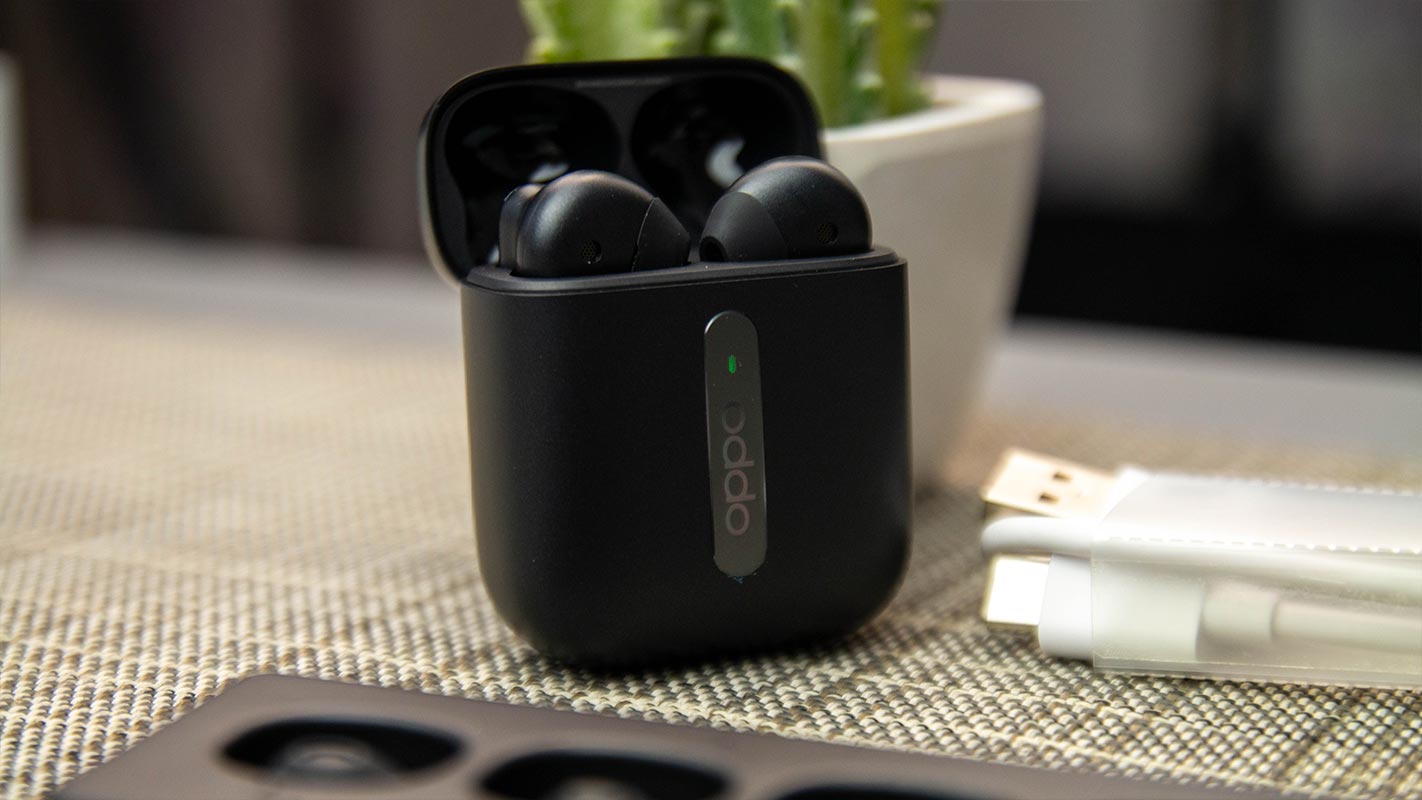 The case alone got a 410mah battery which gives you an extra 12 hours of call time and 20 hours of music playback it takes about 2hrs to fully charged. Unlike AirPods 2, the case doesn't support wireless charging. The earphones have 31mah with 5 hours of music playback and 3 hours of call time. There is a led indicator that tells you the case battery level by flashing red(low battery) yellow and green lights (battery at full charge). So basically the Headphones can last up to 25 hours with the charging case.
Quality
The quality of its sound is loud and clear. I tried to listen in a bass boosted music, at first I thought it is not good at handling bass sounds but after I tried to reseat the headphones in my ear, the bass sound is now clear and I can feel the tingling sensation of its vibration. At full volume, it was so loud that I can't hear my voice but the quality is great although you can hear a little sound distortion. Using the Oppo Enco Free in voice and video calls, both call type works fine, and it picks up your voice well thanks to its AI voice noise reduction. We tested some devices to pair with the Oppo Enco Free and surprisingly it is seamless and flawless.
Overall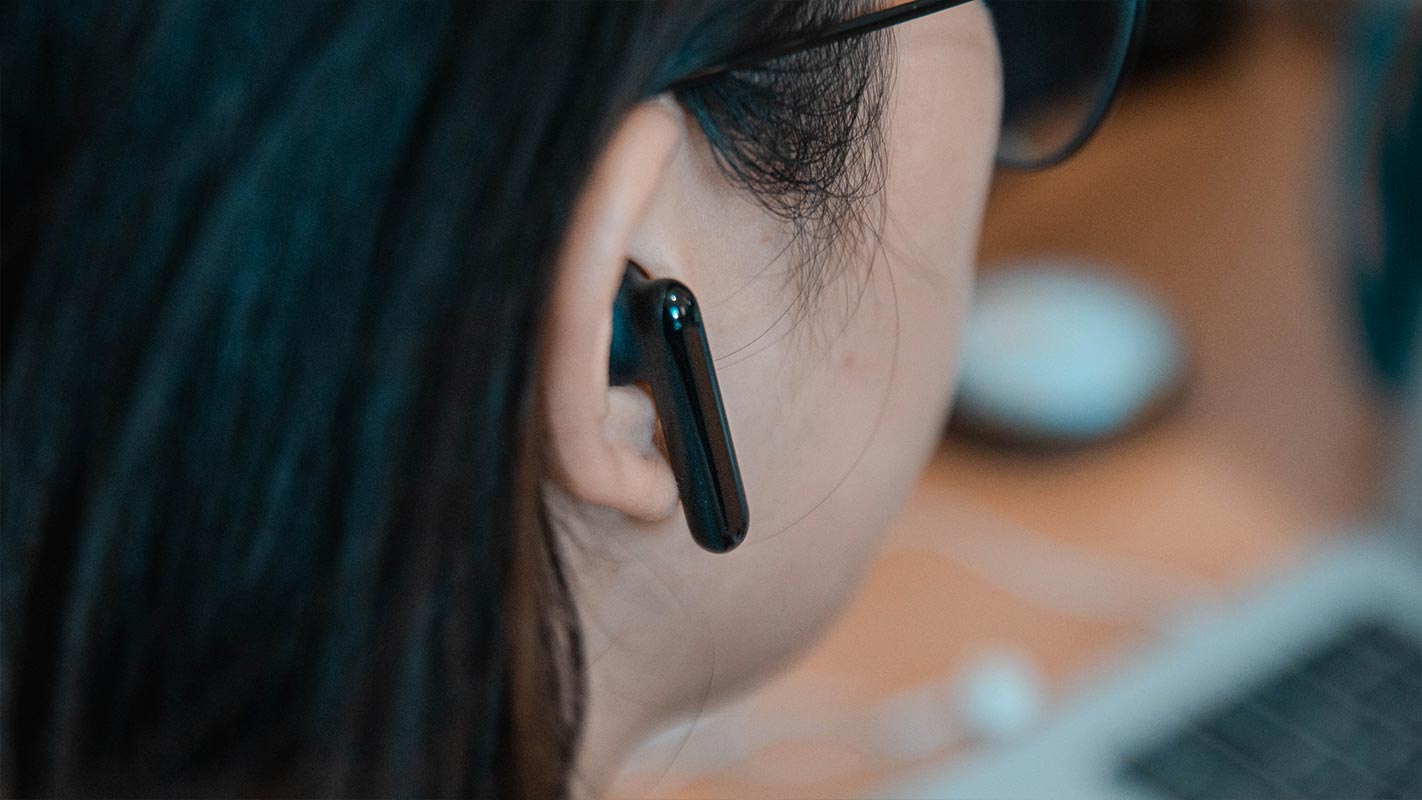 The design is simple yet elegant and I really like the matted surface of its case. You can buy the headphones for Rs.7,999 or Php5,495 when converted. Sound quality is great it got a bass and surround sound. I heard that if paired with Oppo smartphones running Color Os 7, the sound quality will increase. What standout about this Oppo Enco Free is you can use it in every device flawlessly, and you will get a different ear tip sizes.