Its budget phone VS mid-ranger, which among our contenders will make it big here at our comparison review, as Sony's mid-ranger Xperia M5 (priced at Php 23,390) hits it hard and takes on LG and Google's collaborative budget device, the Nexus 5X (priced at $379 or Php 18K). Check out their specs, price and features and find out, which among these strong devices fit you best.
Design and build
For design, the Nexus 5x carries a pretty decent and comfy polycarbonated back cover, with a very slender profile overall, while the Sony Xperia M5 has a very appealing glass back cover, initiating a very luxurious take. The Nexus 5x is specifically built for easy handling and gripping capability, while the M5 is handled through the utility delivered by Sony's IP 68 certification, which makes the Xperia M5, dust-proof and water-resistant. The Nexus 5x has a fingerprint sensor feature, which is not exactly present on the Xperia M5's arsenal.
Design-wise, if you're going for the easy-to-handle budget device, the Nexus 5x is a good choice overall, but if elegance and simplicity in design is what you want, then the Xperia M5 is a top notch pick for you.
See also: Nexus 5X Review – One of the Androids I Wanna Buy
Display and viewing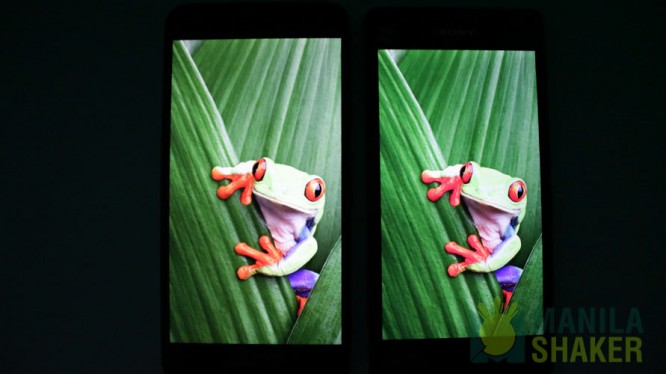 The 5.2-incher budget-wise LG Nexus 5x is no pushover in display, with its excellent 1080p FHD display, while the Xperia M5's IPS 1080p LCD display, backed up with Sony's Bravia engine is truly something to look at. Overall, the M5 delivers a brighter and better viewing experience, with its punchier and more colour accurate blending in comparison to the LG Nexus 5X. The Nexus 5X, however, was able to par up in brightness and clearness, which is already an impressive feat from the Nexus 5x.
We'd love to hear from you guys? Which display is better? Is it the colour accurate Xperia M5 or clear Nexus 5X?
See also: Sony Xperia M5 Review – The Best Mid-range Smartphone
Camera Shooting
The Sony Xperia M5 has a 21.2MP AF rear shooter, with phase detection capabilities and a 13MP selfie shooter, while the LG Nexus 5X has a 12MP rear shooter, with a laser autofocus feature and a 5MP selfie shooter.
The Xperia M5's outputs showcased a very flourished and high-detailed output, while the Nexus 5X showed a clear and accurate still image output. However, for night shooting, the Sony Xperia M5 showcased a more firm noise control in its outputs in comparison to the Nexus 5X. Both devices are capable of shooting 4K videos.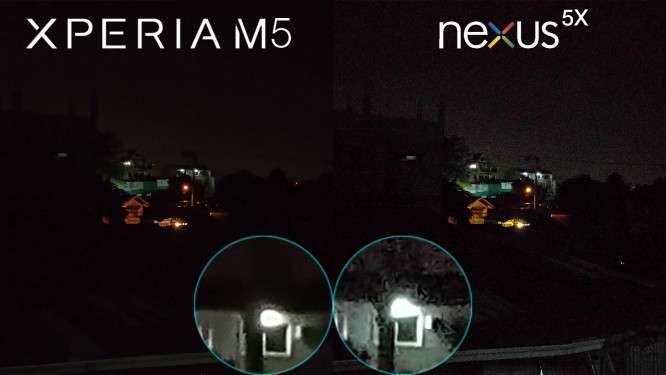 What do you think about the outputs? For you, who takes home the bacon?
See also: LG G4 vs Nexus 5X Comparison, Camera Review, Speed Test
Performance and benchmarks
The Sony Xperia M5 is powered by MediaTek's Helio X10 chipset, while the LG Nexus 5X powers a Qualcomm Snapdragon 808 chip in its helm. The Sony Xperia M5 has a relatively larger RAM capacity of 3GB, in comparison to the 2GB RAM capacity of the LG Nexus 5X. For benchmark scores, it was concluded that the LG Nexus 5X's scores trumps the Xperia M5's on all three benchmark tests
AnTuTu:
Nexus 5X: 42426
Xperia M5: 37753
Basemark OS II
Nexus 5X: 1173
Xperia M5: 880
Geekbench 3
Nexus 5X: 1022 single core, 3260 multi core
Xperia M5: 786 single core, 2897 multicore
See also: LG G4 vs Nexus 5X Comparison, Camera Review, Speed Test
Battery tests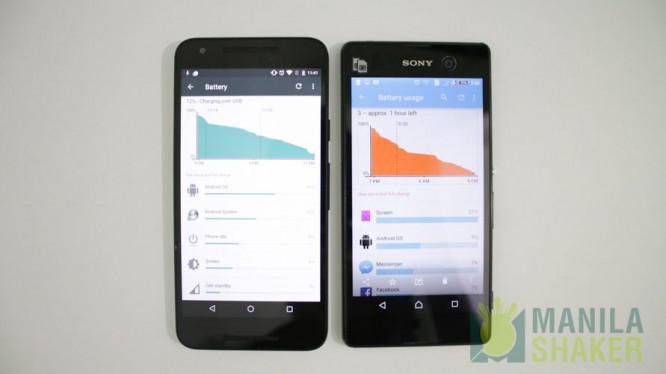 Sony Xperia M5's 2 day battery life was something to be heavily considered, despite the advantage of the Nexus 5X in battery capacity (2600mAh battery VS 2700mAh battery). However, the Nexus 5X is capable of providing quick charging capability, thanks to its Type-C USB connector and a 3A wall charger, with a 90-minute approximate charging speed.
Sony Xperia M5: 2 day battery life with moderate use, 1 day for heavy use
LG Nexus 5X: 9 hours and 20 minutes
See also: Sony Xperia M5 VS OnePlus 2 Camera Review Comparison, Benchmark, Speed Test
Speaker and audio quality
Both the Sony Xperia M5 and Nexus 5X both carry a pretty decent sound output, with the Xperia M5's mono speaker and Nexus 5X's single front-facing speaker. However, it was seen that the Xperia M5 showcased an overall better sound quality and volume, with the LG Nexus 5X, showing off a tinny and raggedy sound.
See also: Sony Xperia M5 VS Samsung Galaxy A8 Comparison, Camera Review, Benchmark, Speed Test
Price and verdict
The LG Nexus 5X, being a budget-wise device and all has the advantage in pricing, with its more affordable $379 or estimated price of Php 18K in converted PH price, with the Sony's mid-ranger Xperia M5 being priced at Php 23,390. To be honest, the 18K Android Marshmallow Nexus is looking really good, in getting a good buy for your buck.
However, the Xperia M5 is not someone that you should ignore, the well trusted Sony M lineup are known to dish out some awesome good features as well.
What do you think of our comparison? Hit us up on the comments section and share your thoughts. Also, check out this comparison video between the Xperia M5 and M4 Aqua

| | | |
| --- | --- | --- |
| Specs/PH price | Sony Xperia M5 specs, PH price, features | LG Nexus 5X specs, PH price, features |
| Display | 5-inch IPS 1080p LCD display, Bravia engine, 441ppi | 5.2-inch 1080p FHD display, 424ppi |
| Size | 7.6mm thickness, 142g weight | 7.9mm thickness, 136g weight |
| Color | Black, gold, white | Carbon, Quartz, Ice |
| Protection | scratch-resistant glass, IP68   water and dust resistant | Cornings Gorilla Glass 3, oleophobic coating |
| Chip | MediaTek Helio X10 octacore chipset | Qualcomm Snapdragon 808 hexa-core |
| Graphics | PowerVR G6200 GPU | Adreno 418 GPU |
| Processor | 8x 2.0GHz Cortex A54 processor | Dual-core 1.82GHz Cortex A57, Quad-core 1.44GHz Cortex 153 |
| Memory | 3GB RAM, 16GB internal, microSD card 200GB max | 2GB Of RAM, 16/32GB internal storage, no microSD card slot |
| Main Shooter | 21.2MP AF, phase detection, fast focus, LED flash | 12MP rear shooter, Laser Autofocus, dual-LED flash (dual tone) |
| Multimedia | 4K UHD video, HDR | 4K UHD video, HDR |
| Front facing shooter | 13MP AF, 1080p video | 5MP front camera |
| Connectivity | WiFi ac, Bt 4.1, GPS, NFC, dual SIM 4G LTE, FM radio | 4G LTE cat 6,WiFi ac, Bt 4.2, GPS, GLONASS, NFC USB Type-C |
| OS | Android 5.0 Lollipop update to 6.0 Marshmallow | Android 6.0 Marshmallow |
| Software features | Xperia UI (close to stock Android experience) | Stock Android |
| Battery Capacity | 2600mAh battery | 2700mah (non-removable) |
| Ports and charging | microUSB 2.0, MHL | USB type-c |
| Released date | September | November |
| Official price | P23,390 from Sony PH | Our unit bought from hotgadgets | $379 US on 16GB (no official price in the Philippines, est. P18k pesos) |
| Where to buy | Lazada, Hotgadgets, Sony PH store and other Online stores or retail sellers | Hotgadgets, LG Philippine stores |
Related posts and reviews