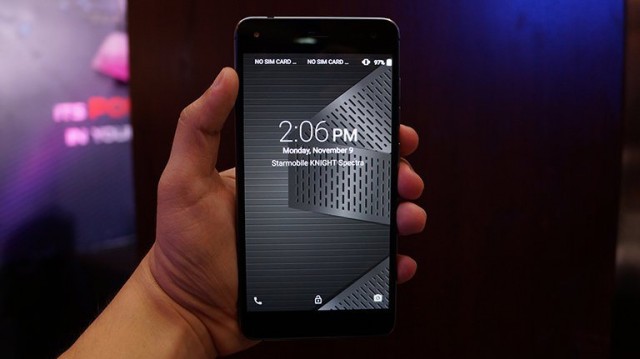 Starmobile has recently announced their upcoming new 5.5 incher device dubbed the Starmobile Knight Spectra and oh boy it looks like a keeper. Find out more about Starmobile's upcoming dual-shooter 5.5 incher and decide whether the Knight Spectra is the phone for you.
The Spectra features a few unique traits in its sleeves, such as its dual-camera capability, which is a pretty rare thing for smartphone these days. The 13MP and 2MP rear shooters are an undisputed duo, which helps the device to showcase outputs with in-depth perception, thanks to the background shooting perception of the 2nd rear shooter. In regards to selfie shooters, the Spectra isn't short, with its 8MP selfie shooter to take care of the "Selfie" related outputs.
Additional specs include a 5.5-inch 1080p FHD display, a Snapdragon 615 chip equipped on its back and an Adreno 405 GPU for graphics. The latter also has an octa-core processor and 3GB of RAM for an excellent system set-up. For memory, the Spectra is no pushover, with its 32GB internal storage and a microSD expandability limit, though exact number is yet to be determined. And finally a 3500mAh battery to seal the deal.
See also: StarMobile To Reveal an Upcoming Smartphone on November 9
By the looks of things the Spectra is a pretty huge innovation of Starmobile and they're looking to up their game, with the introduction of the Spectra. The Knight Spectra is priced at around Php 14,990 and should be available soon. Please let us know what you think about Starmobile's new dual camera smartphone and share your thoughts on the comments section below. We highly appreciate feedbacks from you guys.
| | |
| --- | --- |
| Specs/PH price | Starmobile Knight Spectra specs, PH price, features |
| Display | 5.5-inch 1080p FHD on cell AMOLED display |
| Chip | Qualcomm Snapdragon 615 chip |
| Processor | octa-core processor |
| Graphics | Adreno 405 GPU |
| Memory | 3GB of RAM, 32GB of internal storage, microSD expandable |
| Main camera | 13MP rear shooter + 2MP rear shooter (dual camera) |
| Front facing camera | 8MP selfie shooter |
| Connectivity | Dual-SIM, 3G, LTE, WiFi, BT 4.0, GPS, GLONASS, DVB Digital TV |
| Ports and charging | USB 2.0 OTG cable |
| Battery | 3500mAh battery |
| OS | Android 5.1 Lollipop |
| Software features | Ok Google, Android TV |
| Release date | November |
| Official price | Php14,990 official SRP |
Related posts and reviews
Via YugaTech.com