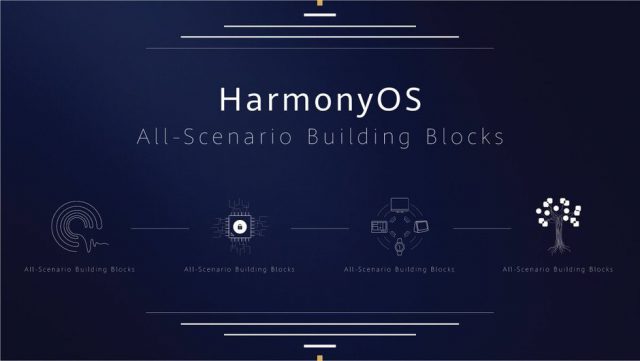 After months of rumors, Huawei has finally introduced its newest operating system for smartphones and other platforms. Meet HarmonyOS (or HongMengOS in China). It's the new OS that will power future Huawei devices.
READ: Chinese Smartphone Manufacturers Dominate Global Market Share Despite Huawei Ban
HongMengOS is HarmonyOS
The latest OS from Huawei is built with connected devices in mind. It aims to deliver an all-scenario smart ecosystem and experience. Which means interaction between smartphones, smart TVs & appliances, wearables, and laptops are as seamless as possible. While at the same time supporting Android apps. Among other main features of HarmonyOS is reduced latency to a minimum for faster interactions over supported devices. There's also Trusted Execution Environment or TEE which improves security across connected devices.
HarmonyOS or HongMengOS is an open-source microkernel-based distributed OS for all scenarios (platforms). It will come first to Huawei or Honor smart TVs, probably by the end of 2019, and hopefully, reach laptops and wearables by 2020. Apparently, the company is also looking at it as an alternative to Android should the US totally ban the Chinese company from using Google services.
That said, don't expect the upcoming Mate 30 Pro to use HarmonyOS out of the box. What Huawei is trying to build here is a next-gen OS that can potentially rival both Android and iOS. It's similar to the long-rumored Google's Fuchsia OS, which even after five years, has yet to receive an official name on the market. Also, HarmonyOS will cater to China first before the world.
According to Richard Yu, Huawei's CEO, "You can develop your apps once, then flexibly deploy them across a range of different devices".
A modularized #HarmonyOS can be nested to adapt flexibly to any device to create a seamless cross-device experience. Developed via the distributed capability kit, it builds the foundation of a shared developer ecosystem #HDC2019 pic.twitter.com/2TD9cgtdG8

— Huawei Mobile (@HuaweiMobile) August 9, 2019