It took a few years and several flagship phones for HTC before making its name relevant in the mobile industry again–all thanks to the new HTC 10. The Taiwanese giant had its misses and rough days mainly because of the unflattering products in the past, which had been overshadowed by a lot of new and big players in the market too. But it seems that bad stigma has been washed away and renewed with promising future through the new HTC 10 that by papers alone brings a lot of really exciting things.
With the official launch in the Philippines still in limbo, the flagship of the company has seen some light through some online stores here. It's available to buy with a close pricing to the Samsung Galaxy S7 and the recently debuted LG G5 for around Php 34k. Not a bad asking SRP as HTC is known overpricing their former high-end phones.
The new HTC 10 seems to carry what should had HTC delivered years back, but it will be enough for the primetime show against the competition? Let's find out in our full review and in-depth look at this beauty and beast in one.
More related reviews and comparisons
Design and build
The all-aluminum metal build is not a surprise given the fact that we were treated the same in the previous models. There are little changes in HTC 10 from the HTC One M9 and A9 such as the chamfered edges around the back, IP53 waterproof (spill) rating, and 2.5D curved glass up front. Perhaps these are the biggest distinguishable design elements. The rest are refined areas including the antenna bands and slightly protruding camera.
Positioned on the right side, the volume rocker and textured power button are very tactile and clicky. The fingerprint scanner is embedded in the recessed capacitive home button alongside the two backlit nav buttons. It's very fast and accurate as on LG G5. We felt the shape is more ergonomically better than the latter.
Equipped with the new USB Type-C port, this adds reversible positioning and faster charging time. Meanwhile, the nano 4G SIM card and microSD tray are separated, but can be found on each side and accessible through an ejector tool key.
At 161 grams, the HTC 10 is a solid device despite its chunky build. It is great in the hands, thanks to the flat sides and curved corners. The curved form on the back and the beveled Gorilla Glass 4 up front lift the handling experience to an exceptional quality.
Surprisingly, our silver variant comes with a white front while some of the same color variants have a black finish as on the gray and gold options. This probably region-dependent after all.
Display and viewing experience
The 5.2-inch Super LCD5 is big enough in keeping viewing experience relatively great without occupying too much space when holding it. It's neither small, personally, this is a perfect size for those looking a phone manageable by a single hand.
The quality is superb, the colors are more naturalistic and it's really blindingly bright especially in indoor scenarios. The display remain legible and less reflective outdoors even the it has a curved Gorilla Glass 4. It's by far one of the brightest screens we've come across.
Camera
Armed with a 12MP f1.8 sensor measuring at 1/2.3″, this results in a very large pixel size similar to the Huawei Nexus 6P. The main shooter is paired with OIS and laser focusing while the 5MP front comes equipped with OIS and on-screen flash.
HTC focused on keeping a single camera here while other brands such as Huawei and LG have started producing dual-lens, dual-camera setup. In the end, the quality will still matter above the rest of camera features. So how does this 12MP camera stack up in real world test?
HDR vs non-HDR shooting
Quality-wise, the 12MP shooter has excellent HDR control and quite soft texture rendering even when the mode is turned off or in automatic. A lot of highlights and shadows are preserved and the level of aberration or ghosting is lesser compared to most flagship camera phones today.
Low light, night with flash
The biggest issues we are facing even after the major software updates include the vignetting and slightly warmer/yellowish white balance. The low light shots are also off in sharpness, but I guess this could easily be fixed by a software update as the low light mode tends to produce longer exposure time resulting in soft details and overblown highlights.
Selfie shooting with flash and with not
Selfie shooting is excellent on the Optical Image Stabilization-equipped 5MP f1.8 front camera. Dynamic handling is not as good on the main camera, but colors appear saturated and natural with good amount details, skin toning, and beautification level. The OIS is also useful in shooting a video using the front camera.
We found that the video recording has inferior stabilization control than on other flagship 4K video shooters. But a number of details are still great with pleasing close to natural colors and white balance.
Overall, the single camera on the HTC 10 proved to be capable and reliable even without those fancy dual-camera setup.
Software and UI
Running on latest Sense UI on top Android 6.0.1 Marshmallow, the experience is closer to stock or vanilla Android. HTC deserves that despite not pulling off the entire UI with stock Android, they managed to keep the experience close and probably much better due to the addition of few customizations and software features.
The BlinkFeed is really effective and useful newsfeed window but it is limited in few regions. Icons appear modern and the app drawer is customizable, which we really like. The new Freestyle themes are also fun to use and look at, though, we still prefer the cleaner look. Don't get us wrong, new themes are still a good addition after all.
Performance and benchmark
At its core is the latest Snapdragon 820 chipset with highly-clocked quad-core CPU. This is paired with a 32GB expandable storage, Adreno 530 graphics, and 4GB RAM. Performance is very fast all throughout and stuttering is very rare. In fact, everything seems flawless though loading time in running apps is still there but at its minimum.
The benchmark scores using the Antutu proves that HTC 10 is on the top list of the fastest smartphones this year.
Antutu benchmark score
Battery life and charging time
We get a few little inconsistencies in actual battery life tests but still enough to conclude that the 3000 mAh juice cell inside produces around 4-5 hours screen-on time. This is above average than most phones, but the four-hour mark seems closer to the real-world usage. Our homebrewed endurance test with PC Mark interpolation further solidifies that battery life is really middle of the road.
Battery endurance test with video playback, browsing, PC mark
Charging took 1 hour and 20 minutes as the fastest time we recorded using the included retail 2.5A adapter. The USB type-C and SD 820 chip support Qualcomm Quick Charge 3.0 that provides up to 80% in just under 45 minutes charging time. Of course, you'll be needing a separate, dedicated Quick Charge adapter for this.
Speaker and audio
The BoomSound dual speakers on the device are non-traditional setup as the top speaker (front facing) is utilized as tweeter while the bottom is a subwoofer. This is a refreshing approach, but sadly the power or loudness we're looking is missing. The speaker is loud, but it is underpowered. The bass and treble/vocals quality, however, are crisp and clear.
If you want to take full advantage of the audio features of the device just plug in the Hi-Res stereo headset included in the package. Inside is a built-in 24-bit DAC amp which audiophiles would love to have without buying a separate accessory such as the standalone Hi-Fi Plus 32-bit module of LG G5.
Pricing and Verdict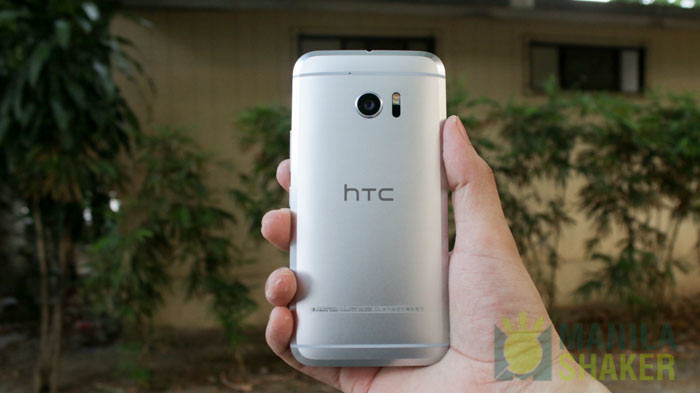 The HTC 10 is supposedly the kind of flagship Android HTC should have had in the past. Less fuss but more polished features than ever. And despite the little changes outside, the device felt a really good classic smartphone that was transported and upgraded to this current of time. All that because of the smart decisions of the company to focus on fewer things and make them greater rather than adding more unpolished features. A perfect phone doesn't exist but we're glad that HTC 10 is close to having a perfect 10.
Apparently, the HTC 10 is only available to buy thru online stores for about Php 34k SRP depending on the type of warranty you will choose. There's no word that HTC Philippines will come back, so maybe this posting is already a chance to get your hands on the actual unit if you ever decided to pick up one.
What's in the box: Unboxing
2.5A power adapter or wall charger
USB type-C data cable
High-Res headphones up to 24-bit with DAC amp
SIM ejector tool key
Papers
Pros
All-aluminum solid build
IP53 water splashes resistance
Bright and legible display
Rich software experience
Fast and fluid performance
microSD card
Reliable cameras
Cons
Underpowered BoomSound dual speakers
Inconsistent, moderate to above average battery life
Vignetting and yellow overcast in photos
HTC 10 Full Specs, Official Price PH, Release Date
Display: 5.2-inch 1440p Quad HD IPS LCD, 565 ppi
Design: Gorilla Glass 4, all-aluminum
Size: 9 mm thick, 161 g weight
Chip: Snapdragon 820 quad-core
CPU: Dual-core 1.8GHz + Dual-core 1.6Ghz processor
GPU: Adreno 530 graphics
RAM: 4GB
Storage: 32GB, microSD card up to 200GB
Camera: 12MP f/1.8, 1/2.3″ or 1.55um pixel size, OIS, 4K video, dual tone LED flash, laser focus
Selfie: 5MP f/1.8, 1080p video, OIS
Connectivity: nano 4G LTE SIM, WiFi ac, Bluetooth 4.1
Audio: High-res 24-bit DAC built-in
Port: USB Type-C reversible
Security: Fingerprint scanner
Battery: 3000 mAh sealed + Quick Charging 3.0
OS: Android 6.0 Marshmallow, HTC Sens
Colors: Carbon Gray, Glacier Silver, Topaz Gold
Release date: April 2016 in the Philippines
Price: P34k SRP / $760 USD 32GB model online PH price