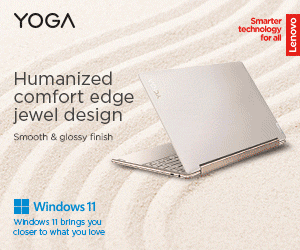 The Galaxy A50 was considered as the best mid-range phone to buy in early 2019. Samsung wants to maintain the title when it introduced the Galaxy A50s. Out of nowhere, OPPO decided to release its newest mid-range phone that threatens to beat Samsung's affordable offering — the OPPO A9 2020.
When you have less than P20k (~$388USD) to spend, you can either go for Samsung Galaxy A50s that retails for P18,990(~$368USD) or save a bit more for the OPPO A9 2020 that sells for P15,990(~$310USD) only. 
Join us as we dive into the nitty-gritty comparison of the two best mid-range phones in late 2019.
Design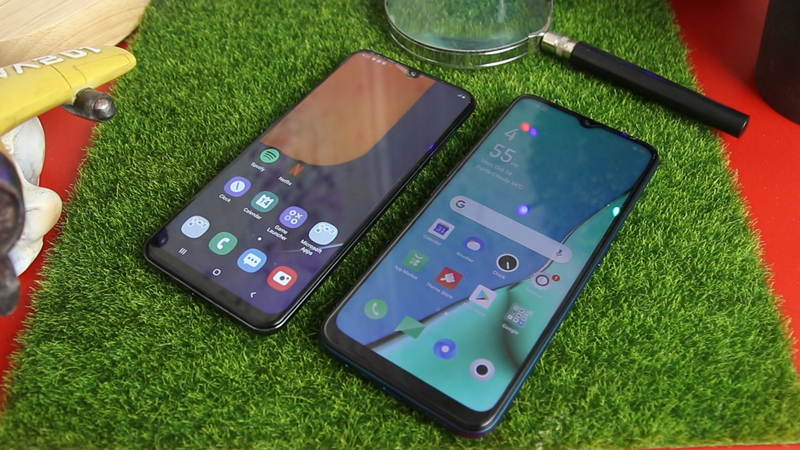 At this price point, the all-polycarbonate design which imitates glass has been very popular. That stays true for this comparison. With the glass-looking back panels, the A50s will surely get praised first with its geometric pattern. But for some reason, we like how the A9 2020 looks. Everything is center-aligned on the back — from the quad-camera setup to the imprints, and the capacitive fingerprint scanner that's more reliable and faster to unlock than under-screen scanners (we're looking at you A50s). 
While you will need two hands to properly navigate around the phones, the A9 2020 is noticeably heftier. That's because it's rocking a massive 5000mAh battery. Better make sure you don't smack your face when you accidentally drop the phone before going nighty night. With the lighter A50s, it makes the one-hand operation less stressful. Combine the fact that you have One UI that makes the experience better. 
During our usage, neither of the two had any minor or major scratches. But this depends on how careful you are with the phones. In our case, we make sure they have their dedicated pockets. 
Since we're dwelling with big phones, the A9 2020 gets the nod for being more immersive to use. Aside from the fact that it has a larger footprint, the overall heft helps in adding that premium feels that we always hate to say but love to have.
Winner: OPPO A9 2020
READ: Nokia 7.2 vs Galaxy A50s Specs Comparison – Samsung Best Mid-Range Phone Dethroned?
Display
This slideshow requires JavaScript.
OPPO A9 2020 has a slightly larger screen at 6.5″, with a small teardrop notch hanging around the top. While this allows for more content to be displayed, the A50s makes the viewing experience a lot better with the punchy and colorful Super AMOLED panel. There's better video and picture quality here, too, as it uses a 1080p screen. There are no other ways to put it — Samsung display experience is just better.
Winner: Samsung Galaxy A50s
Camera
The A50s gets a major upgrade in terms of the main camera — now rocking the very popular 48MP Sony sensor. Serving as its secondary sensors are 8MP ultrawide and 5MP depth. In the case of A9 2020, it adds a 2MP monochrome sensor to allow more information when taking pictures.
The majority of the shots gave us a warm vs cold comparison. The A50s loves to make everything contrasty and cold. Sometimes, it goes overboard and makes the images look too saturated. Taking pictures in the middle of the day, the A9 2020 recognizes the scene a lot more natural due to its tendency to veer towards the warmer side. Images also look brighter thus blowing out the highlights in some scenarios. The same story is shared when using the ultrawide angle of each. We just noticed that details are washed out on the edges of the A50s.
This slideshow requires JavaScript.
When natural light sources are lacking, A9 2020 provides better usable shots. It tries to expose everything while keeping the highlights with minimal grains. The A50s struggles to keep focus in this situation and sometimes make the images look like paintings. Comparing night modes, we all know that Night Mode on Samsung phones is hit-and-miss. The same goes for the A50s. You have the mode turned on but it's no different when taking regular night shots. That said, the Ultra Night Mode 2.0 on A9 2020 works very well even during sunset.
Where the A50s tries to take the lead in is self-portraits. The 16MP sensor of A9 2020 lacks in color, saturation, detail, and pretty much everything. As for the A50s, selfies look enticing with just the right amount of sharpness from the 32MP sensor.
This slideshow requires JavaScript.
READ: OPPO Reno Review – A Premium Mid-Range Experience
Winner: OPPO A9 2020
Performance
Normally, Snapdragon edges out the competition — whether it's against Samsung's Exynos or MediaTek's Helio chipset. This time, the Exynos 9611 on the A50s is more capable of more demanding tasks, including medium to high gaming. It can maintain frame rates a lot better, regardless if it's CPU or GPU intensive. Meanwhile, the Snapdragon 665 on the A9 2020 is all about saving battery life. It doesn't provide enough horsepower to deliver a decent gaming experience. But where it really stands out is power efficiency. Combine the fact that you have a 720p display and low-power consumption, the A9 2020 is perfect for binge-watching and social media procrastination. 
Does 6GB vs 8GB RAM matter? Not really that much. We love to watch videos while scrolling through the trending hashtags on Twitter, and both devices performed very well.
Winner: Galaxy A50s
Audio
Speakers have always been the Achilles heel of mid-range smartphones. Often you'll find yourself blocking the bottom-firing speaker when rocking landscape mode. That's why we're surprised and delighted to see a dual-stereo speaker setup on the A9 2020. Even if you accidentally cover the bottom-firing speaker, the earpiece near the notch outputs audible audio. If you want a better audio experience, both phones have a headphone jack. 
Winner: OPPO A9 2020
Battery
There's no doubt that A9 2020 will last longer than A50s. Simply because it carries a massive 5000mAh battery. This easily patches up the battery problem that always plagued smartphones in the past. You can even top up other people's devices via reverse wired charging. That is if you're generous enough. One caveat, however, is the use of standard 10W charging. Recharging the device from zero to full means finishing nine episodes of Friends on Netflix.
But you also have to take into consideration your usage habits. The A50s may be coming with 4000mAh but it supports 15W fast adaptive charging. This means getting zero to full in less than two hours.
Winner: OPPO A9 2020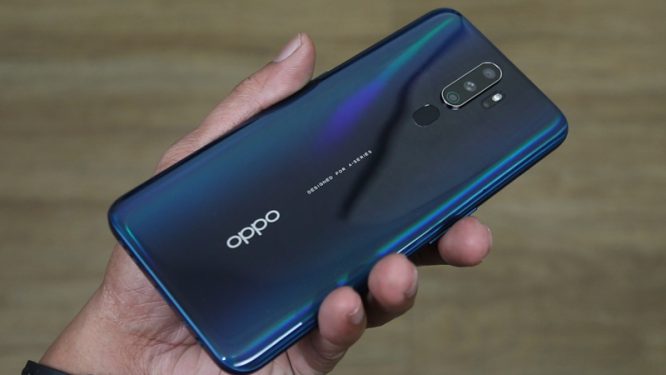 Verdict
Undercutting the competition with aggressive pricing and matched performance is OPPO's specialty. Sometimes, all it takes is a few thousand to make you consider getting the cheaper phone. If you want slightly better performance and selfies, the A50s is worth getting so long you're willing to shed the cash. But if what's important are cameras for all situations and keeping you connected during long commutes, the OPPO A9 2020 has great specs and features for less making it definitely worth your money.
Overall winner: OPPO A9 2020