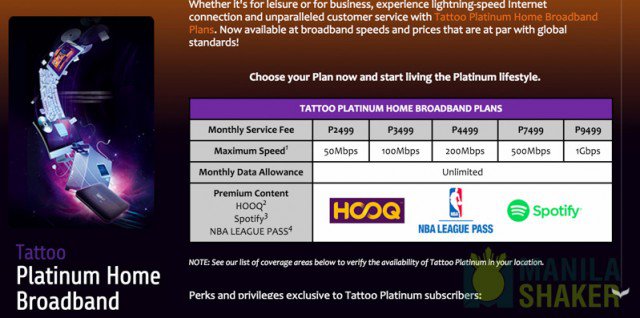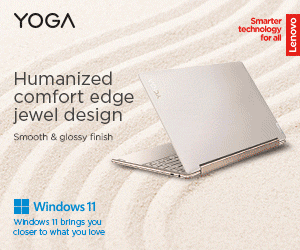 Updates:
Just recently, Globe announced that it has upgraded the speeds of its Fiber or Tattoo Platinum offering here in the Philippines. The Plan 2499 of Tattoo Platinum is the latest and most affordable high-speed internet connection you could get for P2499 pesos. This is, in fact, the cheapest when compared to current's PLDT and Sky Cable broadband offerings and plans being offered in Metro Manila and other parts of Philippines.
Unfortunately, both Globe's and PLDT's Tattoo Platinum and Fibr services, respectively, are only available to select areas in Metro Manila as expansion has just begun. The two companies, however, have started expanding their fiber connections to cater more homes including to those in provinces such as on Cavite, Cebu, Davao, Iloilo, Bulacan and other regions.
Check out the Internet Broadband comparison below which includes DSL, 4G LTE and Fiber plans both from Globe and PLDT. We also included Sky Cable on the list alongside with the data caps, a service fee of the land line, modem installation and wifi router.
Lists of Globe Tattoo Platinum fiber service availability:
Makati
Taguig
Las Pinas
Manila
Pasig
Avida Towers San Lorenzo
8 Forbes Town Road at Fort Bonifacio
Ohana Place
8 Adriatico
East of Galleria
Bel-Air Village*
Avant at The Fort
Southbay Gardens*
Crown Tower
The Grove by Rockwell
Discovery Primea
Bonifacio Ridge
Manila Executive Regency
Eton Parkview Greenbelt
Fairways Tower
Muntinlupa
 Quezon City
Mandaluyong and San Juan
Forbes Park*
Forbeswood Parklane
Alabang 400*
Acropolis**
Flair Towers
Greenbelt Chancellor, Excelsior, Madison
Serendra*
Avida Alabang
Eastwood Excelsior
One Shangrila Place Ortigas
KL Mosaic, Laureano di Trevi, Mosaic Tower
The Venice Luxury Residences
Ayala Alabang*
Eastwood Le Grand
Swire Elan
Magallanes
Dona Segundina Townhomes*
Ferndale Villas
The Address At Wack Wack
One Central, Lafayette Square, Legaspi Park – Bel-Air, Roxas Triangle
Green Meadows**
The St. Francis Shangri-La Place
Park Terraces, Raffles Makati, Regency at Salcedo
Pasay
Manhattan Parkway Residences
Wack Wack Heights
Rockwell, San Lorenzo**, Senta Tower
Newport Palm Tree
SM Blue Residences, SM Grass Residences
Signa Designer Residences
Newport Parkside Villas
SMDC Berkeley Residences
The Beacon
Newport Pinecrest
The Amaryllis*
The Columns – Legazpi, Ayala Avenue
Studio Zen
The Magnolia Residences
The Eton Residences Greenbelt
Laguna
White Plains**
 The Residences at Greenbelt
Abrio, Nuvali*
The Shang Grand Tower, Urdaneta*
Ayala Greenfield Estates*
*200Mbps available, **200Mbps to 1Gbps available
Data Plans, Pricing Comparison: PLDT vs Globe vs Sky Cable in DSL, LTE, Fiber
We will be updating the table once Globe, PLDT or Sky Cable announced changes to their services and their prices.
DSL Broadband Plan
MSF or Fee or prices *one time fee
Speed
Data caps
Lock-in period in months
max Download or Down Link at mega Bits
max Upload or Up Link at mega BITS ?unverified

PLDT Home DSL 990

P990/mo + one time 2300 installation and modem*

1Mbps

0.512Mbps?

Unlimited

12-24 mos

PLDT Home DSL 1299

P1299/mo + 2300*

2Mbps

0.756Mbps?

Unlimited

12-24 mos

PLDT Speedster 1299 (for 990 and 1299 upgrade only)

P1299/mo + 2300*

10Mbps

1Mpbs?

50GB

12-24 mos

PLDT Plan 999 or 1699

P1699/mo (including MSF for telephone service) + P1100*

3Mbps

1Mbps?

Unlimited

12-24 mos

PLDT Plan 1995 or 2695

P2695/mo + P1100*

5Mbps

1Mbps?

Unlimited

12-24 mos

PLDT Plan 3000 or 3700

P3700/mo + P1100*

8Mbps

1Mbps?

Unlimited

12-24 mos

GLOBE Tattoo Home Broadband 1099

P1099/mo + 1000 installation fee*

2Mbps

0.756Mbps?

Unlimited

24 mos

GLOBE Tattoo Home Broadband 1299

P1299/mo + 1000 installation fee*

3Mbps

1Mbps

50GB

24 mos

GLOBE Tattoo Home Broadband 1599

P1599/mo + 1000 installation fee*

5Mbps

1Mbps

60GB

24 mos

GLOBE Tattoo Home Broadband 1999

P1999/mo + 1000 installation fee*

7Mbps

1Mbps?

70GB

24 mos

GLOBE Tattoo Home Broadband 2499

P2499/mo + 1000 installation fee*

10Mbps

1Mbps?

80GB

24 mos

GLOBE Tattoo Home Broadband 2999

P2999/mo + 1000 installation fee*

15Mbps

1Mbps?

100GB

24 mos

Sky Cable Broadband 999

P999/mo

3Mbps

0.512Mbps or 512kbps

Unlimited

24 mos

Sky Cable Broadband 1599

P1599/mo

8Mbps

1Mbps

Unlimited

24 mos

Sky Cable Broadband 1999

P1999/mo

16Mbps

1Mbps

Unlimited

24 mos

Sky Cable Broadband 3999

P3999/mo

25Mbps

1Mbps

Unlimited

24 mos

High speed / 4G LTE Broadband
PLDT ULTERA Fun Plan 999
P999/mo + 3000* one time modem fee and WiFi Router
3Mbps
1Mbps?
30GB
36mos
PLDT ULTERA Fun Plan 1599
P1599/mo + 3000* one time modem fee and WiFi router
5Mbps
1Mbps?
50GB
36mos
PLDT ULTERA Fun Plan 1999
P1999/mo + 3000* one time modem fee and WiFi router
10Mbps
1Mbps?
70GB
36mos
Globe LTE Plans do have similar fees as to DSL but with different data caps: 20GB, 30GB, 50GB, 60GB, 70GB, 80GB for Plan 1099 up to P2999, respectively
Super high speed / Fiber Broadband

PLDT Fibr Lite Plan 1899

P1899/monthly + 5500*

20Mbps

3Mbps?

80GB

30mos

PLDT Fibr Plan 3500 + free cignal

P3500/monthly + 5500*

20Mbps

3Mbps?

Unlimited

30mos

PLDT Fibr Plan 5800 + free cignal digital TV channels

P5800/monthly + 5500*

50Mbps

20Mbps?

Unlimited

30mos

PLDT Fibr Plan 8800

P8800/monthly + 5500*

100Mbps

20Mbps?

Unlimited

30mos

PLDT Fibr Plan 20000

P20000/monthly + 5500*

200Mbps

20Mbps?

Unlimited

30mos

PLDT Fibr 1 Gigabit

???

1Gbps or 1 gigabit

1Gbps or 1 gigabit

Unlimited

30mos

GlobeTattoo Platinum Plan 2499

P2499/mo + 1000*

50Mbps

20Mbps?

Unlimited

24mos

GlobeTattoo Platinum Plan 3499

P3499/mo + 1000*

100Mbps

20Mbps?

Unlimited

24mos

GlobeTattoo Platinum Plan 4499

P4499/mo + 1000*

200Mbps

20Mbps?

Unlimited

24mos

GlobeTattoo Platinum Plan 7499

P7499/mo + 1000*

500Mbps

20Mbps?

Unlimited

24mos

GlobeTattoo Platinum Plan 9499

P4499/mo + 1000*

1Gbps or 1000Mbps or 1 gigabit

20Mbps?

Unlimited

24mos
Related posts, news, review: