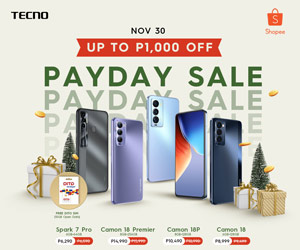 GTX 1050's budget laptop version? Can that even game?
We've been blessed with Pascal's introduction. The difference between desktop and laptop Nvidia GPU's are narrowing. ASUS ROG's latest GTX 1050-powered notebook stands on its own, but for how long can it hold? Enter the budget ASUS ROG Strix GL553VD which is priced at P59k+ in PH or $1100+ in USD.
Build Quality and Design – Too gamer-y for you?
Don't be fooled – not all of the brushed aluminum-looking parts are actually aluminum. It would've hiked the pricing further. Nevertheless, its premium look and feel and semi-rigid construction is a win for me. The color scheme isn't what would strike me fancy, but the shade of orange and red that they used blend well enough with the metallic black finish.
The ROG logo with two diagonally-placed polygons on the back makes up for a very interesting light show. They light up the best in overly dark places. I believe it was designed as such to avoid having too much heat on the display panel.
Keyboard flex is exceptional! I couldn't reiterate how surprised I was even while pressing down harder than I should. Even the display's flex is respectable.
Ports were provided generously. I have no complaints about it whatsoever. What made me tear up a bit was the SD card reader. It's such a good thing to have on laptops for content creators like me.
Despite its profile and general weight of 2.6-ish kilograms along with its 120W power brick, it was pretty easy to carry around on a daily basis in commute. It's hefty to lug around whenever I have to print or present something, but not so much that it's a nuisance. It gets my approval rating as part of daily luggage.
Overall, the red and orange accents all around the GL553VD did not stop any of my cohorts who have seen it ask if it's a gaming laptop. I had no choice but to say "yes" and be off with it.
Display – Is it 'safe' to edit videos on it?
Honestly, yes. I use it more than any of my external monitors for multimedia and work material that demands color accuracy. Even for gaming, it's definitely there, but not at the top. The resolution and screen size strikes a decent balance for density. I got the variant with a 72% NTSC, 178-degree wide-viewing angle display, and I was definitely more than pleased with the time I spent with it. Albeit short, it was spectacular.
Non-overbearing backlight bleed was present on the lower left and upper left portions as of typing.
The colors win it for me mostly alongside the contrast's assist. After playing Tekken 7 mostly on it, I've been more than a satisfied man. Sure, it's not the most color-accurate panel there is, but it definitely does the job. A little bit of color calibration will not do wonders, but it's there for those who want the most out of it.
Keyboard – RGB? RGB!
The RGB fad has yet to lie low. Every time a new component that was previously without RGB lighting is announced, everyone seems to jump for joy. I'm actually low-key waiting for RGB-lit cable sleeves. Moving on, the GL553VD's chiclet keyboard was not even close to being an exception. The keycaps weren't shine-through, making it very hard for light to spread. The generally black color of the panel wasn't helping either. It only was noticeable when the room lighting is off, which some may find to be a big plus.
I know that most don't really play a lot of games that require multi-key input, but the anti-ghosting this keyboard has is for 30 keys. Can't imagine what game or application would require 30 concurrent key inputs.
If any, I loved typing and gaming on it. Only when I use it at home was that I preferred to use my mechanical keyboard more.
Performance – How well can it game?
For starters, expectations are a huge factor when it comes to overall system performance. The i7-7700HQ and GTX 1050 combo fared well in my testing. Cinebench scores weren't astounding, but the 512 cb the hyper threaded quad core mobile SKU continued to do its job. Temperatures, on the other hand, was quite disappointing.
For some reason, on both synthetic and gaming benchmarks, the CPU kept on throttling. The hottest core while running AIDA 64 Extreme was at 86 degrees Celsius with the throttling at around 20% in average. When you think about it, that's actually a huge hit in performance when it comes to real world applications.
Continuing the barrage of synthetic benchmarks, next up was Time Spy. It produced a rather decent score, but for the price that the ROG Strix GL553VD goes for, it makes me wince a bit every time I finish a benchmark run.
As the finale, Fire Strike Ultra totally butchered the living hell out of this laptop. The GTX 1050 wasn't built for max-detailed 1080p gaming, much less 4K. This was purely for fun and science. It's fun to keep metrics of these and stack one over the other.
In summary,
Cinebench – 512 cb
Time Spy – 1721
Fire Strike Ultra – 1091
On the gaming side of things, I've mentioned already that the GTX 1050 wasn't meant for ultra 1080p gaming. Who needs Ultra settings anyway when there's a more eye-friendly configuration that also gives you 60FPS at least?
Sidelining temperatures again, the GTX 1050 hovered around mid to high 70's without hitting 80. I find that really amazing, but the CPU's constant mid-80 output continued to be off-putting.
As a content creator, there were times that it felt sluggish while editing 1080p videos on Premiere Pro. Even so, rendering times were still in the ballpark of being reasonable.
Fan noise can be a tad irritating, especially when you're someone like me who prefers quiet environments. However, in-ears or over-ears would probably be your tool of choice especially during gaming.
Storage Drive/s – Can it load games quick enough?
In my synthetic tests, the SATA III SSD did well in CrystalDiskMark, netting 403.5MB/s of Sequential Read and 153.9MB in Sequential Write.
The 1TB 5400rpm HDD is, by no means, a non-reliable storage for games. However, I'd still recommend to have the games you actively play in the SSD or upgrade it to at least a 240GB one. The mechanical drive did a 78.42 in Sequential Read and 77.17 in Write. Not too shabby, but neither is it clap-worthy.
Speakers & Webcam – Are they even decent?
Front-firing stereos haven't been my thing for a long time. There's a lot to critique with just the positioning, but I'd focus more on the overall clarity and room volume it produces.
First of all, the absence of a dedicated subwoofer at this price point was uncalled for in some ways. I don't know what went down in the design phase, but with a gaming laptop this thick, surely some people got used to seeing a subwoofer down there.
Volume is a-okay though going for the maximum possible drowns out the entry-level clarity it produces. ASUS may have tried to make it as flat-sounding as possible, but the highs get overblown by the mid in near-peaks.
The HD Webcam does well for the general purpose, maybe even for streaming.
Battery – Is it even worth discussing?
Yes.. and no. For one, it's because of its relevance. The relatively small 48Wh pack inside wouldn't pack a wallop for those who want to game on the go without surveying a cafe first for power outlets. Since I don't have a testing suite, I had to result to practical methods while forcing the screen on. Do note that only WiFi is the other thing that's always on.

While alternating between Internet browsing and word processing, the GL553VD lasted a little bit over 4 hours. Gaming, on the other hand, is an entirely different ballpark. Playing Tekken 7 on it from 100% took about an hour and a half before the laptop slept.
Verdict – Worth the price tag?
Considering new releases like Acer's Predator Helios 300 at about the same profile and near-identical specs (even the i7 variant goes for around 69k nowadays) but with better performance, it'd make you think a lot. However, this is ASUS that we're talking about. Tried and tested local after sales have proven why they have always done a podium finish.

If any, I'd suggest its brother, the ROG GL553VE. The only reason I have for that is the 1050Ti upgrade for just about PhP 5,000 more or so than the VD's SRP.
ASUS ROG Strix GL553VD Specs
Display: 15.6-inch Non-glare IPS Full HD Display, 1920 x 1080 pixel resolution, 72% NTSC, 178-degree wide viewing angle
CPU: Intel Core i7-7700HQ processor
SoC: Intel HM175 chipset
GPU: NVIDIA GeForce GTX 1050 with 4GB GDDR5 VRAM
RAM: 16GB DDR4 RAM 2400MHz
Storage: SATAIII 128GB SSD
2.5-inch SATAIII HDD 1TB
Connectivity: WiFi 802.11 b/g/n/ac, Bluetooth 4.0
Keys: RGB-backlit keyboard
Anti-Ghost key support (30 keys)
HD Webcam
Dimensions: 38.3(W) x 25.5(D) x 30.0(H) cm
Weight: 2.5kg (+0.1kg with power adapter)
Release: June – July worldwide and in the Philippines