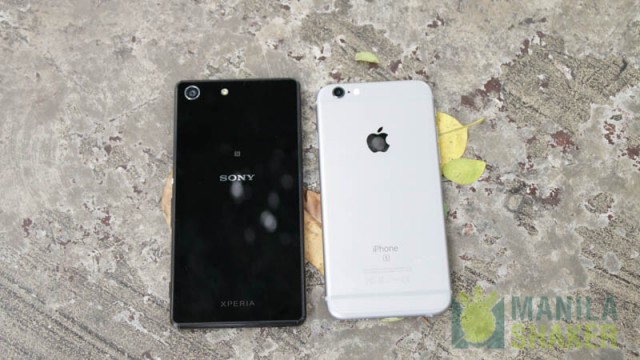 Its the battle of the big guns in this ultimate comparison, as Apple's iPhone 6s (priced at Php 35,880 in Lazada PH) faces off with Sony's Xperia M5 (priced at Php 23,390 on Sony PH stores). Which among this well-known flagships can carry their brands name towards supremacy? Check out their specs, features, official prices and overall performance to find out.
Design
For design, the Xperia M5 has a pretty good built for utility, with its IP68 certification, which inclines the device to be waterproof and dust-resistant. Its polycarbonated back is coated with oleophobic coating, which gives the Xperia M5 its signature glass-like feel, and similarly to the Xperia C5, the Xperia M5 also has shock bumpers, for that little bit of extra protection.
Now lets move on the iPhone 6s, the iPhone 6s strikes a very classy and sophisticated look, thanks to its Aluminum metal body. The iPhone 6s also features something to protect itself, such as its ion-strengthened glass, which can be pretty helpful in accidental drops and mishaps.
The iPhone 6s is considerably a bit thinner than the Xperia M5, thanks to its 7.1mm thickness level, in comparison to the Xperia M5's bit larger 7.6mm thickness level. For weight, it seems that bought device didn't differ much, weighing-wise, though statistically, the iPhone 6S is supposedly heavier than the Xperia M5, with its 143g weight, in comparison to the 142g weight of the M5. For overall design and built, it seems that the iPhone 6s provides a more sophisticated and classy design, mixed with better body build.
The Winner: iPhone 6s for its classy and sophisticated exterior looks and overall better body build.
See also: No.1 Reason Why You Should NOT Buy the 16GB iPhone 6s model
Display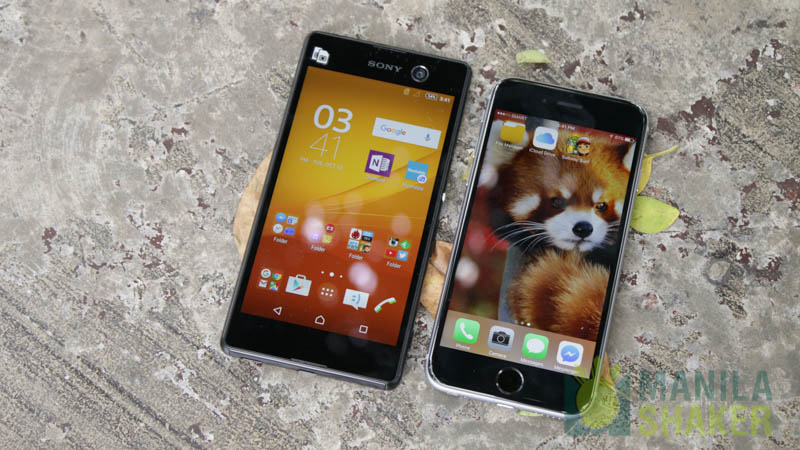 The iPhone packs a 4.7-inch IPS LCD display, with a 326 measured pixel density. On the other hand, the Xperia M5 packs a much larger 5-inch IPS LCD display, backed up by 441 measured pixel density. By the looks of both device, it seems that the iPhone 6s provides a more brighter display than the Xperia M5, however, it seems that the Xperia M5 delivered a more vibrant display tone than of the iPhone 6s.
The Xperia M5 also delivered a more sharper and clearer display quality. This doesn't mean however, that the iPhone 6s' screen wasn't sharp or clear to say the least, it just happens that the Xperia M5's sharpness and clearness of its display was just a bit far off from what the iPhone 6s could deliver, and thanks to this, Xperia M5 got the win in the display category.
The winner: Xperia M5, for its sharper and more vibrant display quality
See also: Top 5 Reasons Why Sony Xperia M5 is better than Xperia C5 Ultra
Camera
iPhone 6S carries a 12MP main shooter and 5MP selfie shooter, which supports 4K UHD video shooting, while Xperia M5 sports a 21.2MP rear shooter, backed up by a 13MP selfie shooter, which also supports 4K UHD video shooting.
For daylight shots, it seems that the iPhone 6s was able to trump the Xperia M5 in a conducted output comparison battle. The iPhone 6s delivered pretty excellent detail preserving capabilities and kept as much of the original color tone and vibrance in tack. Output accuracy was the major factor that gave the iPhone 6S a well-deserved victory in the daylight images category.
The winner for daylight shooting: Apple iPhone 6S
For night shooting, it seems that the Xperia M5 trumps over its iPhone 6s, with its more convincing outputs, the Xperia M5 delivered a more sharp and bright night output. Color accuracy was pretty close, though output brightness and sharpness on the Xperia M5's images made things more favourable to the M5. And thus, Xperia M5 takes a round out of the iPhone 6s.
The winner for night shooting: Sony Xperia M5
For front facing supremacy, the triumphant is none other than the iPhone 6S, thanks to its more detailed and accurate output, which trumps the supposedly formidable 13MP rear shooter of the Xperia M5.
For video performance, it pretty much was a square-off, with the Xperia M5 and iPhone 6S almost delivering similar video outputs, though, certain factors like color blending and accuracy, as well as the screen darkening seen, while transitioning, which might be because of its ultra fast autofocusing speed, which might not be able to balance the lighting level from the transition period. This and other seen factors played a role in giving this round over to the iPhone 6S.
The winner: iPhone 6s for video performance
See also: iPhone 6s Battery Charging Test – 2A Fast Charging Power Adapter VS 1A Apple Charger
Performance, speed test and benchmarks
The devices carry some decent arsenal in the pockets, with the Xperia M5 sporting a MediaTek Helio x10 chip, backed up by 3GB of RAM, while the iPhone 6s has in its arsenal an Apple A9 chip, backed up with 2GB of RAM. The iPhone 6S provides a few decent option in storage capacity, with its 16GB, 64GB or 128GB internal storage options, which to us is more acceptable than the Xperia M5's fixed 16GB internal storage. However, it seems that the Xperia M5 provides a bit of utility in microSD capability, with the latter having 200GB microSD expandability limit, in comparison to the iPhone 6S, who doesn't even have a microSD card slot. Both are running on pretty up-to-date systems like the Xperia M5's Android 5.0 Lollipop, which is aimed to be updated to Android 6.0 Marshmallow and Apple's iOS 9 for the iPhone 6S.
For the boot up test conducted on both devices, the iPhone 6s surpassed the Xperia M5's loading speed and provided a more quicker and efficient boot up loading time. This proves that the iPhone 6s, despite being considered as overrated by some of its critics, can keep up with the market's power devices.
On the conducted benchmark test for both Xperia M5 and iPhone 6s, it seems that iPhone 6s showcased a more refined system, which shows in the benchmark results, as it trumps over the Xperia M5 in two of the conducted benchmark test.
Benchmark results:
AnTuTu: Xperia M5 – 36778, iPhone 6s – 65727
Basemark OS: Xperia M5 – 876, iPhone 6s – 1920
The winner in performance, speed tests and benchmarks: iPhone 6S
See also: Apple's iPhone 6S and 6s Plus Features Supreme Waterproof Capability
Speaker
For speaker performance, both devices delivered excellent outputs, though on the Xperia M5, it felt like a few concerns regarding tinny quality is seen, as well as sound strength issue on the iPhone 6s. Nevertheless, despite a few minor step back, both devices carried on a pretty decent sound quality and audio responsiveness.
The winner: Tie for equal strengths in sound quality and weakness in sound strength and tinniness of sound
See also: iPhone 6S Unboxing, Hands-on, First Impressions, Size Up vs Xperia M5
Price and conclusion
The Xperia M5 and iPhone 6S are both top notch on their respective rights and this proves it, however, they do have a few weaknesses that are clearly seen in this review comparison, though, despite these few drawbacks, both the iPhone 6s and Xperia M5 are still top-of-the-line and are a must have device.
The Sony Xperia M5 is priced at Php 23,390 on sony stores or online stores in the Philippines, while the iPhone 6S is currently available in Lazada PH for Php 35,880. Please leave your comments and suggestions in regards to this review comparison. We highly appreciate feedbacks from you guys.
Also, Please check out the video version of the review comparison on our channel:

| | | |
| --- | --- | --- |
| Specs/PH price | Apple iPhone 6S specs, PH price, features | Sony Xperia M5 specs, PH price, features |
| Display | 4.7-inch IPS LCD 750p display, 326ppi | 5-inch 1080p IPS LCD, BraviaEngine, 441pp |
| Size | 7.1mm thickess, 143g weight | 7.6mm thick, 142g weight |
| Color | Space grey, Silver, Gold, Rose Gold | Black, Gold, White |
| Protection | Ion- strengthened glass | scratch-resistant glass, IP68 water and dust resistant |
| Chipset | Apple A9 chip | MediaTek Helio X10 octacore chipset |
| Processor | 1.84GHz dual-core processor | 8 x 2.0GHz Cortex A53 processor |
| Graphics | PowerVR GT7600 GPU | PowerVR G6200 GPU |
| Memory | 2GB of RAM, 16/64/128GB of internal storage, no microSD card slot | 3GB RAM, 16GB internal, microSD card 200GB max |
| Main camera | 12MP rear shooter, dual tone LED flash | 21.2MP AF, phase detection, fast focus, LED flash |
| Multimedia | 2160p 4K UHD video | 4K UHD video, HDR |
| Front camera | 5MP selfie shooter, 720p video | 13MP AF, 1080p video |
| Connectivity | 4G LTE, WiFi ac, BT 4.1, GPS, NFC, only for Apple pay | WiFi a, Bt 4.1, GPS, NFC, dual SIM 4G LTE, FM radio |
| Ports and charging | micro USB 2.0, reversible connector | microUSB 2.0, MHL |
| OS | iOS 9 | Android 5.0 Lollipop update to 6.0 Marshmallow |
| Software feature | 3D force touch | Xperia UI (close to stock Android experience) |
| Battery capacity | 1715mAh battery | 2600mAh battery |
| Released date | September | September |
| Official Price | Php 35.880 for the space grey variant, purchased in Lazada PH, as of October 15 2015 | P23,390 from Sony PH | Our unit bought from hotgadgets |
| Where to buy | Lazada, Hotgadgets and other Online stores or retail sellers | Lazada, Hotgadgets, Sony PH store and other Online stores or retail sellers |
Related posts and reviews