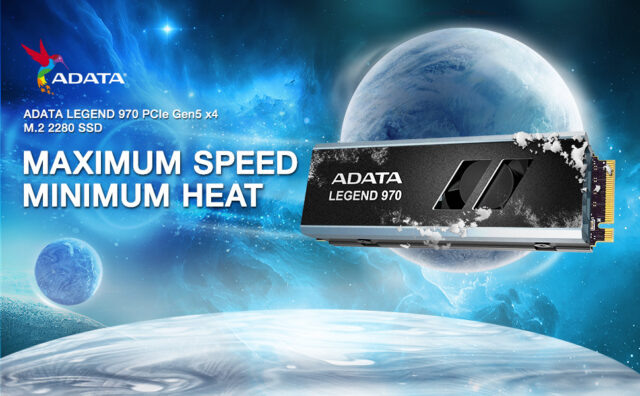 Many motherboard makers have released new motherboards to support PCIe 5.0 Solid-State Drives (SSD) as processors and chipsets upgrade. Today, ADATA Technology Co., Ltd. announced the LEGEND 970 SSD. The LEGEND 970 can read/write 10,000MB/s sequentially. The double-layer aluminum alloy heatsink with built-in micro-fan and surface crystallization comprises a patented active air-cooling technology. Surface crystallization increases thermal conductivity, lowering temperatures by 10% compared to fanless heatsinks to maintain stable performance throughout sustained high-speed operation. The LEGEND 970's R&D, design, and cooling mechanism will set a new standard for storage products and make it the most impactful consumer PCIe Gen5 storage solution.
Patent SSD design for robust cooling
ADATA's revolutionary heat dissipation system starts a new era! According to market agreement, active cooling is needed for timely heat dissipation during high-speed PCIe 5.0 data transmission to avoid reading and writing issues and system slowdown. Double-layer extruded aluminum heatsinks with dense air ducts deflect hot and cold air in the LEGEND 970. The built-in micro fan quickly expels exhaust heat from both ends of the extruded aluminum fins when heat is carried upward. The
LEGEND 970's "surface crystallization" on the aluminum heatsink surface maximizes air contact area and heat dissipation. Fanless heatsinks run 10% hotter than this "active heat dissipation" design. It also survives high-temperature stress testing and long-term high-speed operation.
Sustained ultra-fast performance
The LEGEND 970 adopts a PCIe Gen5 x4 transmission interface, complies with the NVMe 2.0 standard, and has excellent read/write performance of 10,000/10,000MB per second, which is double the speed of standard PCIe Gen4 SSDs and 6 times faster than Gen3 SSDs. It is also backward compatible with PCIe 4.0 and 3.0 platforms. The LEGEND 970 is equipped with a SLC cache algorithm and DRAM Cache Buffer which have unique advantages in system loading and data caching. It also boasts random read/write speeds of 1,400K/1,400K IOPS, improving the efficiency of multitasking processes. The LEGEND 970 is compatible with the latest Intel and AMD platforms and its patented heatsink design ensures stable high performance long-term operation regardless of the complexity of output, whether 3D animation, game development, or virtual visualization.
Only the best components
Strictly selected 232-layer 3D flash memory allows the LEGEND 970 to be offered in large capacities of up to 2000GB and a variety of data protection and correction technologies are utilized to greatly increase Total Bytes Written (TBW) and durability to meet various high load requirements. In addition, the LEGEND 970 features a Low Density Parity Check Code (LDPC) error correction mechanism and AES 256-bit high-level encryption technology to ensure the accuracy and security of data transmission, ensuring the safety of intellectual property. Exclusive SSD Toolbox is free to download for real-time hard drive status. The LEGEND 970 comes with a 5-year global limited warranty.