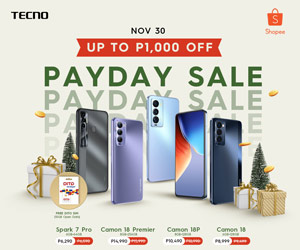 It's been a long time coming, despite its yearly release. Incorporating previous Galaxy S's technologies, Samsung was able to come up with a complete redefinition of their Galaxy S family. Their new duo effortlessly steals the show with their Infinity Display and non-Samsung frontage.
Enter the Samsung Galaxy S8 and Galaxy S8+.
Design
The first thing that got my attention was the design. It can be easily mistaken as a non-Samsung smartphone due to the absence of the physical home button, soft-touch keys, and labeling on the front. At the back, it's where things get clearer. We'd see here that the camera profile is much thinner than the S7's, providing a much more stable support when placed on its back.
With the removal of the navigation keys and Samsung label, Samsung was brave enough to maximize the screen's real estate and implement their Infinity Edge display with an Always-On feature that is nothing short of sexy. Unlike Sony's implementation, the navigation keys hide when running a full-screen app or video. Don't fret, the recent and back button are interchangeable and the backdrop color is changeable to whatever color you so desire. The home 'button' incorporates what they call 3D Touch, which basically means that it's pressure-sensitive, allowing instant access to the home screen when pressed hard enough.
At the top, along with the camera, earpiece, notification LED and ambient light sensor, an iris scanner is also present, allowing for an alternative quick access when the use of the fingerprint sensor at the back isn't viable.
Flipping the phone over presents a lot of ergonomic challenges, especially when you constantly use the finger sensor. Smudges on the camera are near-unavoidable, unless when used left-handed. On the other side of the camera is Samsung's trademark heart rate sensor along with a LED flash that fills low-light shots with near-natural lighting when used at an appropriate distance.
Going over to the sides, a lone power button is found on the right, which is placed quite well for people with a hand size like mine, even on the S8+'s larger form. On the opposite side, the volume button and a dedicated Bixby button is found. More on Bixby later. At the bottom are the solo speaker, mic, USB 3.1 Type-C 1.0 port, and the 3.5mm audio jack. Finally, on top is another mic and the SIM/microSD tray that requires an eject pin in order to be accessed.
The now-customary glass finish is all thanks to the Corning Gorilla Glass 5 protecting both the front and back, along with a sturdy aluminum frame I went over earlier.
Hardware and variants
The strong and premium externals are complemented with equally strong internals. There are two variants for each, one for the US, and another as the international or EMEA version. What I have are the EMEA versions, namely the G950FD and G955FD, and I will only post performance metrics for these.
Running on the 10nm Exynos 8895 is an octa-core Kryo CPU, 4 of which run on 2.3GHz with the remaining 4 on 1.7GHz. Running the display is a Mali-G71 MP20 with multitasking being handled by 4GB's of LPDDR4X RAM. Both come only with 64GB's of internal memory, but adding 256GB's more shouldn't be an issue.
Coming back to the camera, the main camera is a 12MP shooter with f/1.7 aperture for clearer low-light images. It can shoot up to Ultra HD at 30FPS with decent on-the-fly stabilization. The front 8MP camera is no slouch either as it also has OIS and can capture video up to QHD resolution. The in-house camera app is more than enough for your daily needs and launches in a second. There's also an option for accessing it without having to touch the screen by just pressing the power button twice in quick succession. The volume key can be used for some functions that users may so desire, and voice control is available. A number of user-favorite functions are available too such as panorama, selective focus and slow motion.
Adaptive Fast Charging and Wireless Charging are also available out-of-the-box sans the accessories to quickly fill up the 3000mAh Li-ion battery.
Interface and Software
With the introduction of Nougat, Samsung shaped its new TouchWiz UI around it, effectively removing the need for an app drawer that is replaced by a quick swipe up or down on the home screen, although I somehow wish that they instead made the swipe down as a way quickly access the notification panel instead of assigning it to a gesture for the finger sensor.
With the S5 Prime as the last Samsung phone that I used before this, I was quite surprised with the absence of bloatware and a cluttered 2-page home screen filled with usually the Weather and SHealth widgets. Props to Samsung for that.
Samsung KNOX is still very much alive as a built-in for an added security layer that protects your biometrics and personal data along with an anti-malware capability to keep your day-to-day use safe and smooth. Unlike in previous models, KNOX isn't accessible and is instead, as I've mentioned, built-in as an independent system within the S8 and S8+.
Other Features
With the Edge Infinity display, Edge Lighting is natively available, and I think it perfectly utilizes the display's dimensions for getting the user's attention for a notification. Parts of messages received via messaging apps drop down from the top for a quick peek. The customizable Always On screen is quite neat with notification control and music-enthusiast friendly too.
Personally, I'm not a fan of Bixby, but it oddly reminded me of Google Now. They may be structured the same, but Bixby offers a bit more, like Bixby Vision. It basically is a reverse image search that uses recognition and tags to find similar images on the Internet.
Performance and benchmarks
The following benchmarking tools were used with the averages taken after 10 tests:
AnTuTu v6.2.7 – 135,946

3DMark – 2529

GeekBench 4 – Single-core: 1997.2, Multi-core: 6337.4

PCMark – 5459.2
I really don't play mobile games a lot except for EverWing, but all graphic-intensive games (Vainglory, Modern Combat 5, and Real Racing 3 to name a few) that I've tried so far didn't even make the S8 or S8+ budge one bit, even at their native WQHD+ resolutions.
Audio
Even with support for 32-bit/384kHz audio, listening to music with just the mono speaker on the bottom is going to undermine that capability. The included AKG-tuned in-ears (EO-IG955) are pretty decent both inside and outside. The braiding until where the individual earphones separate are well done and the in-ears as itself doesn't even look as a free inclusion with the phone.
Sure, included Samsung earphones are usually good, but this is taken up a notch. Almost everything is levelled except for the mids where it was slightly oversaturated for the first few tests. If any, it's actually the highs that are overpowering the rest when given a good listen to. The bass is tuned really well, allowing for responsive and not overbearing thumps.
Comfortability is not even close to being an issue. I've used them for content creation, gaming, daily listening and practice, and it's really hard to find any fault.
The built-in mic is also good and responsive but as most of phones' mics, it suffers a lot where wind is abundant. The earpiece is definitely more than suitable for your regular calls in case you don't want to use the included in-ear headset.
Verdict
Truly enough, these were made for those who want the best of the best in a single package. No corners were cut and its usability out of the box is definitely one of the best that I've had in years. An affiliation for a certain design may be subjective, but I really don't see why anyone would be turning down such a piece of beauty.
Garnering a score of 9/10 on my end, I wouldn't be surprised if others say the same.
Available in Midnight Black, Maple Gold, and Orchid Gray, the Samsung Galaxy S8 goes for Php 39,990 while its bigger brother S8+ is a bit more expensive at 45,990.
Samsung Galaxy S8 and S8 Plus Video Review
Samsung Galaxy S8/S8+ Specs and Pricing
SPECS
Samsung Galaxy S8/S8+
Display
[2960×1440]
5.8-inch Super AMOLED Display, 570ppi (S8)
6.2-inch Super AMOLED Display, 529ppi (S8+)
Size
148.9 x 68.1 x 8 mm, 155g (S8)
159.5 x 73.4 x 8.1 mm, 173g (S8+)
Design
aluminum frame, Corning Gorilla Glass 5 back, IP68 water and dust resistant
Colors
Midnight Black, Orchid Gray, Arctic Silver, Coral Blue, Maple Gold
Chipset
Exynos 8895 Octa (International Ver.)
Processor
4×2.3 GHz & 4×1.7 GHz
Graphics
Mali-G71 MP20
Memory
4GB RAM, 64GB internal, microSD card up to 256GB
Main Camera
12 MP, f/1.7, 26mm, OIS, LED flash
Multimedia
[email protected], [email protected], HDR, dual-video recording
Front camera
8 MP, f/1.7, autofocus, [email protected], dual video call, Auto HDR
Connectivity
GSM: 850, 900, 1800, 1900 MHz
4G LTE, WiFi ac, Bt 5.0, GPS, GLONASS, NFC
OS
Android 7.0 Nougat
Software
TouchWiz
Battery
3000mAh (S8)
3500mAh (S8+)
Ports
USB Type-C, 3.5mm headphone jack
Official Price
Php 35,990 (S8), Php 45,990 (S8+)
Availability date
April 2017
Where to buy
Samsung Experience Stores, Authorized retailers