Huawei P30 Pro is now looking the best smartphone camera on the market thanks to its periscope-leading lens. DxOMark seems to agree as well giving the phone 112 overall points for photo and video combined. But out of nowhere, the Samsung Galaxy S10 5G variant got the same 112 points with better video score. As of now, both phones have the highest DxOMark scores in terms of mobile phones.
Galaxy S10 5G – DxOMark score for the main camera
Samsung's upcoming flagship 5G phone got 117 points on the photo department as opposed to the 119 points of the P30 Pro. For still photos, the S10 5G excelled in autofocus, flash performance, exposure, and color. While the typical Samsung problem continues to be present with the lowest scores in bokeh, texture, zoom, and noise.
Videos, on the other hand, continue to be the strongest suit of the Galaxy S10 5G with 100 points (97 – P30 Pro). DxOMark praised its autofocus, color, exposure, and stabilization.
READ: Xiaomi Mi 9 vs Huawei P30 Specs Comparison – The price of being one of the best
Galaxy S10 5G – DxOMark score for the selfie camera
Recently, DxOMark released its own smartphone selfie reviews. And if you are looking for its best selfie smartphone in early 2019, it's also the Galaxy S10 5G. Scoring a whopping 97 overall points against the P30 Pro's 87 points, it seems like Huawei's effort wasn't enough to be the best in selfies. The Galaxy S10 5G provided good color and exposure in still photos, while selfie video recording came out with fewer artifacts and good subject focus.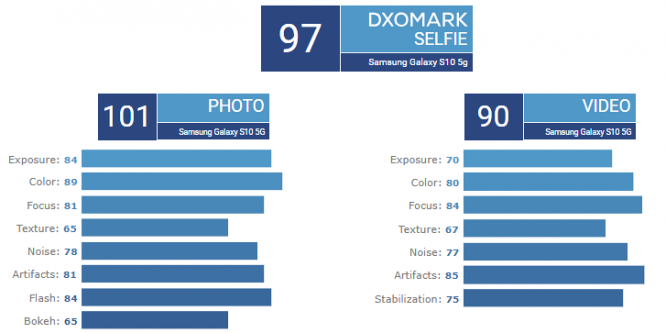 Unfortunately, the Galaxy S10 5G isn't going to be available in most parts of the world. Consumers will have to make do with the Galaxy S10+ instead — with 109 points for the main camera and 96 selfie points.
READ: Top 7 Reasons to skip Samsung Galaxy S10 and wait for Note 10