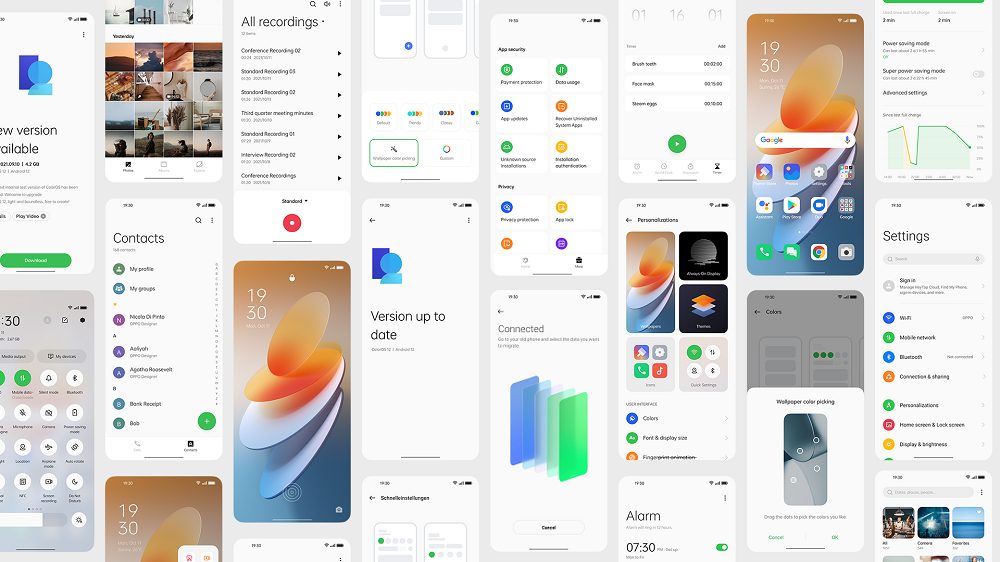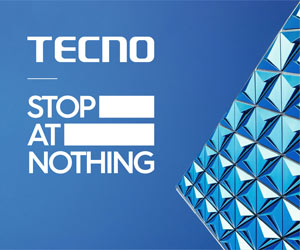 OPPO has recently launched the global version of its proprietary operating system, the ColorOS 12.
According to OPPO, its Aim is to provide users with a seamless experience that's closer to stock Android 12. ColorOS 12 introduces an all-new inclusive UI, smoother performance, and other rich features that will boost productivity.
With this launch, OPPO officially rolls out ColorOS 12 public beta to its global users, becoming one of the first OEMs to run on Android 12. The company says that this will be available on the Find X3 Pro in Indonesia, Thailand, and Malaysia. In addition, OPPO plans on expanding to more models covering more countries and regions in the coming months.
The new OS provides a more inclusive experience and comes packed with softer icons, animations, and information framework that are friendly to different languages and cultures, and an adaptable framework with different phone formats.
Moreover, due to its long-term code, ColorOS 12 has made achievements in addressing lags and stutters after prolonged usage, especially in anti-fragmentation and intelligent resource allocation that lead to a 2.75% system aging rate in three years, 30% lower memory occupation, and 20% lower battery consumption.
For its visuals, the new OS features Quantum Animation Engines that adopted 300 improved animations to achieve lifelike effects, that incorporate physical habits of resistance, inertia, and rebound.
Practical features such as PC Connect2, 3-Finger Translate powered by Google Lens, FlexDrop, and Phone Manager allow ColorOS 12 users to stay productive.
As for security, the new OS features improved security that grants access to Privacy Dashboards, Approximate Location Sharing; and Microphone and Camera indicators that supplement OPPO's developed features of a Private System, Private Safe, App locks, and more.
ColorOS 12 Rollout Plan
On October 11, OPPO rolled out the ColorOS 12 public beta in Indonesia, Thailand, and Malaysia on its Find X3 Pro 5G device. Rollouts will then continue step-by-step in other countries including the Philippines and on additional devices through the rest of 2021 and 2022.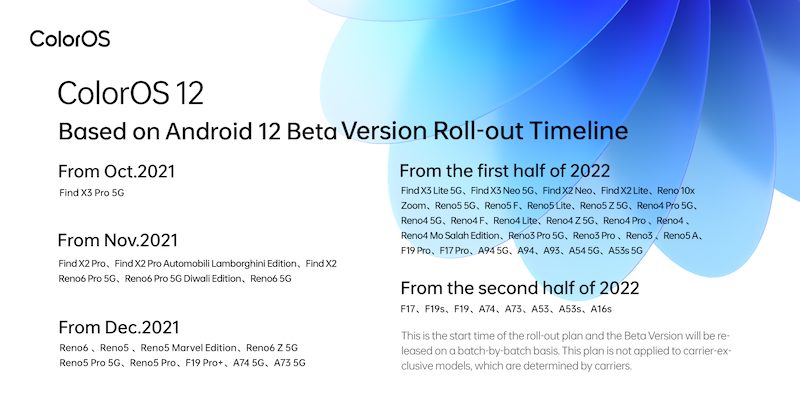 ColorOS 12 based on Android 12 Beta Version Roll-out Timeline:
From November 2021
Find X2 Pro
Find X2 Pro Automobili Lamborghini Edition
Find X2
Reno6 Pro 5G
Reno6 Pro 5G Diwali Edition
Reno6 5G
From December 2021
Reno6
Reno5
Reno5 Marvel Edition
Reno6 Z 5G
Reno5 Pro 5G
Reno5 Pro
F19 Pro+
A74 5G
A73 5G
From the first half of 2022
Find X3 Lite 5G
Find X3 Neo 5G
Find X2 Neo
Find X 2 Lite
Reno 10x Zoom
Reno5 5G
Reno5 F
Reno 5 Lite
Reno5 Z 5G
Reno4 Pro 5G
Reno4 5G
Reno4 F
Reno4 Lite
Reno4 Z 5G
Reno4 Pro
Reno4
Reno4 Mo Salah Edition
Reno3 Pro 5G
Reno3 Pro
Reno3
Reno5 A
F19 Pro
F17 Pro
A94 5G
A94
A93
A54 5G
A53s 5G
From the second half of 2022
F17
F19s
F19
A73
A74
A53
A53s
A16s
OPPO Upgrade Policy
OPPO has also announced a major update policy, specifically for OPPO devices released from 2019 onwards. The company will guarantee three major Android updates for its flagship Find X Series devices, and two Android updates for the Reno/F/K and some of the A Series and a single Android update for the low memory A Series models. Together with four years of regular security patch updates for the Find X Series, and three years for the Reno/ F / K/ A Series.