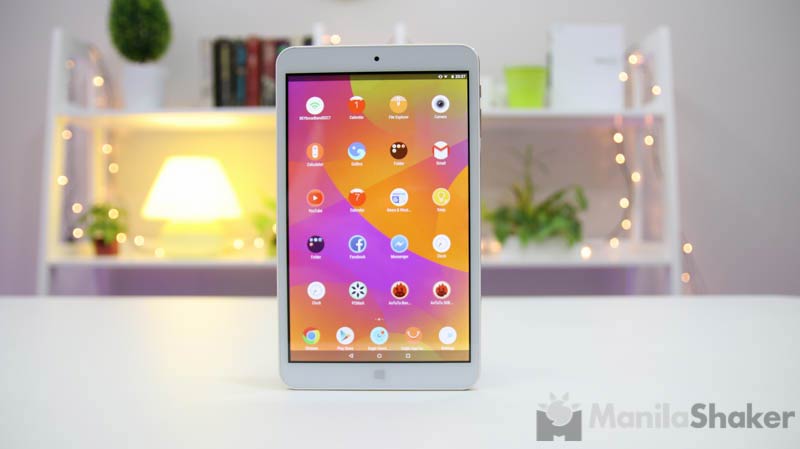 Priced for less than $100 bucks or about P4,500 pesos, the Onda V80 Plus is not your ordinary or cheap tablet as it features decent hardware specs and surprisingly boots in either Windows 10 Home or Android 5.1 Lollipop.
With its affordable price and quite interesting features, is this a recommendable tablet for your kid or personally a tablet for casual games, browsing, and videos? We find out in our full review of the Onda V80 Plus.
Unboxing the Onda V80 Plus tablet PC
There is nothing fancy on the retail packaging here with the tablet PC printed on the front. You will be greeted by the tablet wrapped in plastic, some guides, and the lone accessory which is a micro USB 2.0. There's no adapter nor earphones can be found which is not surprising given the budget price.
Design and build
Sporting a metal construction, the Onda V80 is a solid and sleek 8-inch tablet which is just comfortably handy for its size and weight. The metal wraps and slightly tapers on the back while remaining edgy on the sides. It's available in one color which is a subtle rose gold.
Although the tablet may look stylish, the matte finish, however, gets easily tainted and scratched, which is a big problem if you wanted to keep the exterior pristine over its lifetime. Worse is the lack of 3rd party and original protective cases.
It's a little skimpy on ports with one microUSB 2.0 for charging and data, micro HDMI, headphone jack, and microSD card support. So transferring files is either done thru a microUSB ready flash drive, SD card, or wirelessly.
Positioned on the top right, the power button is clickable but the tablet response time is hanging and spoils the experience. Meanwhile, the volume rocker below the power works as expected with no wearing issues. The capacitive Windows 10 button on the front is responsive enough for our liking. It works when you're booted on Android while paired with the on-screen keys.
Overall, the tablet looks premium and feels handy with just a few issues including the surface being scratched easily.
Display
The high-res 8-inch 1920 x 1200 full HD and acceptably bright and crisp IPS display makes up for the lack of light sensor. The output may not be that sharpest or most legible but it's really a good panel for its price.
Audio
For a tablet, the mono speaker is very weak and outputs tinny sound. We barely hear any notification sounds in a few feet and watching videos with the loudspeaker is our least favorite on the slate. We'd wish Onda could've paired it with a louder speaker.
Camera
The 2MP camera which is placed on the back and up front is obviously one of the major cost-cutting features we've noticed. The photos look okay in the well-lit scenario but it's really mediocre during night. Again, you're looking at a sub-$100 tablet, so these 2MP sensors will still do in video calling.
Software: Dual Boot OS
With its size and limited storage, we booted on Android Lollipop for most of the time. Mainly because of the mobile apps availability which most are missing on the Windows 10 platform. Switching to the latter, however, just takes one click on the switch icon while the total reboot would usually run for two minutes.
The choice for Windows 10 Home or Android Lollipop is a matter of user preference. For gaming and casual apps, the Android is a better platform while Windows 10 serves a great OS for office tasks and browsing. Nonetheless, switching to either OS will just take one tap.
Performance and benchmark
In terms of performance, both OSes felt smooth with only the power button leaving us hanging every time we lock or unlocked the tablet. The slate ranks almost 60k in our Antutu benchmark and could handle 4K videos and graphics intensive games such as Asphalt 8 without stuttering, thanks to the quad-core Intel Atom X5 Cherry Trail 8300 and 2GB of RAM. However, we found out that other game titles such as NBA 2K16 are not compatible maybe because of the missing support for the Intel Cherry chipset.
Battery and charging
Like most budget tablets, the 4200mAh non-removable juice felt short and last barely a day with 2.5 hours screen on time while booted in Android and connected to a WiFi. Watching videos output longer battery life and both playing games and booting to Windows 10 drain the juice faster.
Charging the tablet is quite a challenge with around 3 hours 30 minutes charging time from 0% to 100%.
Pricing and verdict
For exactly $92 USD price or roughly P4500 Philippine pesos, there's hardly anything we can complain about the Onda V80 Plus. It's a capable and very affordable tablet that does the job as other devices although in exchange for some features like solid battery life and ample storage capacity.
So if you're looking for a daily driver, the V80 Plus will do but we still recommend investing a little more and go for better options. But if you're just the casual gamer or browser or just planning to get it for your kids without investing too much, then this is really a nice start.
Currently, the Onda V80 Plus is only available thru GearBest and they do ship worldwide including the USA, the Philippines, and many more countries. What's great is that they give official warranty too though without shouldering the shipping fee.
Pros and Cons of Onda V80 Plus
+ Metal design
+ Capable chipset
+ Decent display
– Tinny and underpowered speaker
– Mediocre camera
– Poor battery life
https://apis.google.com/js/platform.js
Onda V80 Plus Full specs, Official price, Release Date in the Philippines
Display: 8-inch 1920×1200 pixels Full HD IPS LCD, 283 ppi
Design: Metal build
Size: 205 x 123 x 8.5 cm, 325g weight
CPU: Intel Atom X5 or Cherry Trail with quad-core processor up to 1.44GHz speed
GPU: Intel HD graphics 8th gen.
RAM: 2GB
Memory: 32GB internal storage, up to 128GB microSD card
Camera: 2MP main, 2MP selfie, HD video
Connectivity: WiFi n, Bluetooth 4.0, WiDi or Wireless Display
Ports: microUSB 2.0, micro HDMI, 3.5mm audio jack
Audio: back-firing mono speaker
Battery: 4200mAh non-removable
OS: Windows 10 Home or Android 5.1.1 Lollipop / one-click switch
Release: December 2015 availability