Lenovo has released another slimmed down laptop that has the latest generation component. The Lenovo 530s laptop offers better that basic performance and overall aesthetic design and build on still a midrange tag that starts at Php 43,500 ($800 US) after taxes in the Philippines. Upon thorough hands on and testing, what are the hits and miss of this laptop? Continue reading below.
You might also want to check this out:
READ: Lenovo Ideapad 330 15-inch Review – Budget gaming and school laptop with Nvidia GTX
READ: Best Windows Laptops for P20k or $400 price range
TECHNICAL SPECIFICATIONS
Processor

Up to 8th Gen Intel® Core™ i7 Processor

Operating System

Windows 10 Home in S mode

Display

14" WQHD (2560 x 1440) IPS
14" FHD (1920 x 1080) IPS

Graphics

NVIDIA® MX 150
NVIDIA® MX 130
Intel Integrated Graphics

Memory

16 GB DDR4
8 GB DDR4
4 GB DDR4

Storage

512 GB PCIe SSD
256 GB PCIe SSD
128 GB PCIe SSD

Battery

Up to 8 hours*
Rapid Charge (Power-off mode; 65 W power supply required)

Audio

Harman speakers
Dolby Audio™

Ports

USB Type-C 3.1
2 x USB 3.0
HDMI
4-in-1 card reader
Audio jack

Security

Fingerprint reader with Windows Hello (optional)

Connectivity

2×2 AC; 1×1 AC

Dimensions (W x D x H)

323.4 mm x 226 mm x 16.4 mm / 12.7" x 8.9" x 0.65"

Weight

1.49 kg / 3.3 lbs (non-glass edition); 1.85 kg (glass display)

Colors

Onyx black
Copper
Liquid blue
Mineral grey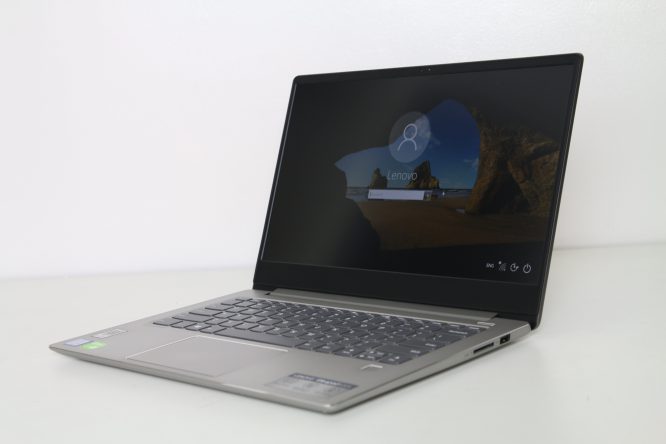 DESIGN
I got excited when I first saw the laptop because it was compact and I'm a fan of everything that's handy. It was small with reliable specs and I thought I got everything I need in this laptop(well for light to medium tasks and some heavy ones). It has an aluminum chassis, with a matte finish and is durable. Its design is clean, the logo is small and just at the edge, everything feels intact and smartly placed to where they should be, and its design and feel for me is similar to Macbook.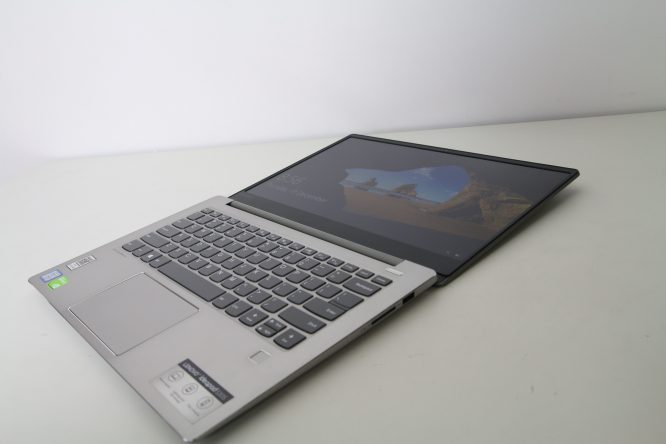 Opening the laptop, it can unfold to 180 degrees. The screen has thin bezels on the sides (5.75) which is a new trend for laptops today. The camera is still where its supposed to be. Going to the keyboard, it works really good. The keys are all intact and the size of each key is just right except for the up and down key well because to fit everything in a small space. The model that I got has no keyboard back lighting but some model variation has. The trackpad also works just fine, the size is just right, and can bear ample amount of stress.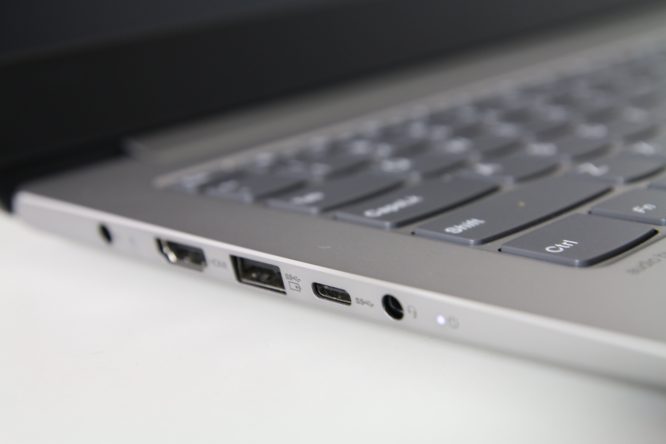 Flipping it to the left side, there are full-sized HDMI, Ethernet ports, a USB 3.0 port, a USB-C 3.1 Gen 1, and a headphone jack. At the right are the SD card reader and another USB 3.0 port.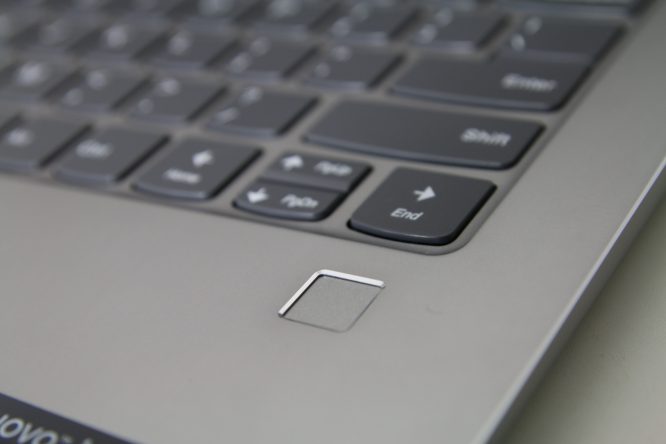 It also appreciated that Lenovo added a fingerprint reader for additional security feature but it is recommended that they should improve the accuracy and speed of the reader. There were several times that I've tried to log into this laptop via fingerprint and it took two to three times before my finger was recognized.
Measuring in at 475 x 65 x 299 mm and weighing just 2.2kg, you'll be able to carry the IdeaPad 530S wherever you go hassle-free and you can even carry it by hand just like a book. It's available in Onyx Black, Copper, Liquid Blue, and the color of our test unit, Mineral Grey.
DISPLAY
There's nothing much to say about the display of the laptop aside that it's not producing as many bright colors but it should be okay. It wasn't really vibrant and detailed as it claims, but for sure the display is not an eyesore maybe because of the matte finish. It has clarity with up to a WQHD (2560 x 1440) wide-angle display. The webcam is still conventional and bad at 720p. As for the speakers, it is equipped with Harman Speakers optimized with Dolby Audio™. It has rich bass and renders sound without distortion even on a 100%. Also loud enough to play in a regular sized room.
PERFORMANCE
What I like about the product is it is upgraded to 512 GB PCIe SSD storage. It also has 16 GB DDR4 memory, Core i5-8250U, 8 GB RAM. I was able to enjoy multi taking seamlessly on light applications and I experienced almost no lag. On running some heavy software like SketchUp for rendering and League of Legends for gaming, it was still fair but I could say that there's a better laptop for those but still runs decently on Lenovo 530s. Still no lag on switching from one heavy app to another. The performance was great aside from I experienced heat at the bottom left side while it was on my lap after using it for a couple of hours.
BENCHMARK
Source: DigitalTrends
BATTERY LIFE
Everything was going smoothly on the laptop until I noticed that it ran out of battery that fast. Well, it lasted me 4.5 hours on a full pack battery after surfing and playing a game but at its price range, I quite expected for more. But Lenovo 530s boasts Rapid Charge (Power-off mode; 65 W power supply required): 15-minute charging time that can last up to 2 hours laptop up time. It took me about one and a half hour to fully charge the unit while still using it.
CONCLUSION
Performance, design, and durability wise, the Lenovo 530s is one impressive laptop that won't disappoint. Another hit of this laptop is its portability and efficiency. But remember that this laptop is not specialized for some tasks like gaming though it can run heavy apps, there are other laptops that can run them better. I cant also really say that this is a bang for the buck laptop because the competition in this price range is quite but I can say that Lenovo 530s is one competitive laptop.